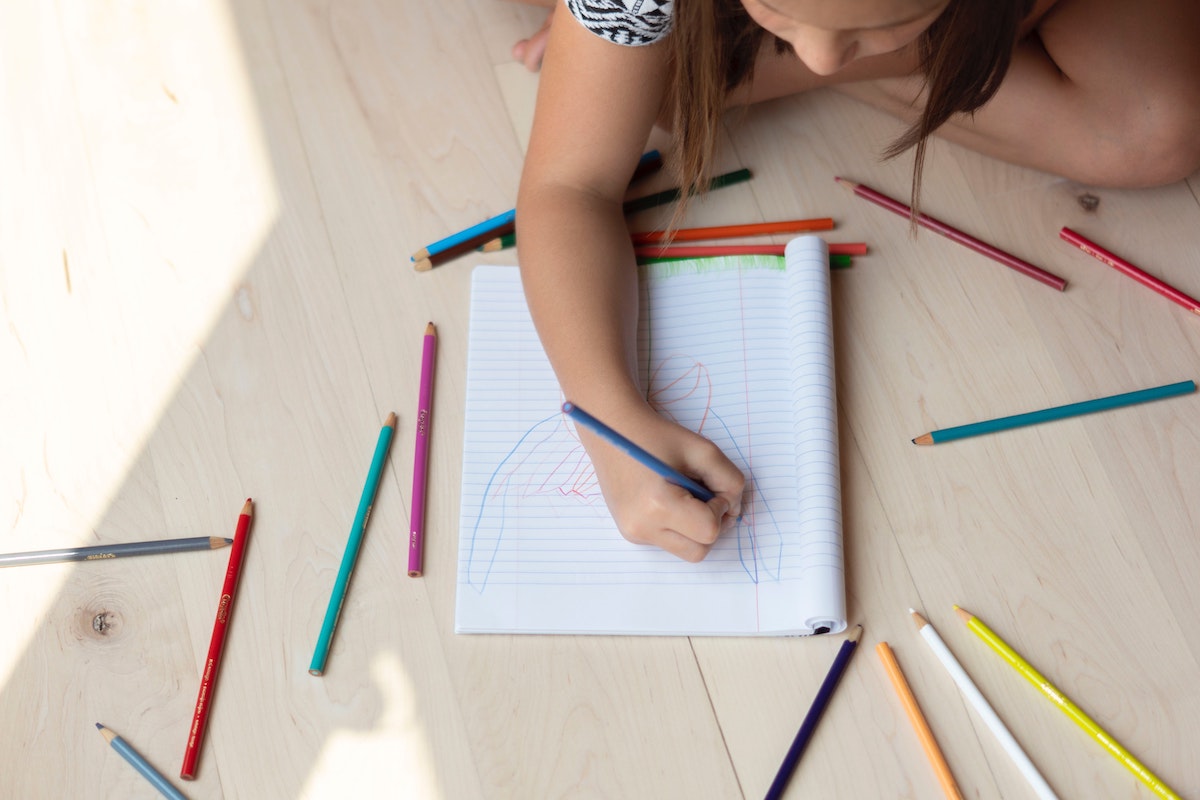 A large part of the Singapore population is stuck at home due to the COVID-19 circuit breaker. Domestic tolerance is now a skill everyone in the household has to master, as most parents work from home while their children engage in home-based learning. 
Wondering what are some things to do at home with your kids during this period? 
Fret not – we've compiled a handy list of easy craft ideas and home-based learning resources that will keep your little ones occupied while you work from home. 
Must-Try Fun Activities for Kids to Try Out at Home
Hands-on craft ideas
1. Caterpillar craft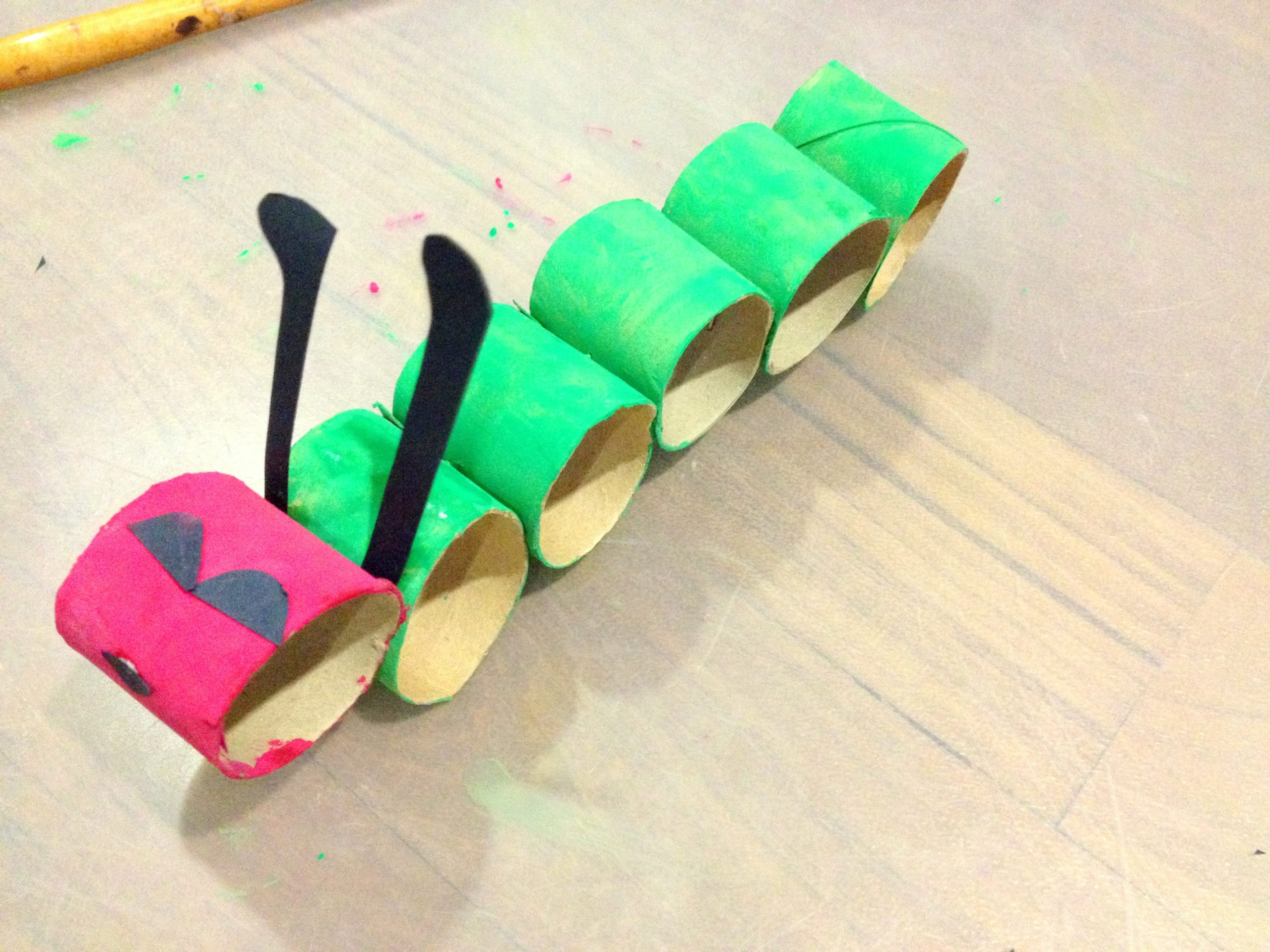 Are your kids huge fans of Eric Carle's "The Very Hungry Caterpillar"? Transform your empty toilet rolls into the loveable, food-munching hungry caterpillar!
What you need:
3 or more toilet rolls
Coloured paint
Black colour paper
Scissors 
Strong glue
Instructions:
Cut the toilet rolls into half.
Paint the toilet rolls and stick them up as parts of the caterpillar's head and body. 
Cut feelers, eyes and mouth from the black paper and stick them onto the caterpillar. 
Explain to your child that it takes time for a caterpillar to emerge into a butterfly, and enforce this metamorphosis learning process. You can use online  video resources such as that by National Geographic Kids. 
2. Scratch Art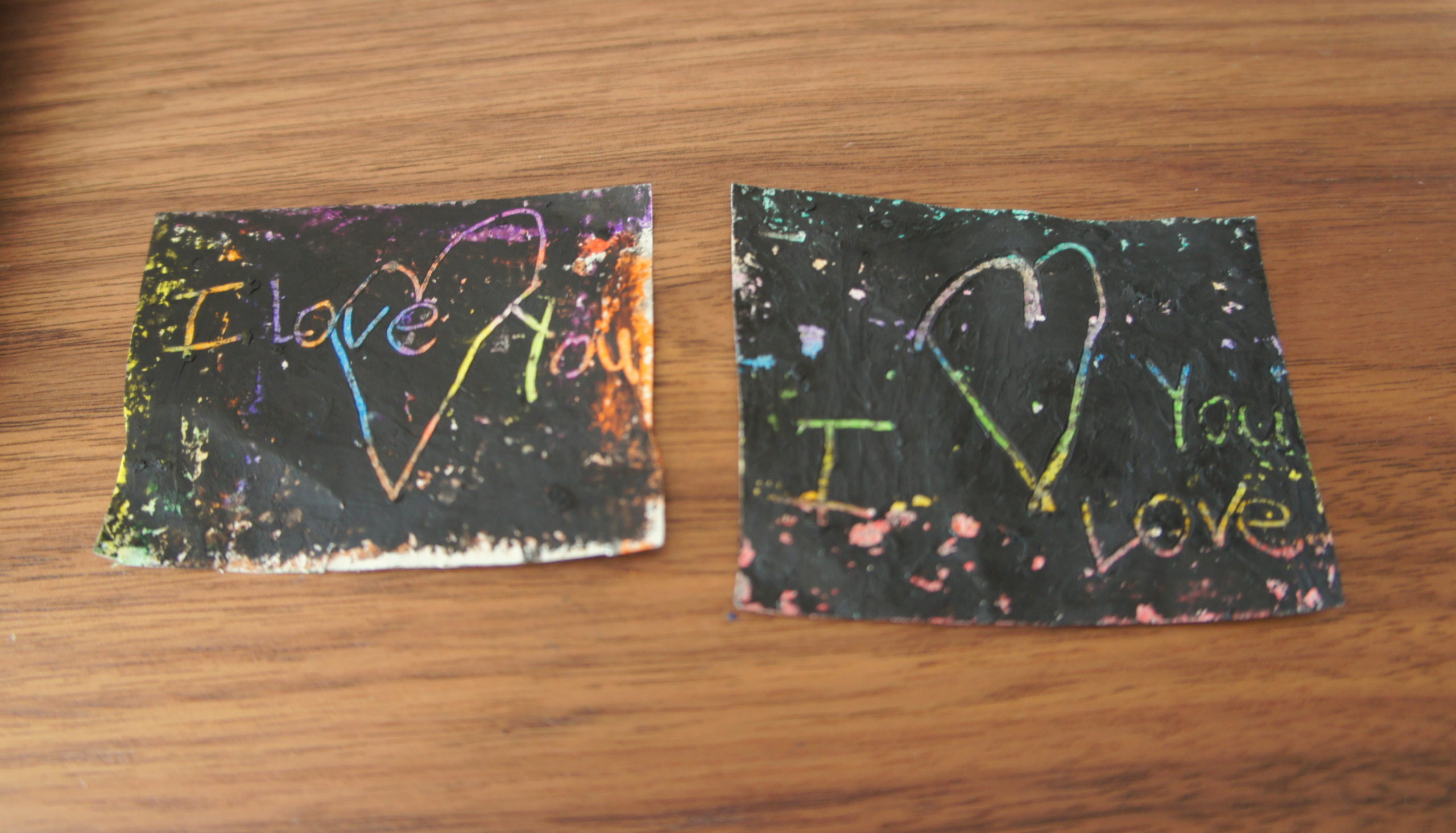 Didn't get to stock up on art supplies before the circuit breaker kicked in? Here's how you can create your own scratch art piece! 
What you need:
Plain white paper
Crayons (Black crayon is essential, together with a few more other colours))
Toothpick or pencil 
Instructions:
Use two or more crayon colours to colour the whole sheet of paper without leaving any traces of white. 
Next, use the black crayon to colour over all the coloured areas. 
Take a toothpick or pencil to write and draw over the black. It will reveal the colourful base that was coloured. 
Tip: Start with a small piece of paper, as the amount of colouring needed can be strenuous. 
3. Busy road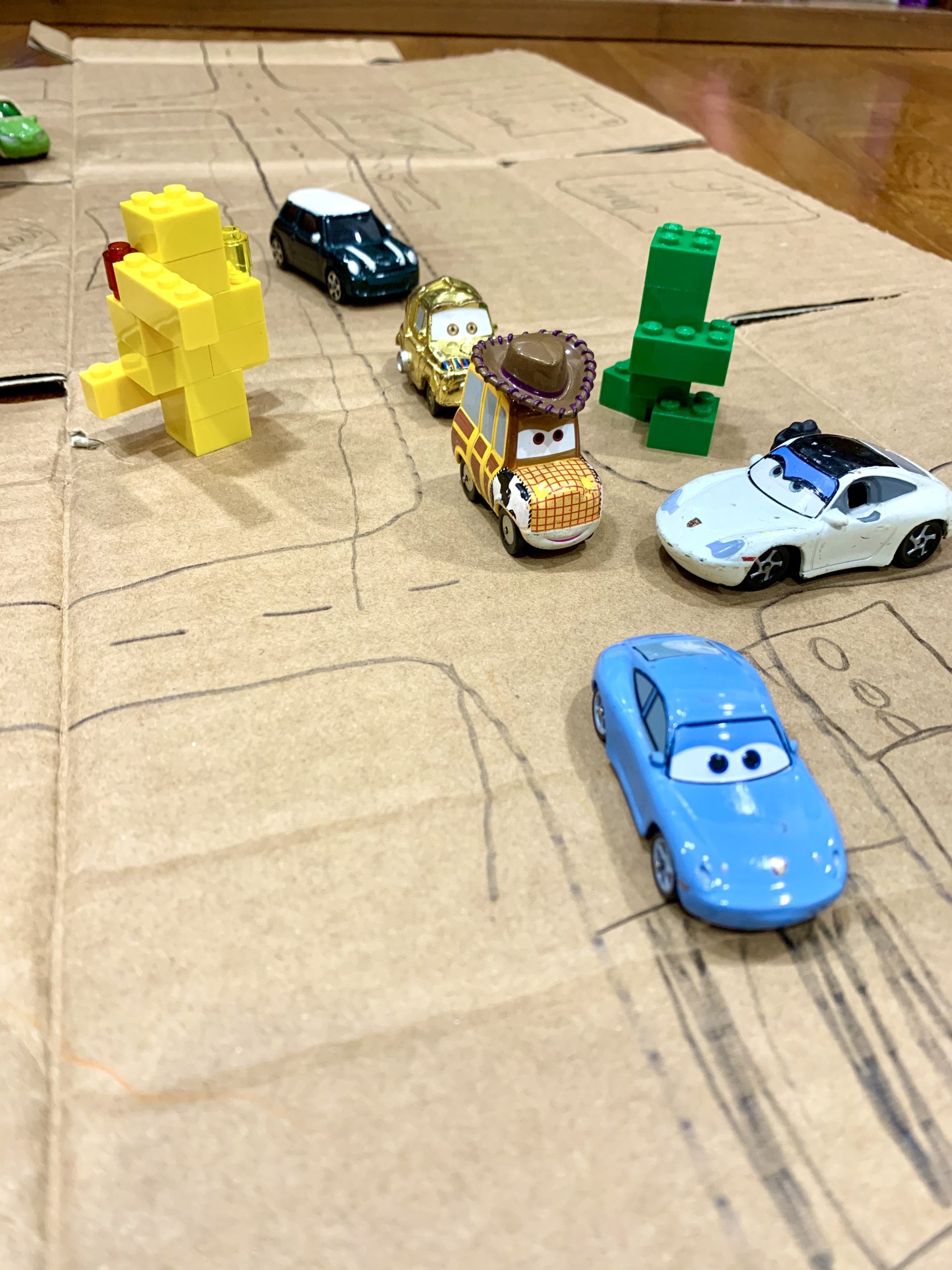 Create a little "neighbourhood" for your child's cars to "drive" around. This newly created toy will be a refreshing play for the next few days.
What you need:
A large cardboard box (Flattened)
Markers
Toy cars
Instructions:
Use markers to draw roads on the flattened cardboard box.
Add details to the roads such as traffic lights, stores and trees.
Get your child to bring out his/her toy cards to drive around the roads.
Tip: Your child can bring in his/her toy blocks to add bridges or buildings in the "neighbourhood". 
4. Leakproof bag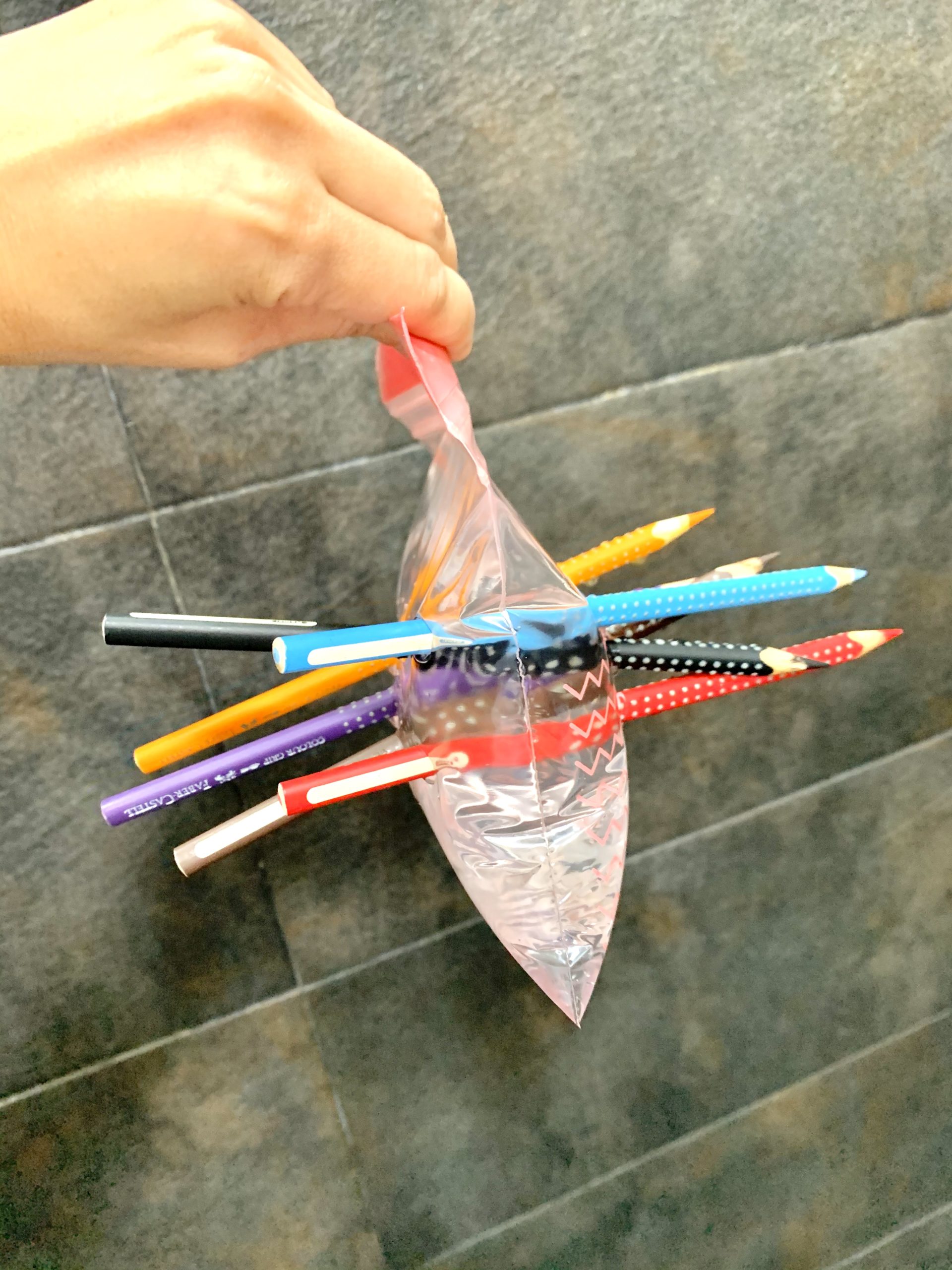 It will be good to do some simple science experiments at home for kindergarten to primary school kids. Try this really easy leakproof bag experiment. 
What you need:
Sharp pencils
Ziplock plastic bag
Water 
Instructions:
Fill the ziplock bag with ¾ filled water and seal it tight. 
Use the sharp pencils to pierce through the water-filled bag from one end to the other. 
Your child will have realised that he/she can pierce the pencils through the bag without any water leak. Explain that the ziplock plastic bag is made out of a polymer that is low in cost, lightweight, durable, a barrier to moisture and very flexible. This flexible property helps form a temporary seal against the edge of the pencil, preventing the water from leaking. 
Tip: If your child is keen on doing more science-related activities, Science kids has a list of fun science activities for kids.
Home Learning Materials 
In light of COVID-19, some home learning materials are made free for parents to help keep their kids meaningfully occupied at home. 
Among these resources, there are many fun activities for kids to keep learning interesting and active. 
Read also: COVID-19 Circuit Breaker: An A-to-Z Guide to Navigating Your Child's Home-Based Learning
5. Starfall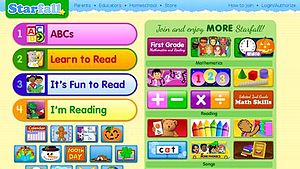 Suitable for: Preschoolers
Starfall has an extensive library of interactive online reading and math activities, plus a Parent-Teacher Center with printable lesson plans and worksheets. It is free for parents and teachers to teach children to read. 
6. Scholastic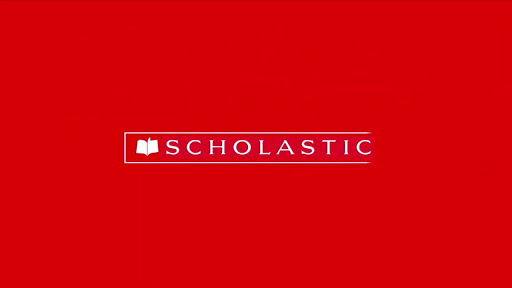 Suitable for: Preschoolers to 16 years old
Scholastic, one of the best-known names in the educational materials industry, has created a Learn at Home website for preschoolers through to 16 years old.
The site features four weeks worth of daily activities and projects on a variety of subjects, including science and math. The curriculum includes stories, articles, videos and activities designed to stimulate kids' curiosity. 
7. Math Buddies by Marshall Cavendish Education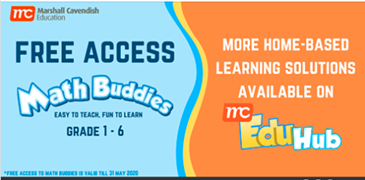 Suitable for: Primary 1 to 6
This maths learning platform is developed using the Concrete-Pictorial-Abstract (CPA) approach that is synonymous with Singapore Math®. With Math Buddies, your child will gain mastery of complex maths concepts through concepts learning, virtual manipulatives and practice questions. 
Access to Math Buddies is free*, courtesy of Marshall Cavendish Education. 
* Valid until 31 May 2020. 
Printables 
8. National Parks
Suitable for: Preschoolers to primary school
Our very own National Parks site has got some printables to keep your preschooler well occupied while staying home. Choose from a wide range of printable activities that feature local flora and fauna, from colouring pages to connect-the-dot worksheets. 
Enrich your child's learning fun with these nature-themed printables. It will be like a walk through the park. 
9. All Kids Network
Suitable for: Preschoolers to primary school
All Kids Network holds a huge collection of printable worksheets for preschoolers. These worksheets are free for use and for learning with your child. 
Younger kids will enjoy the tracing lines worksheets, counting practice and picture matching worksheets, while slightly older children will love the missing letter and word scramble worksheets as well as secret message cryptogram puzzle. 
10. Maths in English 
Brush up your primary schooler's Maths with free printables. This is not a Singapore-based website, but the math worksheets are aimed to improve students' understanding of mathematical concepts based on Singapore's Math curriculum. And if your child loves intriguing challenges, there are brain teasers and logic puzzles for print too.   
E-Books
11. Audible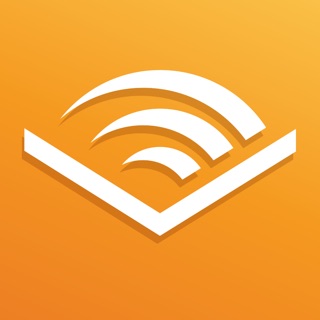 Downtime is important for everyone, as this helps to keep your child still and hone his/her listening skills. You and your kids can browse through the free collection of audiobooks by Audible, which ranges from titles for preschoolers all the way to teens. 
Read also: 10 Recommended Home-Based E-Learning Apps for Primary School Students
While these fun activities for kids may seem guided, there are also many things to do at home with kids without parental guidance. Whatever it is that you get up to at home, do remember to take sanity breaks in between yours and your child's schedule. 
In the meantime, do stay safe and enjoy those precious moments bonding with your family!