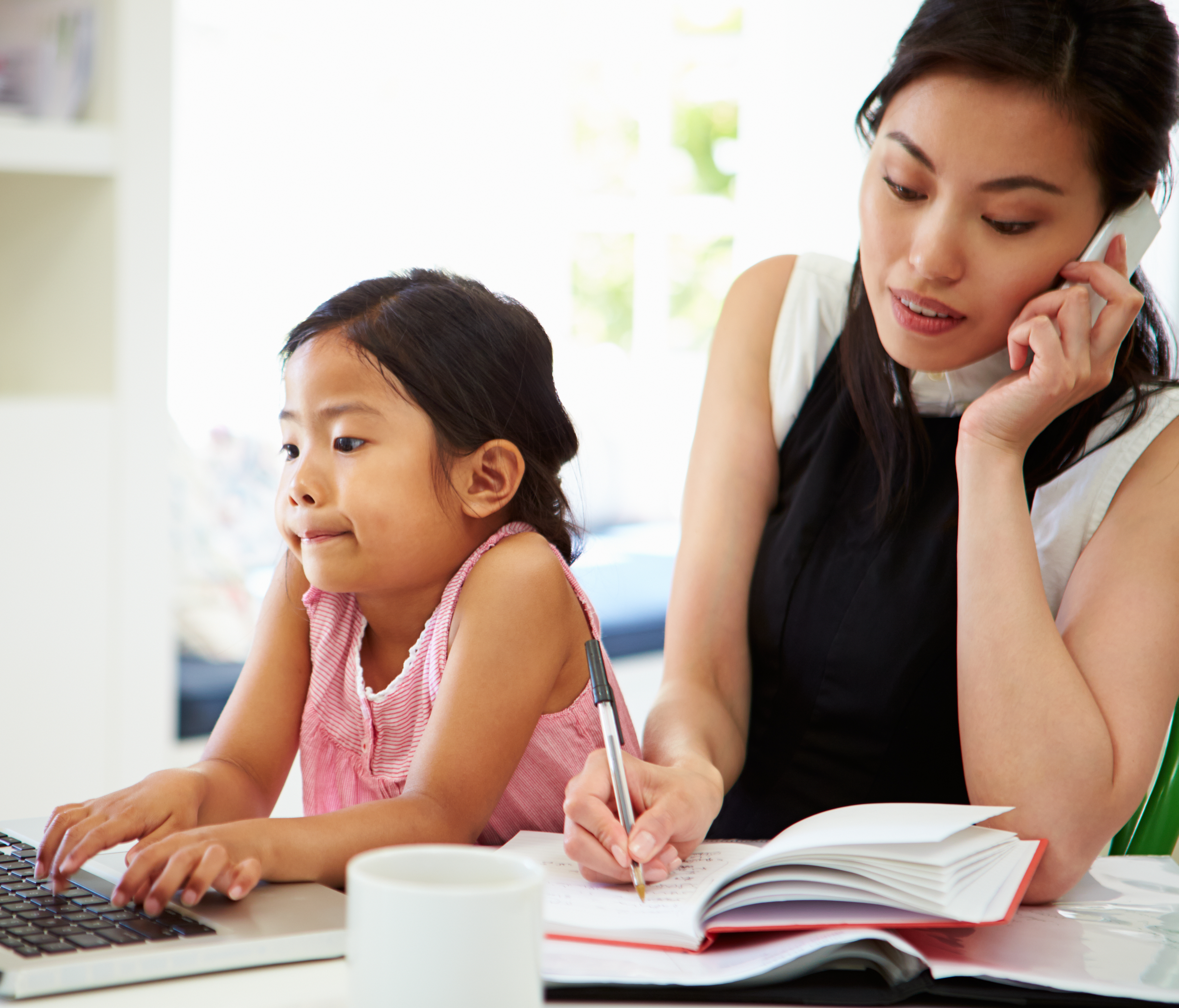 The work-life balance debate is something women all over the world face. There is probably no one-size-fits-all solution, as every family is unique. And while some women try to have it all (or at least pretend to), 72% of women in Singapore have taken a break some time in their careers.
Juggling career, marriage and kids… it's quite a feat, but the good news is, it's not about achieving a utopian ideal, it's about finding the balance that works for you. Here're some tips to help you on the way.
1. Plan ahead
While there are advantages to weekly plans and even monthly schedules, this sometimes doesn't work that well in real life. But it is important to plan, so develop a routine that works for you. You could create and organise family calendars for school and family events, or even come up with a chore chart for the children when they're older. iCal or Google Calendar are great for this, because they're easily shared, colour-coded, sync across devices and free.
2. Make mornings easier
Avoid starting the day frazzled by getting organised the night before. Pack the children's bags and lunches, lay out the school clothes and decide what to make for the morning meal. Look over the to-do list and divide the tasks, determining which parent does what. Each night, my family  runs through the events for the next day as well. This allows us to know, for example, who has a busy day at work, which child has to stay later in school, who has enrichment activities, who needs new socks, etc.
You could also set up a 'command centre' by the day with the keys, loose cash, backpacks and work bags, so you can grab and go right after breakfast.
3. Communicate with your management
Before speaking with your boss or HR representative, pen down what you need in as much detail as possible. Research whether your co-workers have had similar arrangements, or if they don't, which other organisations do, and how they made it work. Be prepared to present alternative proposals, such as a trial of your desired work schedule, so you can show it won't affect productivity or your performance.
4. Build allies at work
Talk to your team openly and honestly about your work aspirations and family commitments. Be a team player and prove that you walk the talk. It will then be easier for your boss and colleagues to support you when you need to take time off to attend to unexpected family matters.
5. When present, be present
Any time with the family is an opportunity for bonding. Turn the morning commute to school and work into personal time with the children, and meal times into quality family time. Wherever the venue, set aside distractions and put a no-gadget rule into effect. Talk about what's going on in each other's lives. Look for unexpected moments when you can create connections with each child. You'd be surprised at how witty your children can be, and how delighted they are to hear your childhood stories.
6. Tap on support systems
Extended family and trusted neighbours can be a blessing in terms of childcare, especially when the children are younger. Alternatively, you could drop them off at an infant care centre, workplace creche, daycare centre or preschool while you're at work, knowing that they're in good hands.
7. Let it go
Acknowledge that it's impossible to be everywhere at the same time. When multiple items pop up demanding your attention, weigh the importance of each and the effect that your choice will have. Is attending a networking lunch more important than a child's awards ceremony? Can you postpone a family outing because you're needed at the office? Come to terms with your choices, focus on your priorities. Accept that there will be good and bad days, and think positive. Perhaps you can afford certain classes or holidays for your children or you're able to put away savings for college – things they'll thank you for later.
8. Simplify chores
Invest in gadgets and services that make life easier at home. Robotic vacuum cleaners and spin mops to multi cookers, dishwashers and clothes dryers… there's a wide variety of home helpers out there, even if you don't opt for a domestic helper or cleaning service. And when the children are older, co-opt them into streamlining your chores too. It builds character, and helps them learn responsibility.
Just remember: a little messiness is not a sign of failure – it just means your house is lived-in, and hopefully, well-loved.
9. Be flexible
Don't be afraid to adjust goals along the way. Perfection exists only on paper. So don't worry if things don't go as planned. Take a step back and re-evaluate priorities. Be candid about what worked and what didn't. Set small, realistic goals instead of focusing on one long-term objective. And if, along the way, adjustments need to be made because of unforeseen family commitments, your short-term goals can be easily modified without affecting your ultimate goal.
10. Remember to Breathe
Make sure to schedule some quiet time to recharge. This is imperative. Dealing with work and family is stressful on its own, and you need to look after yourself too. It doesn't have to be anything fancy. Just having coffee by yourself at a neighbourhood café, a picnic for one at the park, or a pedicure at your favourite nail bar are inexpensive ways to relax. The point is for you to hang up your mother/wife/employee hats temporarily and put on your 'me' hat for a short while. Disconnect from technology during these down times. I have learned to be very comfortable eating out on my own and sitting on a bench doing absolutely nothing, just watching the world go by.
Your work-family scale should be something that you are contented with, a unique blend of what you believe in and what helps you achieve your goals. Don't attempt everything at once; give yourself some time to work at it. In the meantime, remember to eat well and get enough rest – something even the smartest mums may overlook at times.