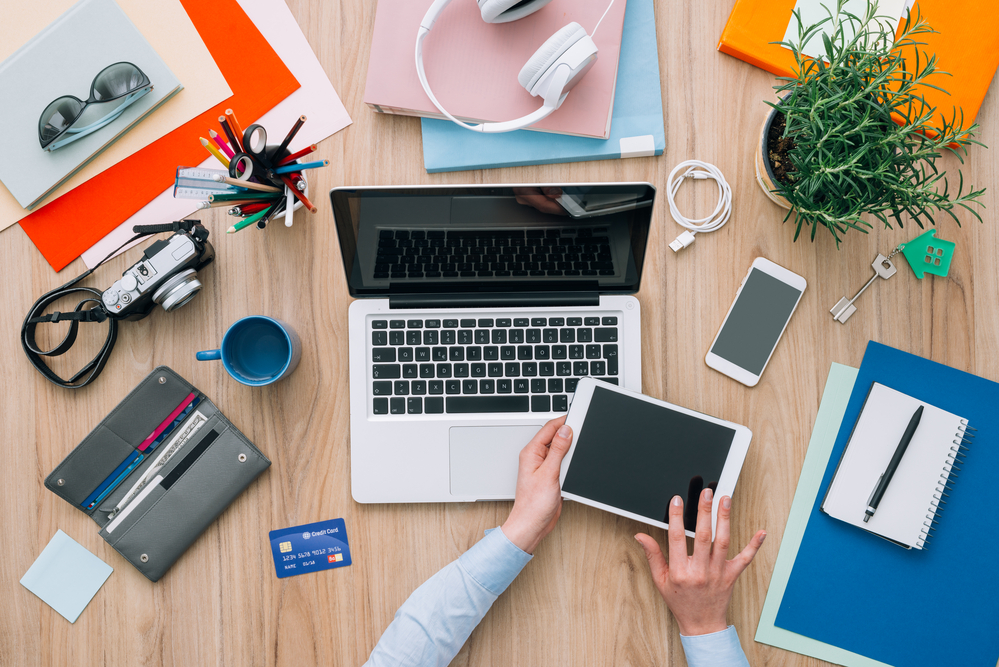 With the number of COVID-19 cases in Singapore rising steeply in recent weeks, a series of circuit breaker measures were put in place to bring down the transmission rate of the virus. While these measures were much-needed, they also brought along changes to the way we live, work and play.
One of the most significant measures that were implemented was the closure of most workplaces, which meant that employees would have to telecommute as much as possible. Similarly, schools, institutes of higher learning, preschools and student care centres will be suspended while lessons will carry on through home-based learning (HBL). 
With that, a lot of parents have found themselves in a situation whereby they had to work from home while having their children at home with them throughout the day. How does one cope with this arrangement without going bonkers before the circuit breaker period ends? 
We reached out to a few of our friends who are work-from-home-with-kids regulars to get insights and tips on making this "new" normal routine work.
How to Work From Home with Kids
1. Tell your kids about this new work-life arrangement
For starters, you can't expect your kids to understand the current situation without talking to them about it. Chances are, they might have learnt about COVID-19 and social distancing in their preschool or school, so this makes it a little easier for you to initiate a conversation on the topic.
You can start by asking what their teachers have taught them thus far. Then, gradually bring up the fact that they will not be attending school for the time being while mummy and daddy work from home. Highlight to your little ones why these new changes to your family's daily routines are necessary and let them know your expectations of their behaviour during this period.
2. Have your own workspace 
Just like how your office space is created to be conducive for you and your colleagues to work in, it is important to designate a space in your home that allows you to work productively. 
If you don't have a separate study area, you can create a space in the living or dining room as your work station. The rule of thumb is to keep this space neat and organised, with all the tools that you need to get work done – i.e. your laptop, headset and stationery.
To prepare for the times when you need to be in video conference calls, be sure to have a room in your house that you can head to, preferably with a door that you can lock. However, if this is not possible, do let your colleagues know that your kids are near you and that their little voices might be heard in the background. On your end, you can also work out a signal for your kids not to make any noise when you are taking calls. 
3. Set a routine for your work from home days 
Contrary to popular belief, it is much harder to work effectively from home than from an office, especially when you have your kids at home with you. To make your work from home arrangement work, you need to have a lot of self-discipline and focus, and this boils down to setting a routine for yourself.
Most work-from-home mums have agreed that it helps to start your day early, way before the kids wake up. This gives you time to have your breakfast and shower and change out of your pyjamas. As an added bonus, you might even be able to squeeze in small tasks such as replying and sending emails before your child wakes up. 
4. Draw out a routine for your child 
To maintain as much of your child's regular school schedule, it is good practice to set up a daily routine for him/her as well. 
Wake your child around the same time that he/she would on school days and get him/her to have breakfast. Then, plan the schedule of activities for your child to follow throughout the day to keep him/her occupied. 
With schools and preschools implementing home-based learning during this circuit breaker period, your child's teacher would have provided learning packs and set specific tasks that need to be completed every day. Some teachers might even organise live online classes through platforms such as Zoom at specific timings during the day, so make sure to account for these as well. 
Tip: 
If your child has completed all the online classes and worksheets for the day and is starting to get restless, you can check out this article for suggestions on e-learning resources to try out. 
5. Partner your spouse
During this time, it is highly likely that your spouse is also working from home with you, together with the kids. Do work together to keep things under control and the kids occupied so that both of your work from home routines is smooth sailing.
For example, if one of you needs some quiet time to focus and rush for an important deadline, the other person could take charge of the kids to ensure that their learning is on track and that they are kept occupied. 
6. Set clear boundaries between work and your children
It is easier to get carried away with work when you're working from home as there is no cut-off time, unlike when you are working in the office. With this, you need to set your own rules to "switch off" from work mode at a certain time every day. This helps to avoid being in situations of an endless workday. 
Similarly, it is also important to set some boundaries with your kids when you are working from home. With older kids, you can explain to them that although both mum and dad are home with them, both of you are still working. Thus, it is important that they be on their best behaviour and try to keep the noise down during the day. 
7. Be real and learn to let go
While you might have set routines for yourself and your kids, do remember that these are not cast in stone and that there will be changes along the way as everyone adapts to the situation. 
Also, bear in mind that there will be days when you might find yourself dealing with challenges such as toddler tantrums, an uncooperative primary schooler and a huge mess after a play session. In times like this, try not to be too hard on yourself and learn to give and take along the way.
If letting your child watch YouTube videos all afternoon will give you that few hours of peace and quiet to get your urgent tasks done, then so be it. There is always the next day to try again and aim for more wholesome activities while you work from home effectively. 
Read also: COVID-19 Circuit Breaker: An A-to-Z Guide to Navigating Your Child's Home-Based Learning
Yes, working from home with your kids in tow can be challenging at times, but there could be a silver lining behind all this. In a strange way, the COVID-19 outbreak is giving you more time to spend with your family and the precious opportunities to sneak a peek at your little ones' happy faces while you work. This will definitely be one of the moments that you'll miss once the circuit breaker period runs its course and your work life resumes back in the office.