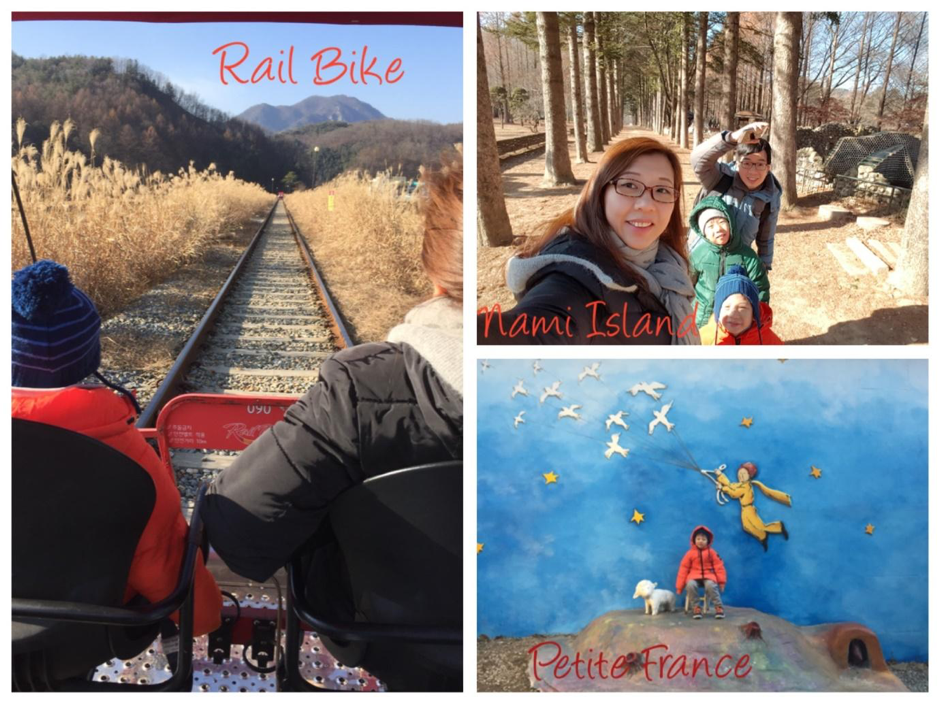 Other than its popular K-Pop culture and entertainment scene that the world is aware of, South Korea offers so much more than the buzzing urban city of Seoul and its innovative technology.
From its fascinating history and unique traditions to delectable grub and spectacular landscapes, South Korea is a top-rated destination for every family that craves for an awesome holiday.
Nami Island – Revel in the Beauty of Nature with your family
Being the top tourist spot upon arrival in Seoul and our first attraction to visit, Nami Island gained much of its popularity due to the success of the popular Korean Drama series "Winter Sonata" that was filmed in the moon-shaped island.
Visitors from around the world flock to Nami Island for its dreamy and beautiful natural landscapes that are ideal backdrops for wonderful pictures. As it was wintertime, I told my boys excitedly they could have snowball fights and try their hands at snow sledding down a snowy hill at certain spots in Nami Island. Beaming with excitement, they let out a loud "yeah!" as it would be their first encounter with snow.
Setting off!
We bought the 3-in-1 package deal in advance from Trazy and there was a shuttle bus that was arranged to take us from a designated venue to Gapyeong ferry terminal.
I was caught completely by surprise when I alighted at the ferry wharf. It was freezing cold!
I checked it was -5 degree Celsius and I was literally shaking like a leaf, especially when I was engulfed by the chilly sea breeze.
On the contrary, my wife and two boys still found the cold bearable and it dawned on me that my winter jacket was not as effective as theirs. So my advice to all is to invest in a proven good quality winter jacket or coat to keep warm.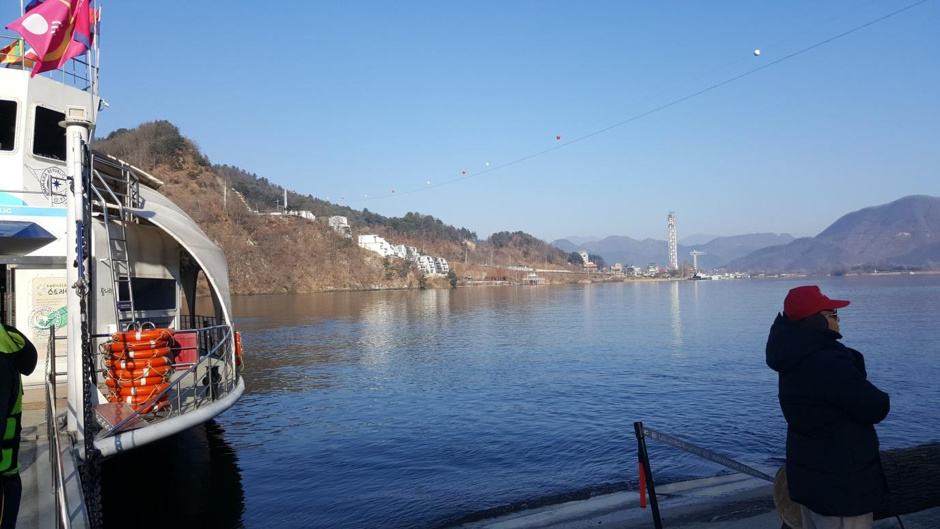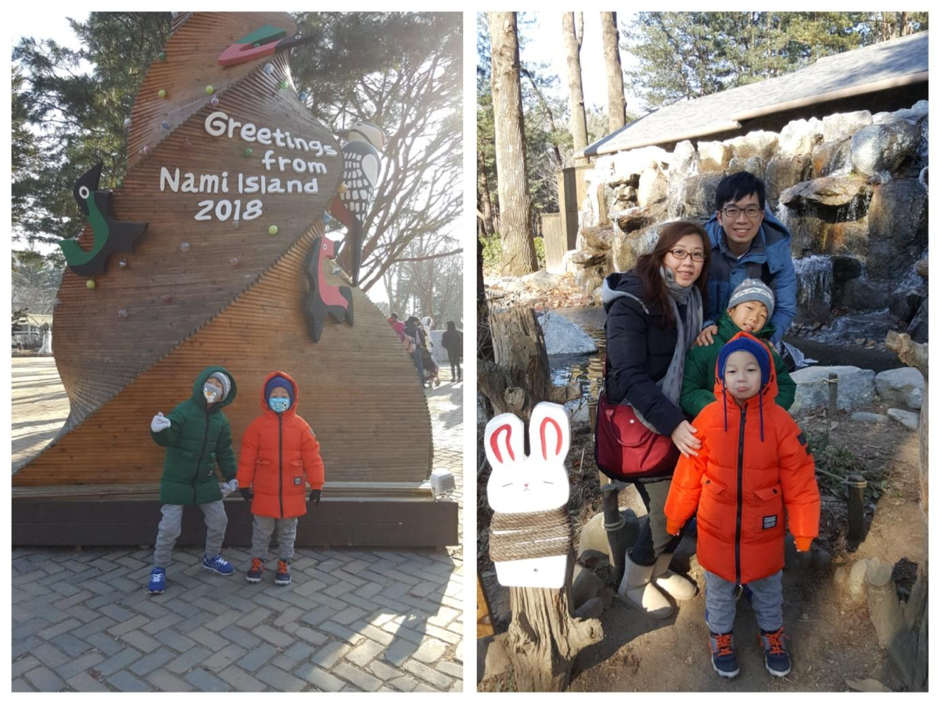 The sights of Nami Island
It was time to board the ferry and it took around 10 minutes to arrive at Nami Island.
We started roaming around the area looking for interesting spots, stopping occasionally to snap some pictures while soaking in the scenic surroundings.
Along the way on the magnificent tree-lined roads, my boys went wild in delirium when they spotted the snow play area and made a dash for it. Squealing in joy, they scooped the snow admiringly with their little gloved hands, and started gambolling gleefully in the snow area. It was not long before they gathered more snow and rolled into a ball and began their snowball war, pelting it at each other in ecstasy.
Besides the snowball fight, they also attempted to slide down the little snow hill for pure enjoyment.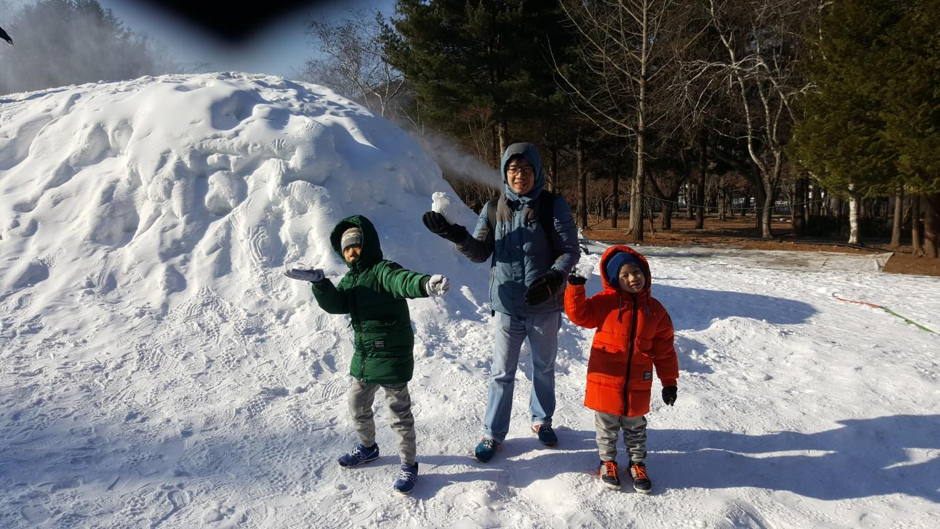 Hello furry friends!
A short distance from the snow area, we discovered a fenced out area where a few majestic ostriches were seen enjoying the morning stroll.
As we ventured further down the island, we noticed there were in fact many wild animals roaming freely around like peacocks, deer, rabbits and squirrels. My boys spotted a squirrel enjoying its food and tried to get near it but the shy squirrel was too quick and swiftly climbed up the tree and vanished into the foliage.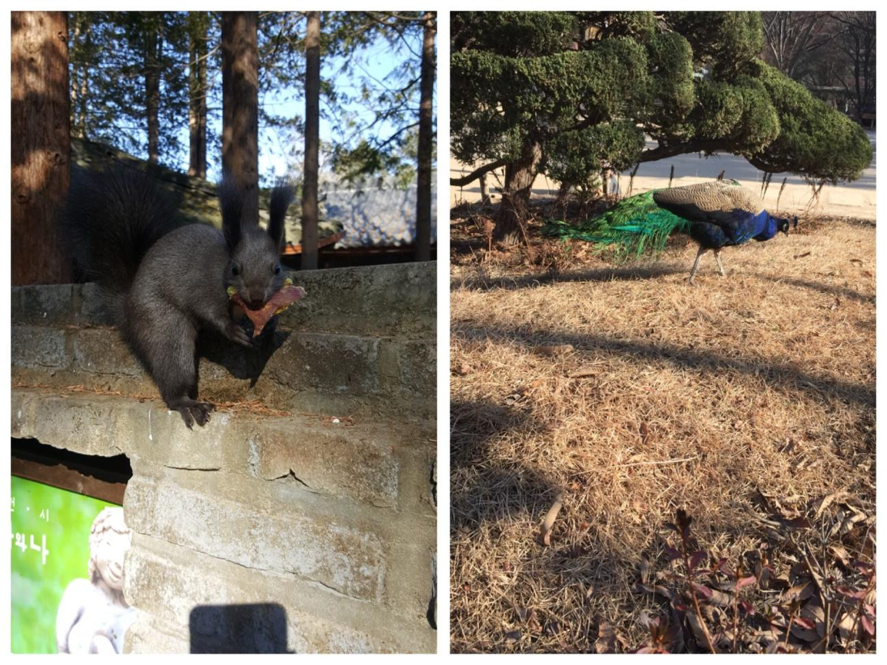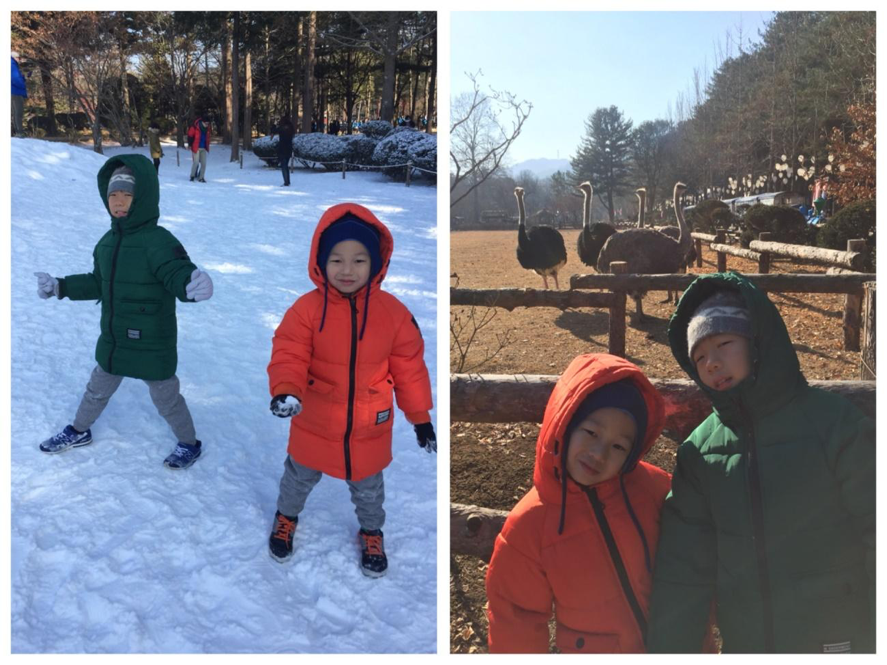 Lovers' Paradise
Heading to the central part of the island, we then passed by the First Kiss Glass Sequoia bridge and the famous Winter Sonata First Kiss site. My boys took turns and cheekily planted a kiss on my wife's cheek for a meaningful shot.
We detoured and continued our leisure walk along the central Pine tree lane towards the famous Metasequoia Lane. The central Pine tree lane was flanked by a number of local eateries where we tried a few delicious korean local delicacies along the way.
Finally, we arrived at the most instagrammable spot at Metasequoia Lane, famous for its magical towering trees along a picturesque canopied path. We waited no time snapping away a few beautiful shots to keep as memories.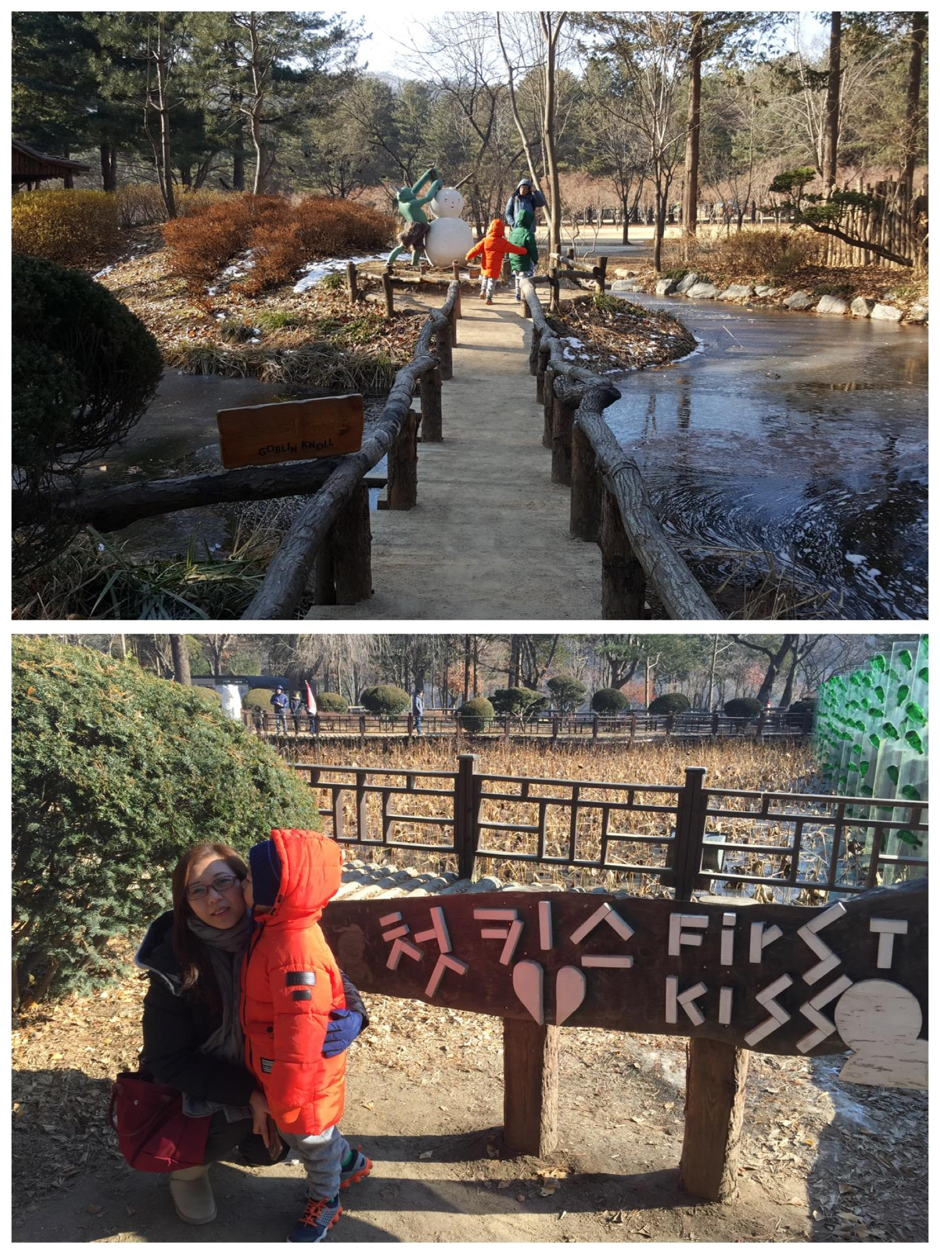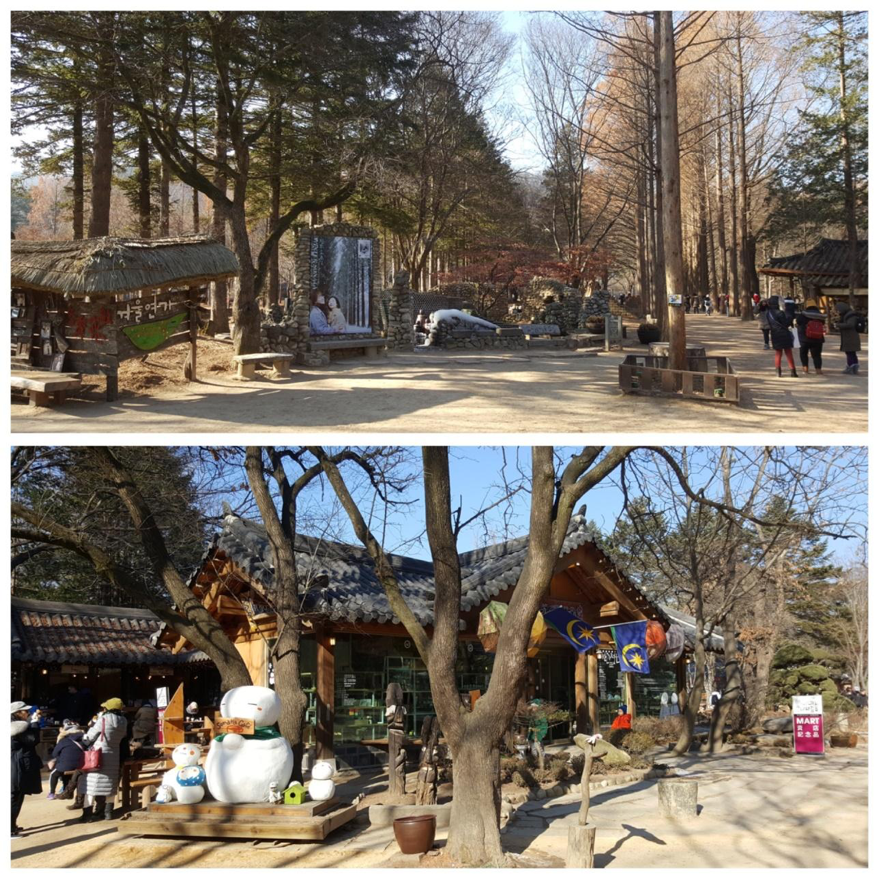 Interesting discoveries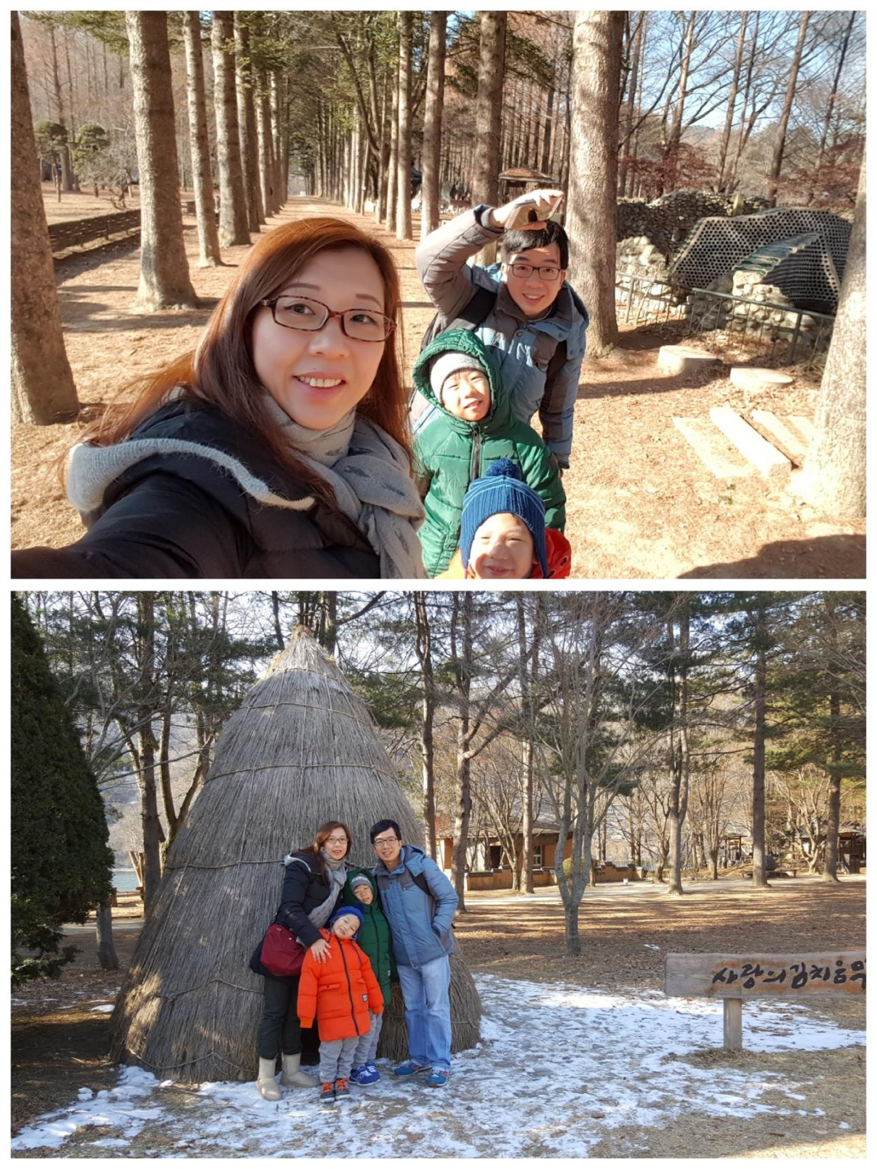 After that, we proceeded to explore the surrounding area and found some Kimchi huts nestled in the open field. It was mentioned that Kimchi Hut is a traditional storage place for Kimchi stored in clay jars. With the help of a passerby, we took the opportunity to snap a family picture.
For the last part of our journey, we headed to the riverside walking path on the southern part of the island for a pleasant stroll along the banks of Hans River while enjoying the scenic view of the mountain range. A great way to rejuvenate your mind!
The overall experience in Nami Island was indeed amazing where you will be in total harmony with winter nature and it is definitely one of the must-visit destinations when you travel to South Korea with your family.
Address: 1 Namisum-gil, Namsan-myeon, Chuncheon-si, Gangwon-do, South Korea
Opening Hours: 7.30am to 9.45pm
Gangchon Rail Park – Pedal through nature with your family on Rail Bikes
The Gangchon Rail Park is an attraction that every family should not miss in Seoul.
Imagine hopping on a rail bike with your family and pedalling your way together along a defunct rail track while marvelling at the breathtaking landscape of rolling mountains and the Bukhangang river. It was indeed a memorable adventure for us.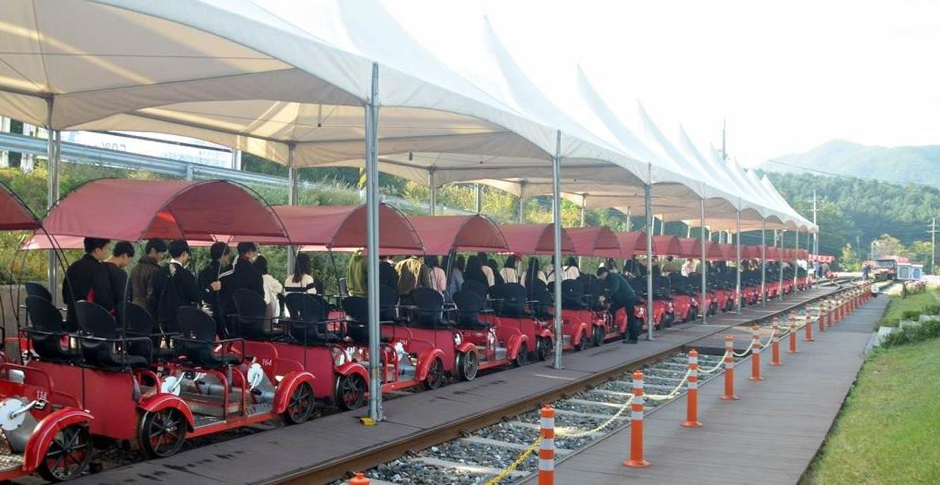 Bikes galore!
When we arrived at the rail bikes departure station, my boys were bursting with excitement at the sight of the long stretch of red rail bikes at the departure station.
Prior to taking the bikes, the staff will present the do's and don'ts in Korean and basically everyone needs to fasten their seat belts and no standing is allowed while the bike is in motion.
There are two types of rail bikes to choose from, a two-seater and four-seater – both types depart from the station separately. When it was finally our turn, we hopped on the four-seater bike and began our exhilarating journey with guidance from the friendly staff.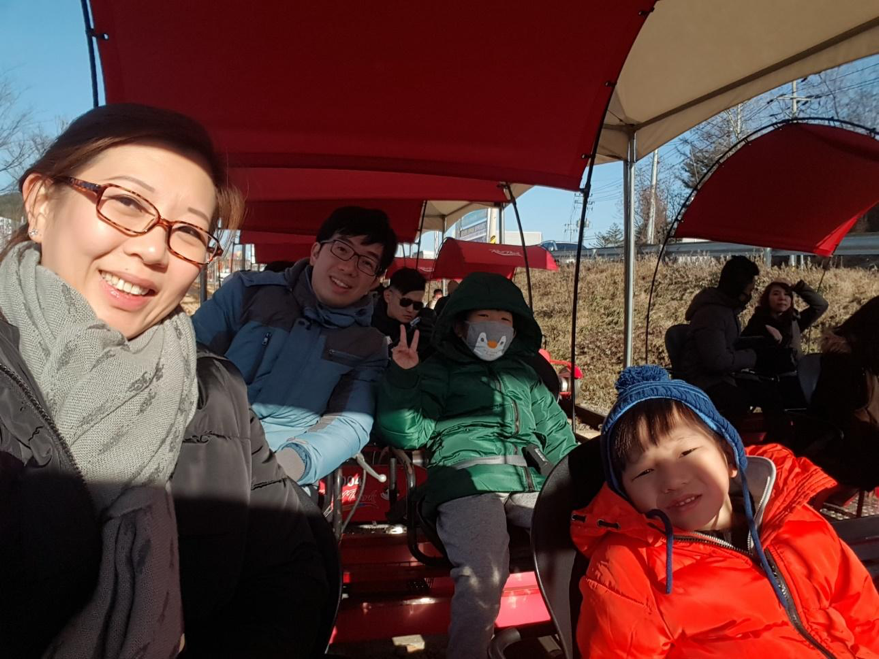 The journey
At the starting point, the momentum we got from the slight slope enabled us to move forward easily.
Later on, it dawned upon me that my two boys were trying arduously to pedal due to their height and limited strength, especially my younger son. As such, both my wife and I needed to put in extra effort to pedal forward. Nevertheless, we enjoyed every second moving along the track, discovering different breathtaking view of nature at every twist and turn.
We bantered and immersed ourselves in the scenic view of winter foliage, flowing river and rolling mountains while snapping pictures and videos of our adventure.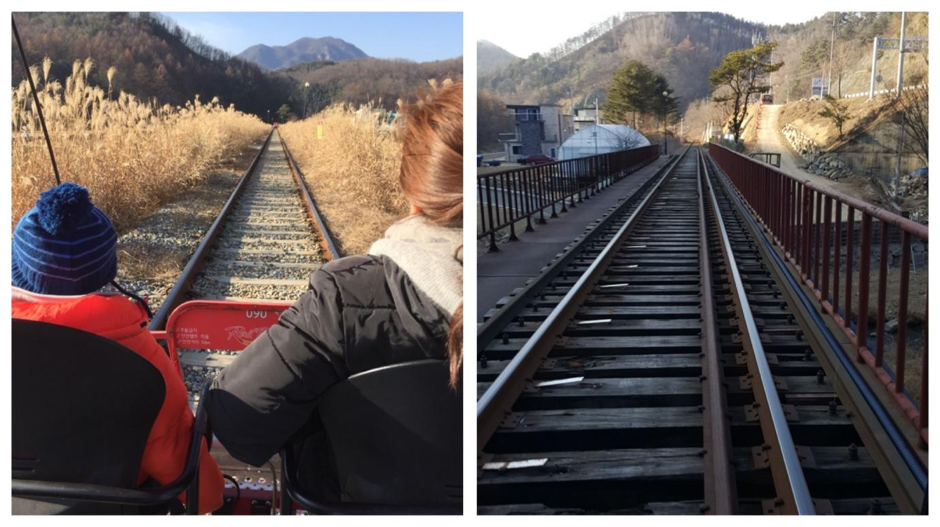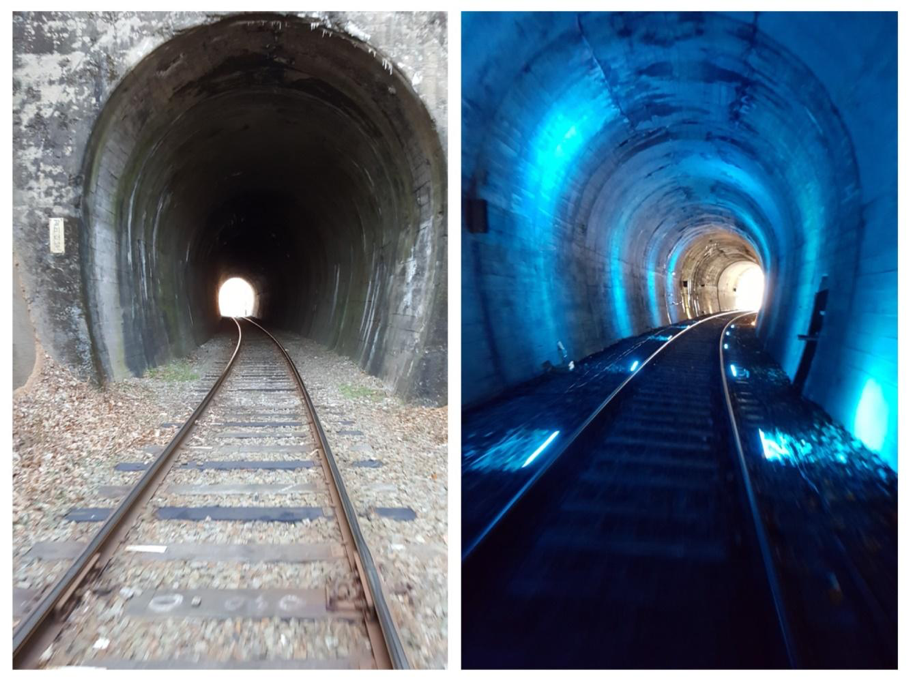 The pleasant surprises that awaited us in front of the ride was the highlight of the ride, be it a visual treat or unexpected discovery.
We found a camera installed beside the track that will automatically capture you in motion, so do remember to pose and smile…
Throughout the ride, we also pedalled our way through several musical tunnels where you would be entertained by creative light shows with music. We thought that was pretty interesting.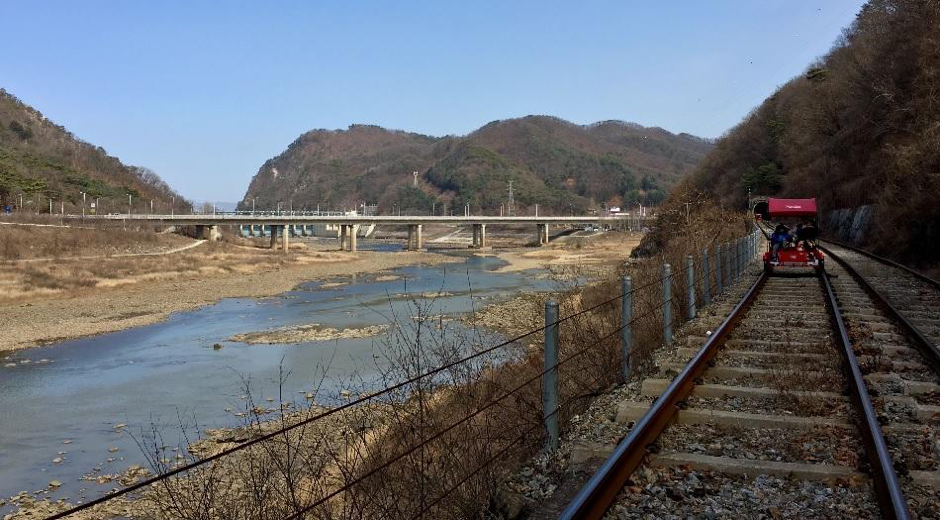 As time went by, the chill from the winter breeze was no longer felt due to our relentless pedalingmotion. We were in fact sweating and needed to remove our outer coats. What an irony!
My wife and I began to feel the strain on our legs as we looked into the distance, wondering where the finishing point was. The funniest part was the bike behind us had caught up with us and teasingly knocked onto the back of our bike, signalling us to speed up.
My boys blurted out in frustration, "It's not fair, they have four adults in their bike." Still, we continued at our own pace and eventually reached the final transfer station where you can take a train back to Gangchon station.
We found out later on that the rail bike track stretched 6km long – so be prepared to burn some calories after all the leg exercise
Overall, Rail Biking at Gangchon Rail Park was undoubtedly an amazing experience for my family and I am very positive that every family will love this unique attraction in Seoul.
Address 1383 Gimyujeong-ro, Sindong-myeon, Chuncheon, Gangwon-do, South Korea (4 mins walk from Gimyujeong Station, Exit 1)
Operating Hours: 09:00-17:30 (summer), 09:00-16:30 (winter)
Cost: KRW 30,000 (two-seater) / KRW 40,000 (four-seater)
Petite France in Gapyeong – Be enchanted by the charms of the French-style village
If you are a great fan of the novel The Little Prince written by Antoine de Saint-Exupéry, Petite France is a themed attraction in Seoul that you should not miss. This place provides you the perfect opportunity to reminisce about the whimsical and meaningful tale.
It was our last visit of the day and located not far from Nami Island or Gangchon Rail Park, this lovely French-inspired village was built by a Korean owner who fell in love with the beautiful landscape of buildings in France when he travelled there.
Even if your kids are not exposed to this great literature book yet, parents can make use of this chance to introduce them to the inspiring tale that has captured the hearts of readers around the world. What a great way to holiday and learn!
Stepping into the village
At the entrance of Petite France, you will be greeted by a handsome life-sized character, the Little Prince, followed by a cluster of pastel-coloured buildings on a hill that will intrigue every Instagram enthusiast.
Remember to get a copy of the programme guide so that you won't miss the captivating performance held at the designated area at various time slots.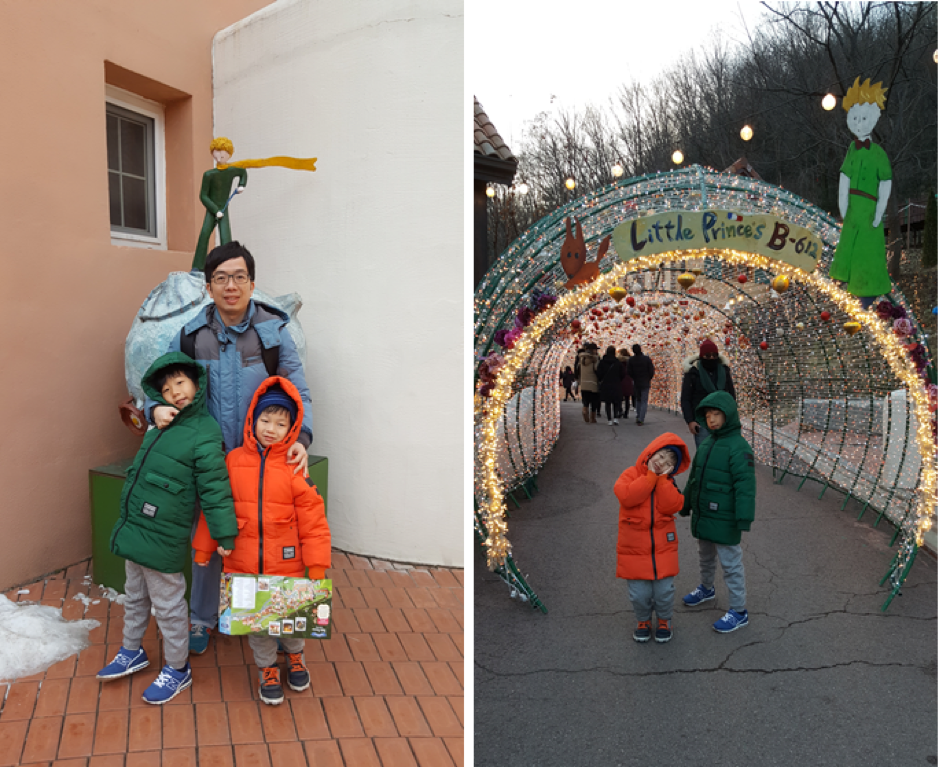 Where the world of fairy tales come to life
As we explored curiously around the vast area, we could find colourful statues representing the interesting characters and settings from the novel. What a great way to transport you to the enchanting world of the little prince!
We even chanced upon the famous French fairy tale, The Little Red Riding Hood's colourful display for a fun and whimsical photo shoot.
Venturing further in, we discovered quaint museums that displayed everything dedicated to the Little Prince for you to marvel at. In close proximity, there were also some fascinating galleries that showcased interesting French artworks and ornaments.
We basically spent our time roaming inside those little colourful houses in exploration of French surprises. Feeling peckish? You can make your way to any café there to indulge in French treats and coffee to perk you up.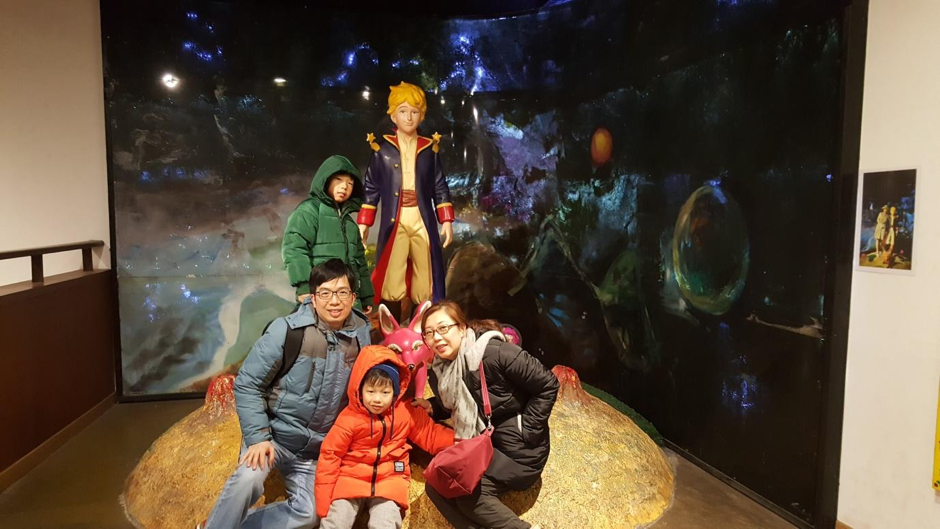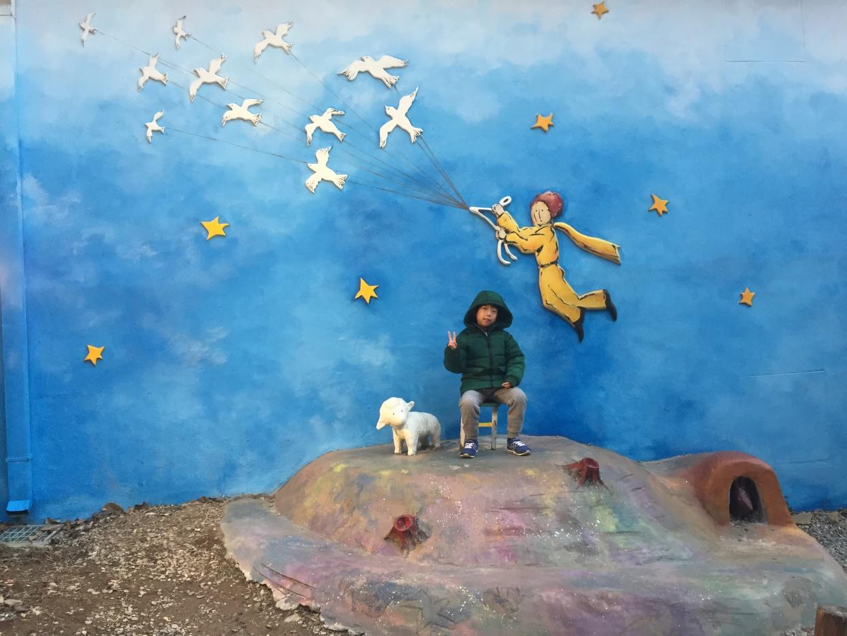 While we made our way to the butterfly park located on the higher ground, a mural depicting the little Prince caught our eyes as it was the perfect backdrop to snap a picture with the iconic Little Prince flying with a flock of birds in the azure sky!
Creepy crawlies
We continued the last part of our tour to the butterfly park through a long wooden bridge. The icy cold breeze did not deter us from enjoying the sweeping view of the French village against a landscape of rolling mountains.  On the way back to the entrance, my sons were drawn to a choir of insect sculptures showcasing their musical prowess with their instrument. It was cuteness overload!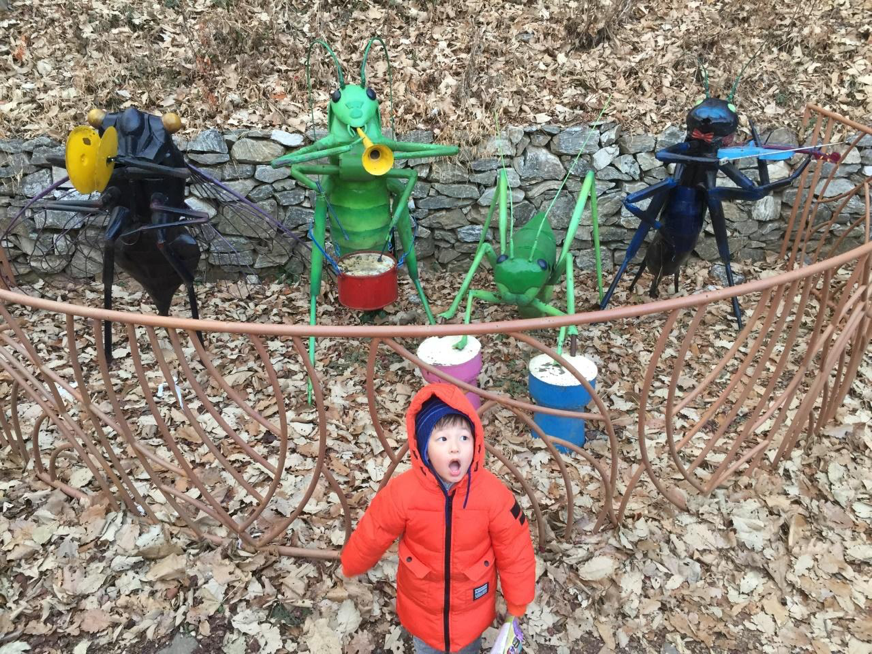 I have to say that if you have no plans to visit Europe in the near future, Petite France can undoubtedly provide your family with a truly amazing French immersive experience that you cannot get from elsewhere.
Don't hesitate and take your family there when you are in Seoul. Be absolutely enchanted!
Address: 1063, Hoban-ro, Cheongpyeong-myeon, Gapyeong-gun, Gyeonggi-do, South Korea
Operating Hours: Sun-Thurs, 9AM-6PM / Fri-Sat, 9AM-PM
Admission: KRW 6,000 per person
Also read