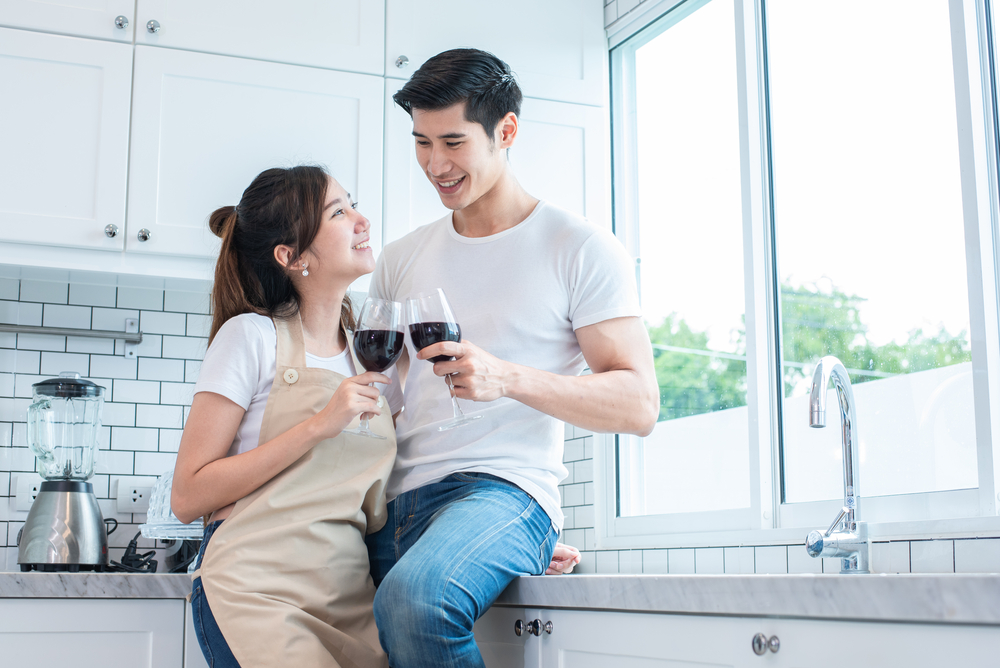 Finding the time for a date with your spouse can be rather daunting especially when you lead a busy lifestyle. It gets worse when the kids came along and more often than not, you might even find yourself not having the energy to date. 
However, it is important that time alone with your partner is maintained and dates are intentionally carved out during parenthood. It provides both of you to have one-on-one moments and allows for communication to take place. 
Connection with each other is important as this will deepen the relationship and enhance the marriage. When your children know that both their dad and mum are in a healthy marriage, they feel secure and could establish good relationships with others. 
Date nights don't have to be about fancy restaurants and for some of you, you might not even be able to spare that few hours at the movie theatres. Date night ideas can be simple and yet they are the ones that could bring the greatest joy. 
Here are 12 best date ideas for parents to consider:
1. Take a stroll in the park
Date night ideas do not have to be complicated or even involve much money. It can be as simple as taking a stroll in the neighbourhood park in the coolness of the night. Take a slow walk, wind down and have a chat with your spouse. If you are tired, have a seat at the nearby bench or just head straight home!
2. Get physical
By that, we mean the exercise sort. 
To the sports enthusiasts, this could be one of the best date ideas for parents but for others, it may sound tiring to exercise after a long day at work. However, working out, especially with your spouse, can have a positive impact on your emotional well-being. 
Exercising helps release endorphin and regular physical activity can also increase your dopamine and serotonin levels which are the happy hormones that you would not mind having! 
3. Chill with Netflix
Let's face it. There are times when you would rather stay at home after a hard and long day. 
If you are parents to young children, chilling in front of the TV would sound like a perfect deal to you. In that case, make this date night in front of the screen a little different from every other night.  Choose a movie that you won't normally watch but one that both of you would not mind. Get some chips and drinks and snuggle up together on the couch. 
Read also: 5 Ways Your Relationship Changes After Having Kids – and Tips to Cope
4. Dine at different restaurants with discounts
Some of the best date ideas for parents would inevitably involve food. If you are a foodie, you would probably find much fun and joy in trying out different restaurants and cuisines. 
Get on some food apps that could get you good discounts and enjoy a scrumptious dinner or supper with your beloved. Have a meal that is not interrupted by kids and enjoy a great conversation, just like the good old times.
5. Cook (and enjoy) a romantic meal
If cooking is your kind of thing, then this might be one of the feasible date night ideas to explore. Pack your kids to the grandparents or friends who do not mind babysitting them and cook up a storm in your own kitchen. 
When there is no interruption from the kids, the mood to whip up a good meal will come naturally. Cook and set up the dining table, and have a good conversation over the romantic meal that both of you have come up with.
6. Attend a cooking class together
So, you like to cook and attempt new dishes but hate the washing up? How about attending a cooking or baking class together? 
You can learn how to cook a new dish, and at the same time, have fun with your spouse. This date night will be out of the ordinary routine but it may just be what both of you need.
7. Fun with fruit fondue
Want a fun and fruity date night? Love chocolate? Go for a night of fruit chocolate fondue! 
Fresh fruits can be ordered online and delivered to your doorstep. All you need to do is to spend some time cutting the fruits and preparing the chocolate fondue, a task which can be therapeutic for some. 
When all is done, enjoy a time of healthy dessert and have a good time chatting and reconnecting with each other.
8. Couple massage
There will be times when the thought of having date nights is exhausting and all you want to do is to collapse into bed. 
How about having a relaxing experience for both of you through a couple's massage? 
Though there won't be much interaction between both of you during the massage, you would feel rejuvenated after that experience and could still catch up a little as you enjoy a quick cup of tea after that. 
If you are too tired to even get out of your house, you could arrange for massage therapists to come to your place for a relaxing time of massage.
9. Book study on marriage
All right, before you groan and balk at the idea, reading a book on marriage and discussing related topics as a couple will help in understanding each other's perspectives and why you do things differently from your spouse. 
In fact, to the bookworms in some of you, it could be a real joy and a fun time of discovering more about your spouse! 
Be consistent in having the discussion. Have some ground rules, that as you share your thoughts, you can agree to disagree and listen to the viewpoint of your spouse with patience and love. 
As you keep doing it, you will realise that you have a deeper understanding of each other and perhaps, your bonds will be strengthened. So, brew some calming tea and chat away. 
10. Art jamming
Life is stressful, having to juggle work and family life. If you are thinking of a fun and creative outlet to relieve stress and are looking forward to a relaxing evening with your partner, try painting. 
There are many art jamming studios in Singapore that offer sessions with materials fully provided so you don't have to worry about bringing your own art supplies. Some of these studios even throw in a free drink so you and your spouse could enjoy a night of fun and relaxing art jamming session.
11. Games night
Board games. Video games. Without the kids around? 
Yes! This is especially doable when the kids have turned in and not around to disturb both of you anymore. 
Intentionally set aside a time and have fun playing the game with your spouse. Easy and fuss-free, this is one of the best date ideas for parents.
12. Go on a joyride
A car ride to nowhere or a joyride just to admire the night scene in Singapore can be a simple but yet a fun thing to do. 
You can admire the CBD skyline, drive through brightly lit shopping malls in Orchard Road, or just venture to new places. During the car ride, take the opportunity to connect with each other. Play some songs that both of you love and sing the night away.
Read also: 9 Ways to Make Your Wife Feel Loved and Happy – Real Life Tips From a Dad!