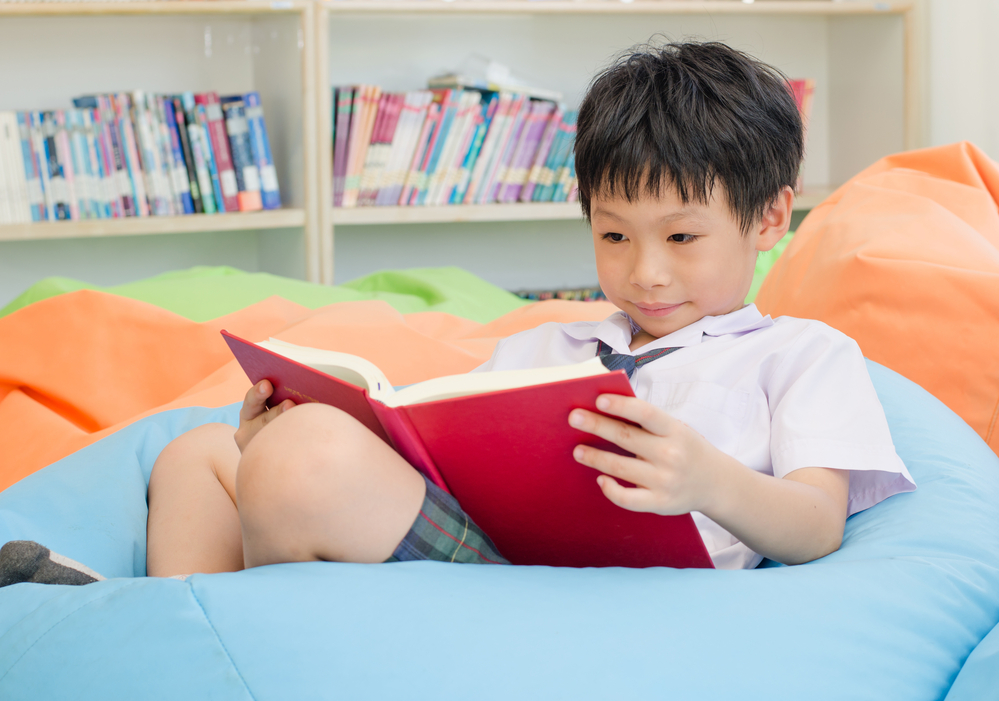 A good reader does better in school and has more of an inclination towards lifelong learning. Reading is a fundamental skill that every child should have because it helps your child to develop vocabulary, increase attention span and promote stronger analytical thinking. 
A student with efficient reading abilities is well positioned to tackle the multitude of academic assignments such as composition writing, listening comprehension, and at higher levels, presentation skills, taking notes and revision work.
According to Progress in International Reading Literacy Study, Singapore pupils are top readers, outperforming students from 13 other countries including the United States. The Ministry of Education (MOE) attributes this result to the changes in the way the English language has been taught in schools in the past decade.
Parents anxious to groom their kids to be good readers in primary school should read on for tips from education experts on how to encourage strong reading habits in their children.  
How to raise a reader and encourage strong reading habits
Dawn Lim, curriculum advisor at Star Learners shares that "children go through cycles of listening, speaking, reading and writing" when picking up literacy skills. Hence, she encourages parents to speak in proper English to their child, tell them stories, read them bedtime stories and have conversations about the stories read to their children. 
Want to raise a reader? Here are 10 things you can do. 
Read also: Experts Agree: Reading Aloud To Children Does Wonders For Their Behaviour
1. Read from Day One 
Even whilst they are in the womb, babies begin to acquire linguistic abilities. So, sing nursery rhymes and talk to your baby in the womb to stimulate their brains and jumpstart their literacy skills.
2. Reread Favourites
Children never tire of hearing their favourite stories read to them repeatedly. Rereading their favourite books help your child build a bond to the stories and allow them to listen out for any parts they may have missed in earlier readings.
3. Find Reading in Everyday Things
There are words everywhere. Read everything from grocery lists, notes to teachers, road signs, baking recipes or advertisement posts. Read to your child or have your child read to you, with your help of course.
4. Keep Reading Fun and Enjoyable 
When your child's reading experience is pleasant and gratifying, your mission to encourage reading habits will be more likely to succeed. So, be more expressive and a little silly when you read fun books like the popular Dr. Seuss series or the Mr Men Little Miss series. 
5. Make Reading a Special Time or Bond with Mom and Dad
Encourage reading habits by instilling the habit of reading early by spending time reading with your child. Whether it is just before bedtime, or dedicated afternoons, delegating a special reading time with your child will strengthen the positive association your child have with reading. 
Choose from this list of 100 best children's books to kickstart your reading time.
6. Quizzes and Comprehension
Does your child understand the story you just read? Estee Tan, a trainer at Discovery Edu Cove shares that primary 1 pupils "should be able to answer questions about the story after it was read to them. After your reading, ask your child questions pertaining to the story and see if there is any comprehension of the story. 
7. Talk, Talk, Talk
Grow your child's vocabulary by talking to him/her. Narrate what you do so your child, no matter the age, can begin to learn the words. Use proper grammar and talk in full sentences with sprinkles of vocabulary, especially from your child's reading, to demonstrate the linguistic use. 
8. Role Model the Reading Habit
Your child is more likely to read if she sees you reading. Create a reading area that encourages reading habits and keep reading materials like newspapers or magazines in the house.
9. Make Connections Between Reading and Real life
Introduce books that have simple life lessons to your child. Publisher and Founder of Epigram, Edmund Wee recommends the Jack Is Curious series by Linda Locke that has a little boy asking quirky questions such as Will I Grow Old? and Can I Hit Back at a Bully? 
Your child may also relate to books that features the places or culture of Singapore. Afternoon Tea at Raffles Hotel Singapore is a good example, says Foo Peiying, Marketing Manager from Ethos Books. Other books of the same theme include Sasha in Singapore by Shamini Flint or Sarah's Great Adventure by Madeline Beale.
10. Visit your Local Library
Public libraries are great resources for books. Check the library closest to you for monthly recommendations of reading materials and activities such as storytelling and Read!Singapore. Some great titles for your advance readers include the Roald Dahl series and the Harry Potter series (J K Rowling).
Read also: "My preschooler doesn't like to read. How can I encourage her?"