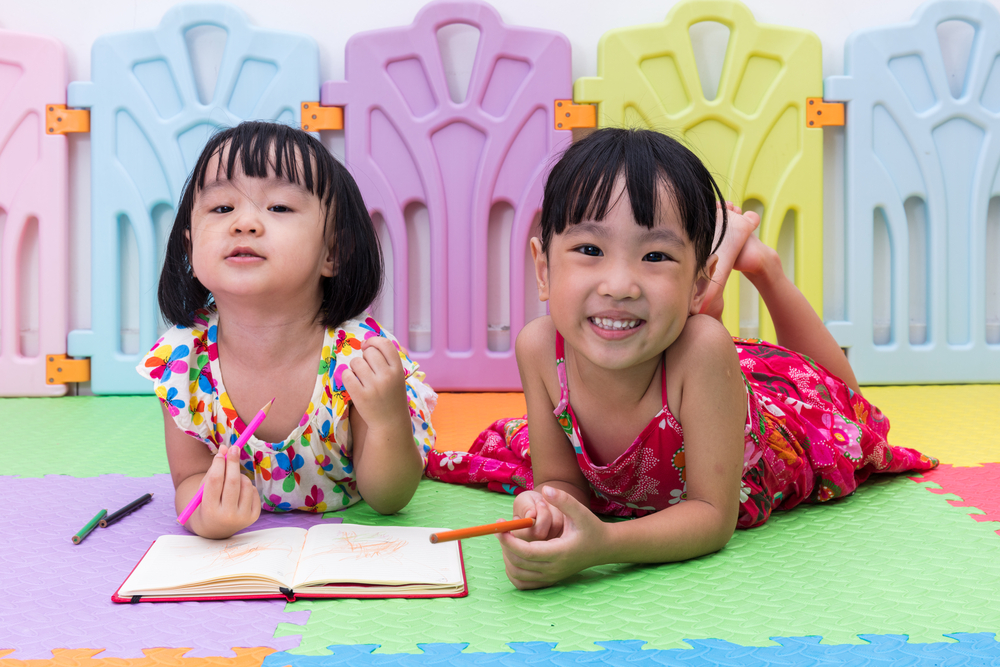 Choosing a preschool for your child can be a daunting task. After all, there are many preschools in Singapore to choose from and you probably will want to do some preliminary research even before your child is ready for one. 
Depending on your family's needs, you would need to consider if you want to place your child in a preschool or childcare centre with a half-day or full-day care programmes or one that provides a purely kindergarten education. 
Read also: Is Your Child Ready to Start Preschool? 5 Signs to Look Out For
Next, you would want to find out more about the various kinds of preschool curriculum that are offered in Singapore. Though all these approaches are child-centred, each of them is unique in its teaching methods and an understanding of its key principles will help you determine which preschool's philosophy and education beliefs are in alignment with yours. 
Many preschools and childcare centres use a mixture of approaches to come up with their own unique curriculum so it would be helpful if you have some knowledge of the different types of preschool curriculum. 
Types of Preschool Curriculum in Singapore
1. Montessori
The Montessori education is characterised by an emphasis on independence, freedom within limits and respect for a child's natural psychological development. 
In a true-blue Montessori school, classrooms are made up of students of different ages. The mixed age group allows the children to develop socially, intellectually and emotionally and is an essential part of any Montessori school. The child is guided by a trained adult who will show them how to do the tasks they are ready for. Subsequently, they can work with the materials independently.
Note that there are Montessori preschools and childcare centres in Singapore that practise a blended approach (Montessori philosophy + other educational approaches) for their school curriculum. 
Preschools that offer this curriculum:
Brighton Montessori, Greentree Montessori, House On The Hill, Inno Montessori School, Josiah Montessori, Lumiere Montessori House, Montessori Children's House, Modern Montessori International, Pink Tower Montessori 
2. Reggio Emilia
The Reggio Emilia approach to early childhood education views young children as individuals who are curious about their world and have the powerful potential to learn from all that surrounds them. Educational, psychological, and sociological influences are important factors to consider in understanding children. 
Reggio teachers employ strategies such as exposing children to a wide variety of educational opportunities that encourage self-expression, communication, logical thinking, and problem-solving. The importance of relationships is emphasised and the teachers take time to form relationships with the children and engage in rich conversations with them. 
Preschools that offer this curriculum:
Blue House International, Between Two Trees, EtonHouse, Hundred Thoughts Preschool, LeClare Preschool, Mulberry Learning Centre, Odyssey the Global Preschool, UWC Southeast Asia, United World Preschool, White Lodge
3. Waldorf Steiner 
Waldorf education is based on the insights, teachings and principles of education outlined by the world-renowned artist and scientist, Rudolf Steiner. The principles of Waldorf education evolve from an understanding of human development that addresses the needs of the growing child. 
Music, dance and theatre, writing, literature, legends and myths are not simply subjects to be read about and tested. They are experienced. Through these experiences, Waldorf students cultivate their intellectual, emotional, physical and spiritual capacities to be individuals who are certain of their paths and to be of service to the society.
Teachers in a Waldorf preschool in Singapore are dedicated to generating an inner enthusiasm for learning within every child. 
Preschools that offer this curriculum: The Waldorf Steiner School, Waldorf Steiner Education Association (Singapore)
4. Whole Brain Learning 
The Whole Brain Learning approach emphasises equal focus on both sides of the brain. 
Under this approach, there is an assumption that the brain is most active (and therefore optimal for learning) between a newborn to 16 years of age which is why the Whole Brain Learning approach should be introduced at a young age. 
Whole Brain Learning preschools emphasise to students that the process of learning is no less valuable than reaching its goals. Such a holistic process acknowledges that play is the vocation of the children. Left to explore their environment, children are guided by teachers who help them make sense of both the ends and the means of their tasks. 
Preschools that offer this curriculum: iGenius, MindChamps, Stamford Education
5. Play-Based
Play-based curriculum is built primarily on child development theories by Jean Piaget and Lev Vygotsky. The key principle of such a curriculum is that the children learn the most when they are interacting with the materials and their environment in a fun and interesting manner. 
In a Play-Based preschool or childcare centre, the teacher's observation of the children is key and the classroom environment is essential in stimulating the interest of the children and therefore, their learning. 
Preschools that offer this curriculum: Mosaic Kindergarten, Rain Trees International Kindergarten, Shaws, Swallows & Amazons Kindergarten, White Lodge, Little Atlas Preschool 
6. The High Scope
The High Scope Approach was created in Michigan during the 1960s and is based on the educational theories of Jean Piaget, John Dewey and Lev Vygotsky. 
This approach puts a strong emphasis on children learning through interaction with their environment, including their daily routine. 
In a preschool that uses the High Scope curriculum, the teacher scaffolds the children through a carefully designed process called "active participatory learning" that strives to develop in children a broad range of skills including problem-solving, interpersonal and communication skills. Children are encouraged to pursue the activities or interests they choose through the materials, equipment and time provided for them. 
At the end of the day, children come together and review their day. Such "plan-do-review" component is the key element of the High Scope approach.
Preschools that offer this curriculum: British Council Preschool Singapore, George Washington Preschool 
7. Theory of Multiple Intelligences
The Theory of Multiple Intelligences stems from the belief that views intelligence on being multi-dimensional as opposed to purely academic intelligences.  
Each child has eight intelligences namely verbal-linguistic, logical-mathematical, musical-rhythmic, visual-spatial, bodily-kinesthetic, interpersonal, intrapersonal and naturalistic. Children can excel in certain intelligences while being weak in the others. It encourages learning in ways that respect the individual interests and strengths of children. 
Preschools that use the Theory of Multiple Intelligences in their curriculum seek to help develop the strengths of the children while at the same time enhance their weaker intelligences. 
Preschools that offer this curriculum: ChildFirst, Posso Preschool, Preschool for Multiple Intelligences
8. Art-Based 
Art-Based preschools integrate their academic learning through the arts. Such a curriculum not only covers essential academic areas such as literacy and numeracy, it also encompasses the Arts in education. 
Children could be receiving lessons on Visual Arts, Speech & Drama, Music and Dance in the programme, making education in the Art-Based preschools a holistic and creative one indeed.
Preschools that offer this curriculum: Arts Kidz International, Da Little School, NAFA Arts Preschool
9. Mandarin Focused 
Preschools that focus on Mandarin provide children with an environment to immerse themselves in the language and in doing so, help them to cultivate a love for the language. 
In some of these preschools or childcare centres, the curriculum is delivered entirely in Mandarin by native Chinese language teachers from China, Taiwan as well as Singapore. Throughout their day in school, the children are exposed to the Chinese language most of the times. 
In Singapore where English is the predominant language in most families, having your child in a Mandarin focused preschool would help him/her grasp the language better and cultivate in him/her a love for the Chinese culture. 
Preschools that offer this curriculum: Chengzhu Mandarin Kindergarten, Elfa Preschool, EtonHouse Zhong Hua Preschool, Joy Little Schoolhouse, MindChamps Chinese PreSchool, Pat's Schoolhouse
10. The National Curriculum 
The Ministry of Education (MOE) operates MOE Kindergarten (MK) and develops the Nurturing Early Learners (NEL) framework for children aged 4 to 6 years old. 
Through the framework, preschool educators design curriculum that nurtures the children's curiosity so that they can explore and discover the world, encourage active learning through experimenting, and experiencing and foster the children's competence so that they can develop their thinking and reasoning skills. 
MK provides holistic, accessible and affordable early childhood education to Singapore Citizens and Permanent Residents. However, MK only provides kindergarten education and does not provide childcare programmes for children. 
For more information on MOE Kindergarten, click here.  
Read also: The Ultimate Guide to Choosing a Preschool For Your Child
We hope that this list would provide you with a better understanding of the types of curriculum offered by the various preschools and childcare centres in Singapore and that it would help you in choosing a preschool that will cater to the needs of your child.