In most preschools and kindergartens, the focus of lessons are skewed towards developing early learning skills – with English being the main language of instruction.
But what if you are a parent who is looking to give your child a head start in learning Malay during the early years to supplement their exposure to the language at home?
For most parents, this activates them to search for a Muslim childcare centre or kindergarten that integrates Malay language in the curriculum to meet their needs.
One option to consider is IMAN Kindergarten and Childcare, where kids learn the basics of Malay language through an engaging programme and a creatively designed curriculum made up of fun activities and thematic learning for preschoolers.
Learning Malay language – the IMAN way!
IMAN Kindergarten and Childcare plans the Mother Tongue Language (MTL) curriculum to equip children with a strong foundation in the four aspects of the language – namely, speaking, listening, reading and writing.
At the heart of the Bahasawan Bijak programme is the belief that fun is a fundamental element that drives language learning.  When an IMANITE (an endearing term used for the children) comes home beaming about sampling Kueh Lapis,  dressing up as Hang Jebat,  going on a virtual tour to Egypt or how they made an egg float in water,  don't be surprised if it turns out those were activities conducted during Bahasawan Bijak.
Early childhood experts at IMAN believe that the learning of Malay language should be interlinked with the rich Malay culture and heritage. IMAN's MTL curriculum provides children with the opportunity to talk, sing, dramatise, and perform in the Malay language as this acts as the seeds that inspire a love for the Malay language and nurtures them into readers, writers and thinkers.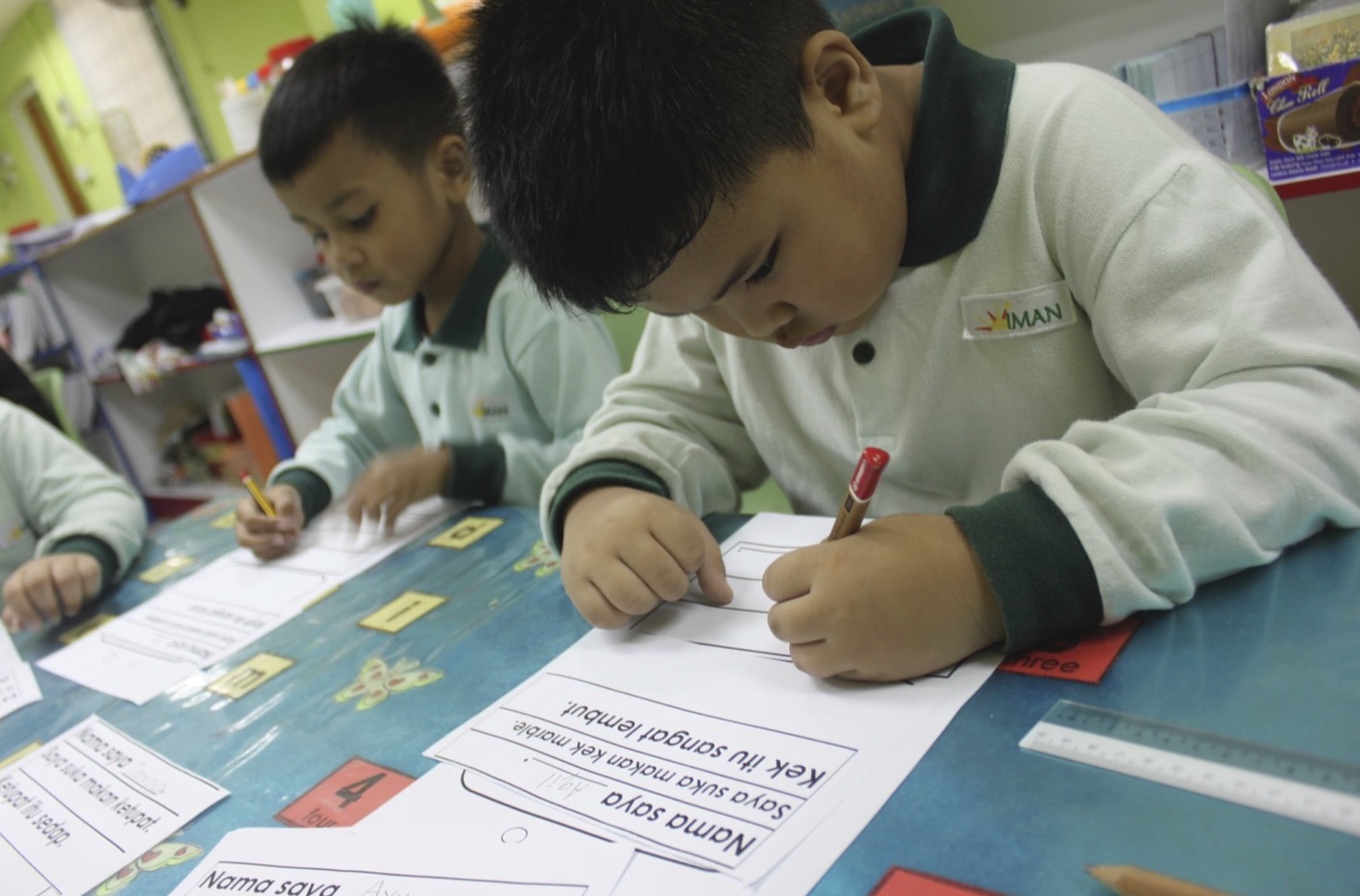 Turning rich cultural experiences into reading adventures
The children  at IMAN are exposed to many wonderful aspects of the Malay language, such as  'Pantun', 'Dikir Barat', Boria, drama,  choral reading, poems, rhymes and songs – all of which are heard, read, recited and performed to transform the wonderful experiences of the language into print.
IMAN also puts in place the KinderBook Club. This is a parent-assisted 'reading-to-write' programme that helps to nurture a love for books among our children and develop basic print awareness.
The beginnings of early writing
Early writing leads to a strong literacy foundation. IMANITES are encouraged to perceive themselves as imaginative authors and illustrators as they learn the basics of writing from the alphabet to 'suku-kata', and progressing on to the writing of kosakata (words) and sentences.
Within the context of writing, the curriculum systematically integrates phonics instruction to empower children to learn decoding skills and understand how the reading process works.
Getting hands-on with Malay language
Children learn best when they get to experience the language first-hand.  The 'Language-Experience Approach' equips  IMANITES with the sights, sensations and words to put their thoughts on paper.
From visiting a butterfly farm during Edu-Visit to a  KinderWow experiment on 'floating eggs', every IMANITE  gets to savour a learning journey or hands-on activity that provides ideas and inspiration for early writing.  These learning journeys allow IMANITES  to encounter new words and present them with the opportunity to use the Malay language situationally.
Children at IMAN  come back from their trips with many experiences which are captured in photos. These photos are made into story slides for circle time activity, making a great visual aid to guide children with different abilities as they work together in small groups to write photo-stories/photo captions based on a shared experience.  Some children might be strong in spelling and vocabulary, while others contribute interesting ideas and twists to make the stories come alive.
The fun of creating original stories
Believe it or not, one of the most effective ways to get children excited about writing is by bringing in stories – and this is where storytelling is used as a prelude to story writing.
At IMAN, children from Nursery to K2 levels learn the writing of Malay language through 'KinderPublication', which is an experiential language approach using original stories created by the children. In groups, the children would listen to or read a story. They then invent new characters and twists to the story – and therein lies the fun of jointly publishing a new story with friends!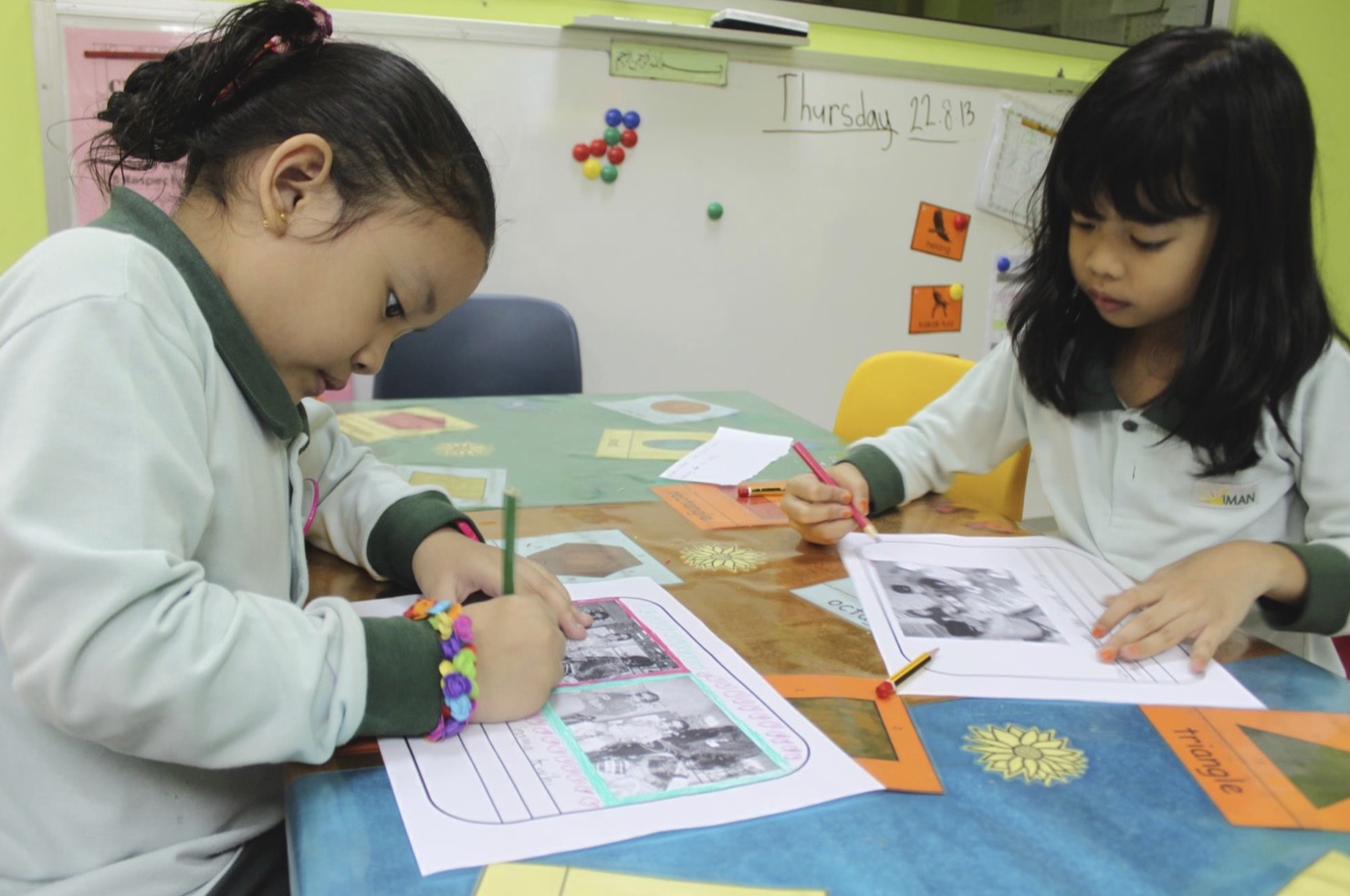 Article contributed by Mdm Nurulhuda Hamidi, Principal of IMAN Kindergarten (Yishun).