We all know a mother's love for her children is limitless and unconditional. All mothers are constantly making sacrifices and will go to great lengths for their children.
Mdm Gayathri, a primary school teacher and a proud mother of four, is the epitome of love, sacrifice and strength.
Balancing teaching with family life is a gargantuan feat that Mdm Gayathri has delivered. After her fourth child was born, she decided to take no-pay leave to spend more time with her children
Describing her parenting style as authoritative with hints of authoritarianism, Mdm Gayathri shared with Wonder Years her parenting journey and how she coped with bringing up her four beautiful children aged 3,7,9 and 11.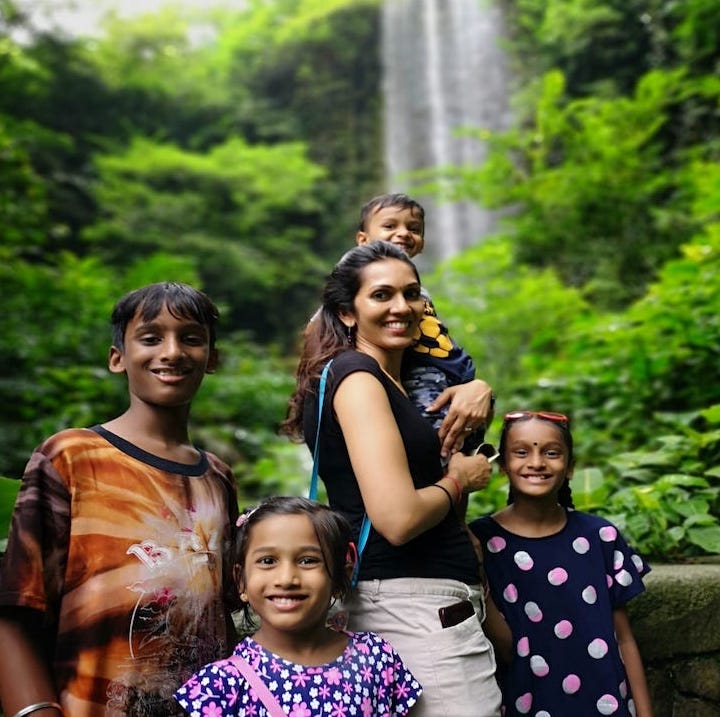 Being a mum of four children, how do you balance work and family?
It is all about making every second of the day count. When three of my children are in school, it gives me the time to get things done before the whole focus shifts back on the children when they are back from school.
I think I am at a stage where I cannot really look for balance but appreciate the moments when I get my 'me time'.
What do you love the most or enjoy the least about being a mum?
I honestly feel like I am endowed with superpowers. Not those extraordinary ones but power to actually wake up instinctively when I sense one kid is uncomfortable or the relentless power to respond to the endless 'ma' calls of distress. Being a mum truly makes me respect fellow mothers and my own mum.
The thing I enjoy the least about being a mum would probably be not being able to get dressed or ready the way I hoped. You'll always end up being the last one when you have settled all the children. But I have learnt to beat that by planning the night before so I will be more ready.
What are some of your favourite activities to do with your children?
There's this thing that we love to do, especially on non-school days. Everyone hangs out in my bedroom to share their minute of fame. The kids just start putting up dances or a show and tell, or wrestle with their dad. Some days, it is just a horror movie night on the laptop and everyone enjoys scaring each other and laughing. This is truly a great bonding time from the usual outings. It really makes me relish my time with my children.
Share with us one lesson you've learnt about parenting that really impacted you
After many years, I finally 'gave up' and surrendered to sending my kids for tuition.
All along I told myself that I would be the one to coach my kids but as the years passed by, I realised that I could not really get all of them seated and teach them like the perfect picture I had in mind. One child needs to be watched while another wants you to explain something.
I learnt to accept that it is fine to send them for extra help rather than to struggle and not get much done or worse still sacrificing the younger one with the idea that they still have time with no exams.
I guess this taught me to learn about my kids' different learning styles.
Do you think being a mum is tougher now as compared to the good old days?
It's more like we mums are being tough on ourselves these days. We want to give our kids the best with the endless opportunities out there.
Yes, mums in the good old days like to send their kids for enrichment or the usual, ballet, piano, taekwondo too. But today there are just way too many classes right from little float pools for babies to phonics for toddlers.
As mums, we pressure ourselves wondering if we are equipping our kids for today's world. Moreover, the more educated mums tend to end up googling or practically reading up so much just to ensure we're giving our kids the best.
What is the best thing a mum can do for her children?
To always show them love and to believe in her kids and know that they can always count on you.
What are your dreams for your children?
I do really hope that my children have fulfilling and happy lives. They would enjoy what they are doing.
Becoming a new mum can be a daunting task. Any tips or advice to share?
I think new mums need to know that it is okay to seek help. There are many support groups around. Make use of these groups.
For example, I know the BREASTFEEDING MUM group on Facebook is a great support group for breastfeeding mums. Sometimes it can be quite overwhelming… do share your feelings with your spouse and get him involved as I feel the husbands of today are very willing to be part of everything.
Complete this sentence: The best thing about being a mum is…
you're a superhero to your kids.
Last but not least, Mdm Gayathri wants to highlight that just like any other mum, her days are more chaotic than the perfect rosy picture one might think.  Having 4 kids can really push you to your ends at times but the laughter and cuddles make them worth it.
We thank Mdm Gayathri for her great sharing. Motherhood is an uphill task from the day that your little ones are born and being a mother definitely shape your thinking and lets you see a whole new perspective in life.
Also read:
Life Story: How I Dealt with the Mum Guilt
Life Story: How I Mother My Daughters
Life Story: How I Get My Children to Talk to Me about Their Day