For the past two months, the Circuit Breaker has turned our lives around in more ways than one. 
From being working parents who typically rush through life between work, home and the family, this period has changed the family dynamics completely by turning most of us into work-from-home parents who had to juggle with the children's HBL and to keep them entertained thereafter.
Challenging as it seemed at first, we all did the best we could to make the most of the situation which brought the family closer together as more time was spent at home.
A few weeks ago, we got our mums to share the ups and downs they went through during this period. This time round, we checked in with our dads as they opened up on their experiences in working and staying home with the family.
Here's the compilation of stories we pulled together from some of our dads as they shared their strategies for pulling through this trying but precious period – and some of the greatest lessons they've learnt from the whole experience! 
Circuit Breaker Stories and Strategies From Our Dads
"Weekends are now forever!"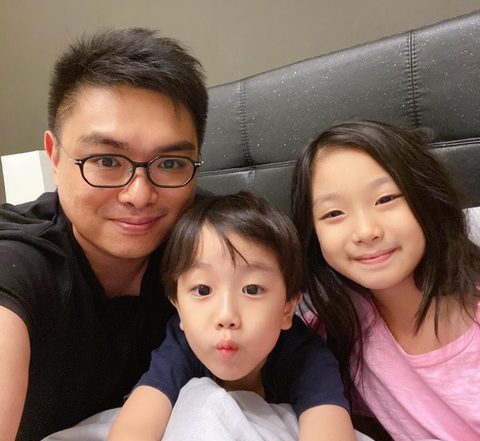 "I don't really see the Circuit Breaker as a challenge, but it just seems like our weekends got longer. Instead of a short two days, weekends seem to stretch forever.
"I'm thankful to have my domestic helper around to take care of the housework and groceries during this time, but there was still one issue that I find it hard to tackle with – the children's HBL. While Andrea, my elder child, could handle lessons independently for the first half of the day while I worked, it was not the same case for Aidan as his HBL activities required parental involvement. 
"I felt bad that nobody was able to accompany him for the first half of the day – and so he wanders around the house aimlessly. He tries to get our attention by asking me or Andrea every other minute what we were up to and if we will be done soon. Sometimes, this leads to him disturbing his sister which ends up with me scolding him, although deep down I realise that it is normal for a 6-year-old to behave that way when he/she is bored. He tries to be part of my zoom meetings by talking to me or sticking his head within the screen which I find quite amusing!
"I tried to improve the situation by waking up slightly earlier to finish up some of the more important stuff. This was so that I could get Aidan to sit with me later on to have a chat while I continue doing work that requires less focus. Once Andrea is done with her school work, she will then help him with his writing and spelling work.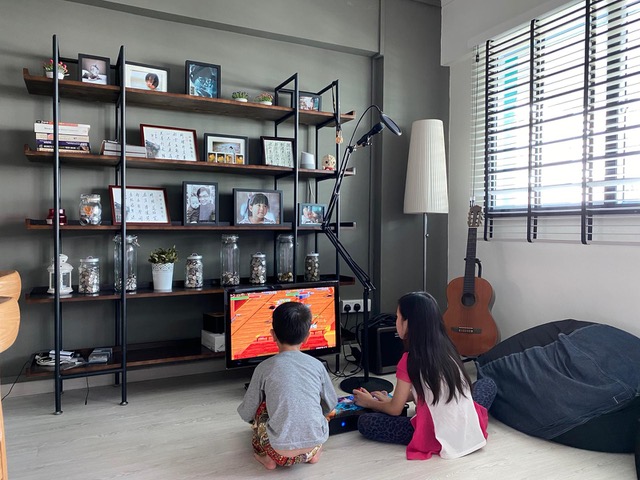 "While this arrangement worked for us, I uncovered something surprising when I decided to log in to Andrea's self-learning platform to take a look at her work. While most of the work was done well, I saw a few sections where it seemed like she did it just for the sake of completing and submitting her work. This made me realise that it could actually be my fault.
"I may be very close to both my children, but I also tend to have a bad temper. To avoid getting scolded by me, Andrea probably went ahead to submit her work without checking with me if she got it right. Through this, I've learnt that it is important not to be impatient with our kids or shout at them, as this will stop them from opening up to us when they really need help and guidance. 
"I'm still working to fix my temperament but I do have one important tip to share with other parents out there. Before getting angry or shouting at the kids, cool down and let them finish what they have to say first or let them explain themselves. By doing this, I tend to be more understanding and less angry – because sometimes their explanation leaves me feeling amused!"
– Jason Ang, dad of 2 kids aged 6 and 9
"It was a challenge to find personal space and time at home!"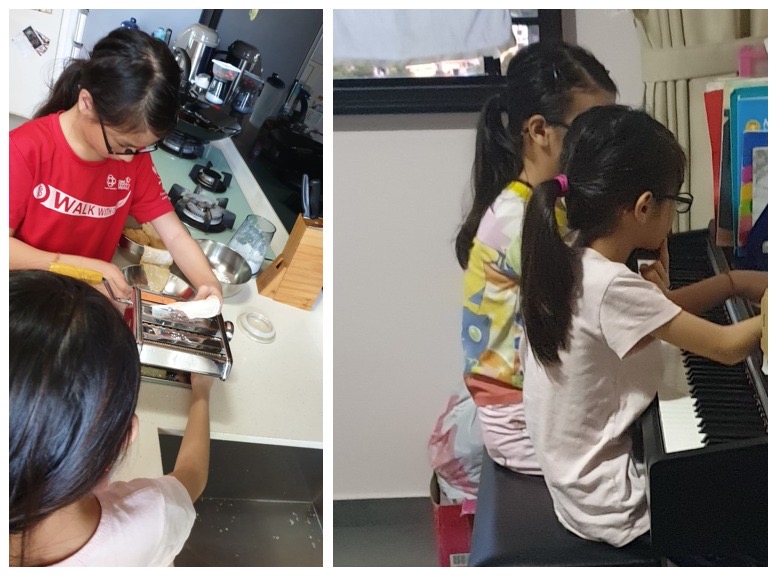 "During the Circuit Breaker, I was put to work from home full-time. On the other hand, my wife, who is a part-time enrichment course instructor, had all her lessons put on hold.  
"This turned out to be an unexpected blessing for me because both our daughters were on full HBL, and so my wife assumed the role of the "full-time coordinator" to ensure that my girls' HBL experience was smooth sailing.  I am truly grateful for this and all the things that she took care of,  as it helped to offload that huge amount of pressure off my shoulders. 
"One of the most challenging things I encountered during this period was to find personal space and time within the confines of home. As it is not "normal" for daddy to be home all the time, my children were eager to spend more time playing with me. I had to remind them that I still have to work during office hours. In short, it was not easy to focus on my work at home, compared to when I was in the office.
"I also realised that since my home has become my office,  there was a tendency for me to work much longer hours and that automatically left me with lesser time and attention spent on my family. This obviously was not healthy – and I've truly learnt the value of good time management from this circuit breaker experience.  
"The best resolution I came up with was to set a timetable of activities for everyone in the family so that each of us knows exactly what we were supposed to do during a certain period of time. Of course, that was not a miracle cure, and following the timetable was not easy, even for me – but fortunately, it worked fine most of the time."
– Francis Wan, dad of 2 kids aged 9 and 12
"We realised what it takes to be a teacher, especially during trying times like this."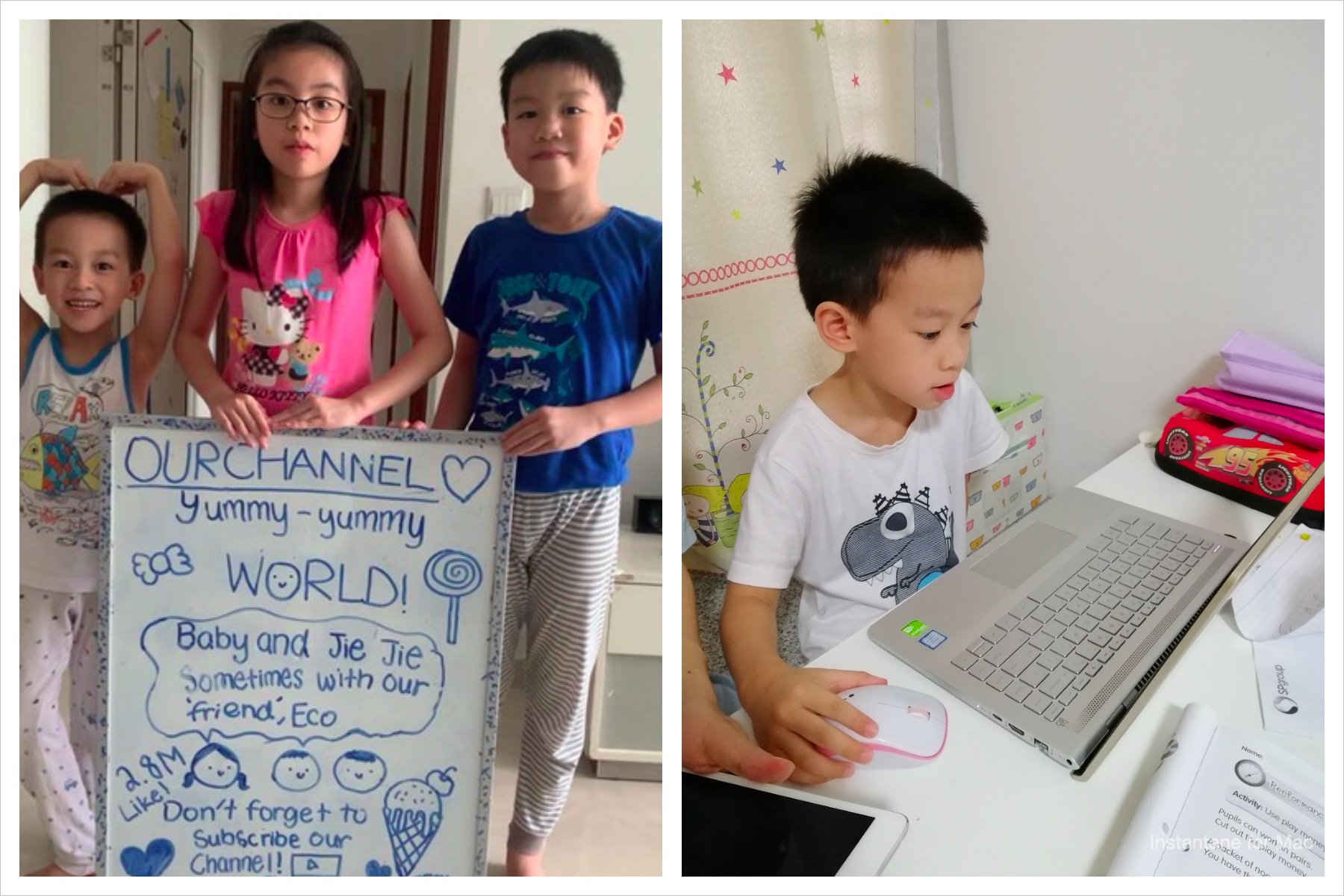 "Both my wife and I work from home and all of our kids were having HBL at home. So it was a challenge to accommodate the use of laptops and electronic devices according to everyone's schedules and preferences.
"Most of the time, we will guide the kids during their HBL and ensure that they complete their homework every day. Overall, it was a struggle to follow the HBL timetable, especially with both of us having to work at the same time.
"The greatest challenge we encountered during this period is to find ways to engage the kids at home every day. We try to limit the time they spend on the computer or devices, but since both of us had to get work done, we'd resort to finding ways and means to make them stay in their rooms – for example, by doing some drawing activity or playing Lego. 
"On some days, we get them involved in cooking simple dishes.
"Taking care of them for the whole day is indeed challenging, especially when all of us are confined under the same roof. Through this, I have learnt that being a teacher requires tremendous patience, passion and dedication – and we're thankful to our children's teachers for preparing lesson materials to engage the children, as well as to check in on their well-being every once in a while."
– Steven Chen, dad of 3 kids aged 5, 8 and 10
"Despite the struggles, it was a joy to see how excited the kids were to stay home with us!"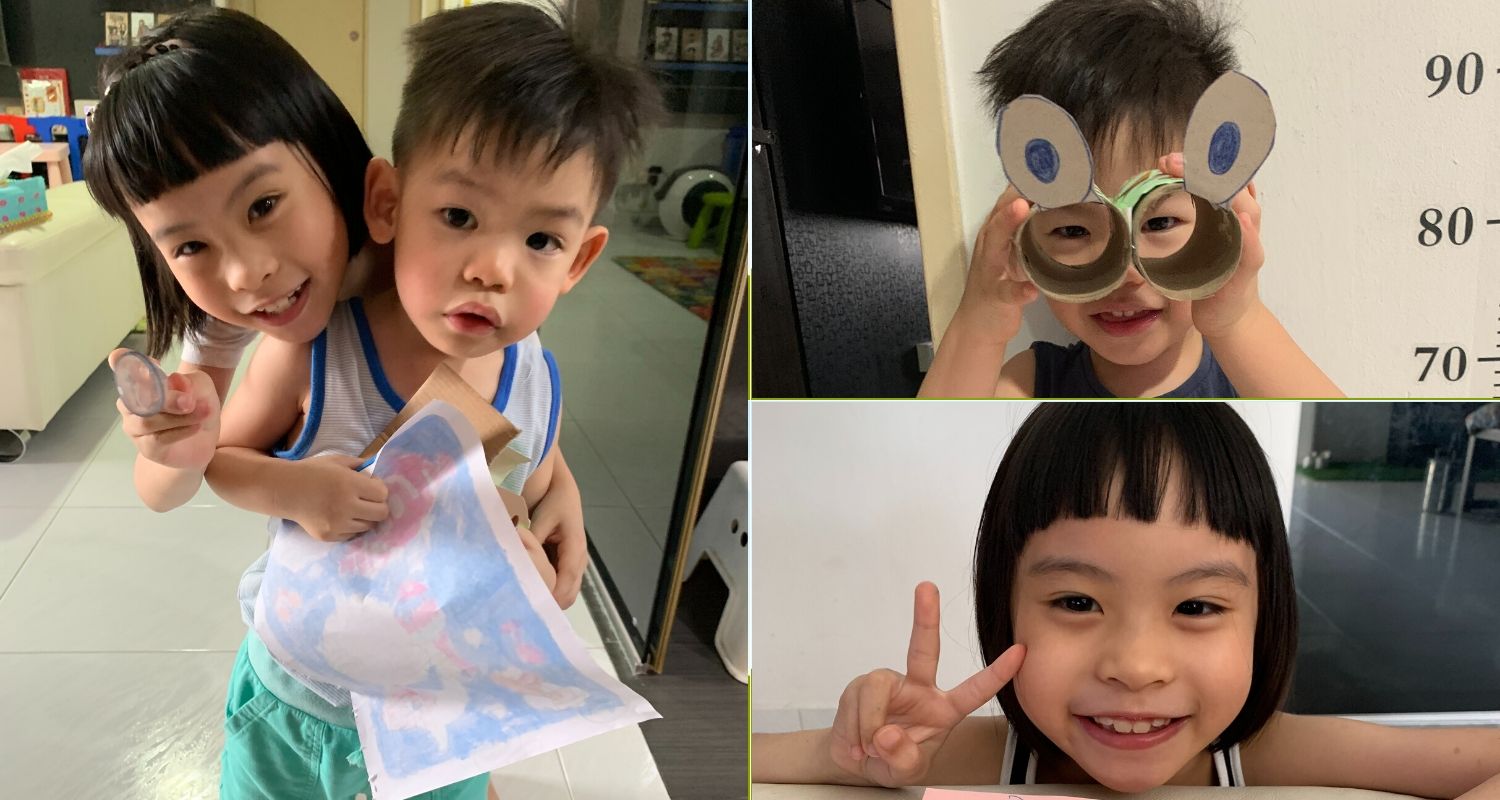 "I've been working from home since the start of the year, the moment Dorscon Orange was declared. Back then I was the only one working from home, so I was able to concentrate on my work. Just before the Circuit Breaker started, my wife was put to work from home as well – and a week later, the 2 kids joined in.
"It was a chaotic time as apart from trying our best to occupy their free time, we both had to help them with HBL as well – in addition to getting work done and having video calls.
"Like most kids, they will interrupt us when we are working and would ask us to play with them. And when left alone together for too long, they will start fighting and arguing over the littlest things. To avoid this from happening too often, we put the kids in different rooms as much as possible so that they are engaged in different activities.
"Although it has been more than challenging juggling work and the kids at the same time, I see this as a blessing in disguise. It gives us more time to have the kids at home with us and this is when we truly get to see how far they are in terms of learning and just to watch them grow over the few weeks at home. 
"We truly treasure this moment as the kids will only be little for a while and once they grow up, we will definitely miss having them yearn to spend time together with us like this!"
– Terence Too, dad of 2 kids aged 3 and 8
"We need to adjust and adapt quickly – but it is important to stay calm and positive while doing that!"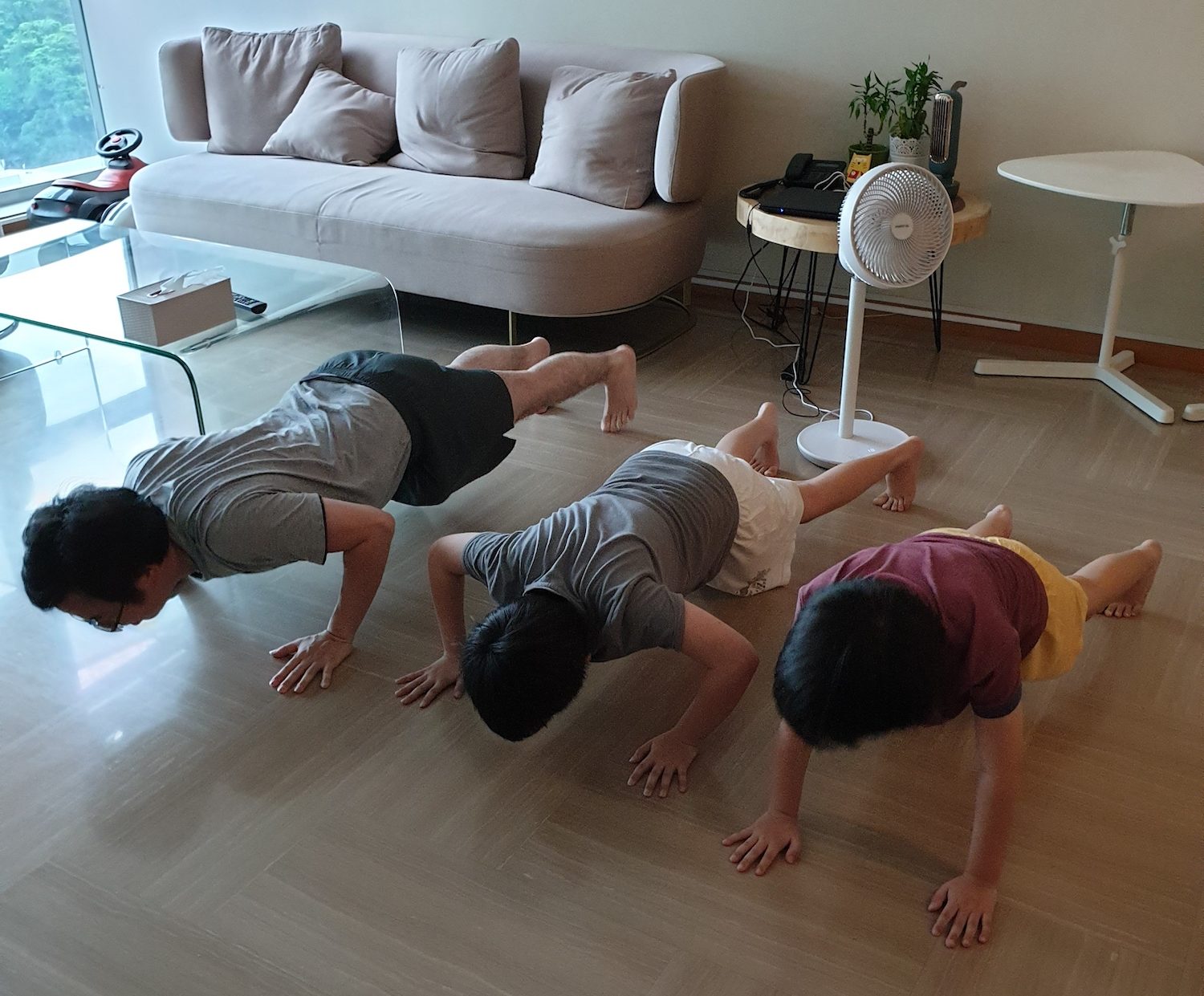 "Both of us were working from home during the Circuit Breaker, and I am responsible for guiding my two boys in their HBL, especially the younger one who is in primary 2. The elder one can manage by himself most of the time and will only check in with me when he needs help.
"Once their HBL is done for the day, needless to say, they will entertain themselves by watching videos or playing online games on their devices. However, I also make sure that they get some exercise by sweating and strengthening their muscles before dinner.
"I believe most children are adaptable to the situation, as long as we keep them occupied and entertained. They should be able to go through this Circuit Breaker without major issues.
"One of the greatest challenges I encountered during this period was to prepare my elder son for PSLE this year. I'd constantly motivate and remind him of the importance of doing well based on his abilities. 
"All the nagging and yelling is necessary, especially when I see him slacking and becoming too complacent. I'd often park myself beside him to make sure that he understood all the concepts for all four subjects on top of the HBL assignments. Trust me, it is necessary otherwise he will while away his time in games. 
"Amidst the challenges encountered during this time, I've learnt that in times of adversity or unexpected crises, it is important to quickly adjust and adapt – but we need to do so in a calm and positive manner. This helps us to avoid getting sucked into all the negativity that surrounds us, which then brings on a whole new set of issues.
"Let's all do our best to press on – we will get through this together!"
– Peter Tao, dad of 2 kids aged 8 and 12
"I take the role of being the fun parent very seriously!"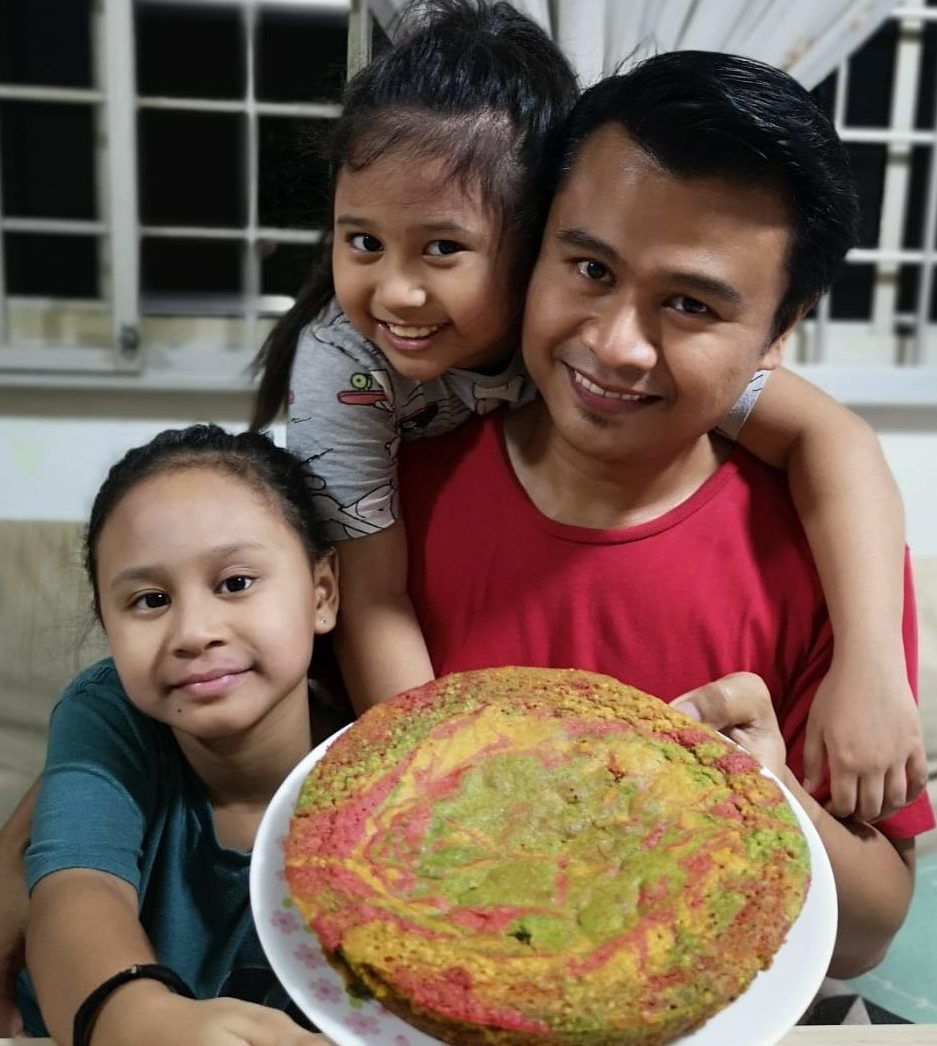 "Being a property agent and having the luxury to arrange appointments according to my own schedule, I always make sure that I take some days to work from home and spend time with the family. 
"During the Circuit Breaker, I shifted to working from home 100% of the time. The three weeks of HBL were mostly facilitated by my wife while I take the role of being the fun parent very seriously and have lots of play time with the children. 
"We abided by the advisories and my main role was to settle grocery shopping for essential household items. Mostly, my wife and I cooked together and spent the day watching Netflix and chill. It was especially memorable this year because we got to spend Ramadhan as a family and practised our faith together. When Hari Raya approached, we spring cleaned the house, cooked a feast and had Eid gathering on Zoom.
"As I was the designated person who got to head outdoors and do grocery shopping, it took me a while to get used to the hassle of wearing a mask, observe safe distancing and bear with long queues while trying to enter supermarkets. Frequent use of the sanitisers has also become a routine each time I made it back to the car after getting all essential items. I also made sure that I took a bath once I reached home to avoid spreading the germs within the household.
"Despite all the inconveniences, I truly enjoyed my time very much during the Circuit Breaker as I got the opportunity to spend quality time with my family."
– Yusri Omar, dad of 2 kids aged 9 and 10
"Everything now revolves around our home!"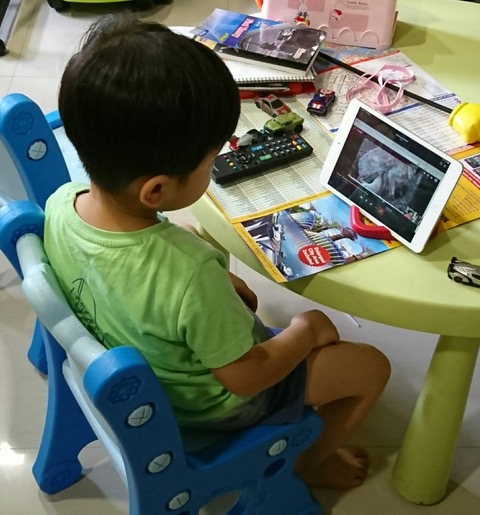 "With the Circuit Breaker enforcement, almost all our regular activities have shifted from outdoors to home-based – from work and school to dining and exercise. Thus, we had to get used to staying home most of the time and digital communications became a part of our lives. 
"One of the most challenging things I've experienced during this period involved guiding and engaging my son in HBL. As a kindergartener, he needed more parental guidance and so I would sit with him during the HBL lessons to walk him through.
"Prior to Circuit Breaker, we imposed restrictions on his iPad usage. But now with online lessons, we had to let him  get used to the iPad and as well as the Microsoft Teams application –  especially teaching him proper etiquette such as to mute when he is speaking and to unmute when he asks questions to the teacher. 
"Before the lessons, I would read through the weekly lesson plans, which are shared in advance. We will go through the questions he has, so as to minimise interruptions to the teacher's delivery of the HBL lessons, which is only 30 minutes per morning/afternoon session. 
"Sometimes during the session, my son would come up with the wildest questions about the animal he just learnt, and I would tap on Google to satisfy his curiosity and Google the find the answers and explanation for him.
"I suppose this period of time has taught all of us to embrace a home-based lifestyle, which will become a "new" normal for us for quite some time. Living in unprecedented times like this, it is also important that we anticipate, adapt and advance with the tides of time in order to conquer any challenges that may come our way.
– Ryan Tan, dad of 1 child aged 5