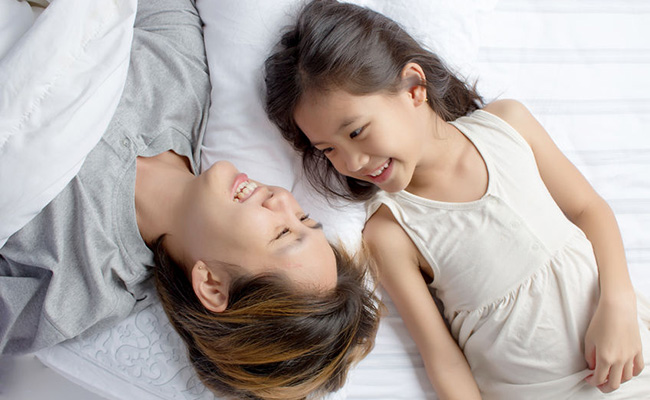 A strong parent-child relationship can lead to a link to a child's education, behaviour and future employment. No matter what age phase your child is in, keeping an open communication is the most important thing you can do to building a strong relationship with your child as he/she grows. 
The more your child is bonded to you, the more he receives responses that accurately reflect his feelings. With this, your child will be able to trust himself and his/her intuition, and therefore believe that he/she is able to manage the world confidently. 
"Being a sensitive parent and responding to your kids cuts across all areas of parenting," as shared by parent-child relationship expert, Dr. Keith Crnic at Arizona State University on positive parenting in News in Health. "What it means is recognising what your child needs at the moment and providing that in an effective way."
Setting aside quality time, engaging in special activities and knowing how to connect with your child at certain ages can be helpful in building a strong parent-child relationship.
Read also: Science Says Being Kind Makes Kids Happy – 5 Tips for Raising Kind Kids
Building a Strong Parent-Child at Various Ages 
Infants to toddlers – At birth to 2 years old 
Babies are born very dependent on their parents, as they undergo huge brain development and growth in the first two years of life. Receiving positive initial bond helps your baby to grow up happy, independent and resilient. 
It is important to establish a physical and sensory touch with your baby during these years where he/she will be learning the lessons of social, psychological and communication within varying kinds of relationships. 
Ways to bond: 
Explore sensory play activities with sand, water beads or even uncooked pasta
Look into your child's eyes and give attention when you communicate
Maintain skin-to-skin contact such as cuddles, kisses and massages
Sling carry your child if it's a better alternative when you are out
Read and sing with your child
Preschoolers to school-going children – 3 to 8 years old 
The strong emotional tie a toddler forms with his parent needs to be enriched and further developed. Preschoolers and school-going children are different from toddlers in that they are developing the basic life skills, independence and knowledge that they will need as they enter their school years. 
Among the growing uncertainties, your child will need assurance of your presence and unwavering love.
Ways to bond:
Bring your child out to play or visit places like the zoo or the garden
Use reassuring words and gestures when communicating
Share and read books with good moral values
Play simple board games or do an easy sport
Craft or create artwork together
Pre-teens – 9 to 12 years old 
These are the exciting years when your child will experience a period of rapid maturation and social growth. 
During this time, friends and peers are most likely to have a significant relationship in your child's maturing years. You may have a delicate influence and authority as compared to his previous phase of growing. 
It is important that you keep building a strong relationship with your child during these years. Consider activities that will allow you and your child plenty of communication opportunities. 
Ways to bond:
Bring your child out – visit local places like the museums or play together at his/her favourite indoor playground
Go for dessert and hot chocolate at your child's favourite cafe 
Art jam at home with canvas, paint and brushes
Go for a bicycle ride or walk in the park 
Cook and bake together
Teenagers – 13 to 18 years old 
The teenage years can be challenging as your child develops to establish his/her own interests and form a unique identity. At this stage, your child is learning how to use his/her strengths and abilities to achieve his/her goals and purposes. 
You'll notice a progression of mood highs and lows in the process of becoming independent, responsible and communicative young adults. Your child may get busier while you get less busy. Keep finding time to bond. Engage in certain activities that specially caters to heart-to-heart talks with your child.  
Ways to bond:
Consider fishing and prawning as it allows plenty of conversations 
Go on a musical and discuss the show before and after 
Volunteer for a charity event or at a home for the needy
Compete with a cook-off session in your home kitchen
Go on a hiking trail
Read also: 4 Important Character Traits to Instill in Your Daughter
There's no magic formula in building a strong relationship with your child. Bonding requires strong determination to communicate love and the ability of your growing child to see you as a person, not as a symbol of authority or judgement. It can be a complex and personal experience that takes time, but this will be all worthwhile in the end.