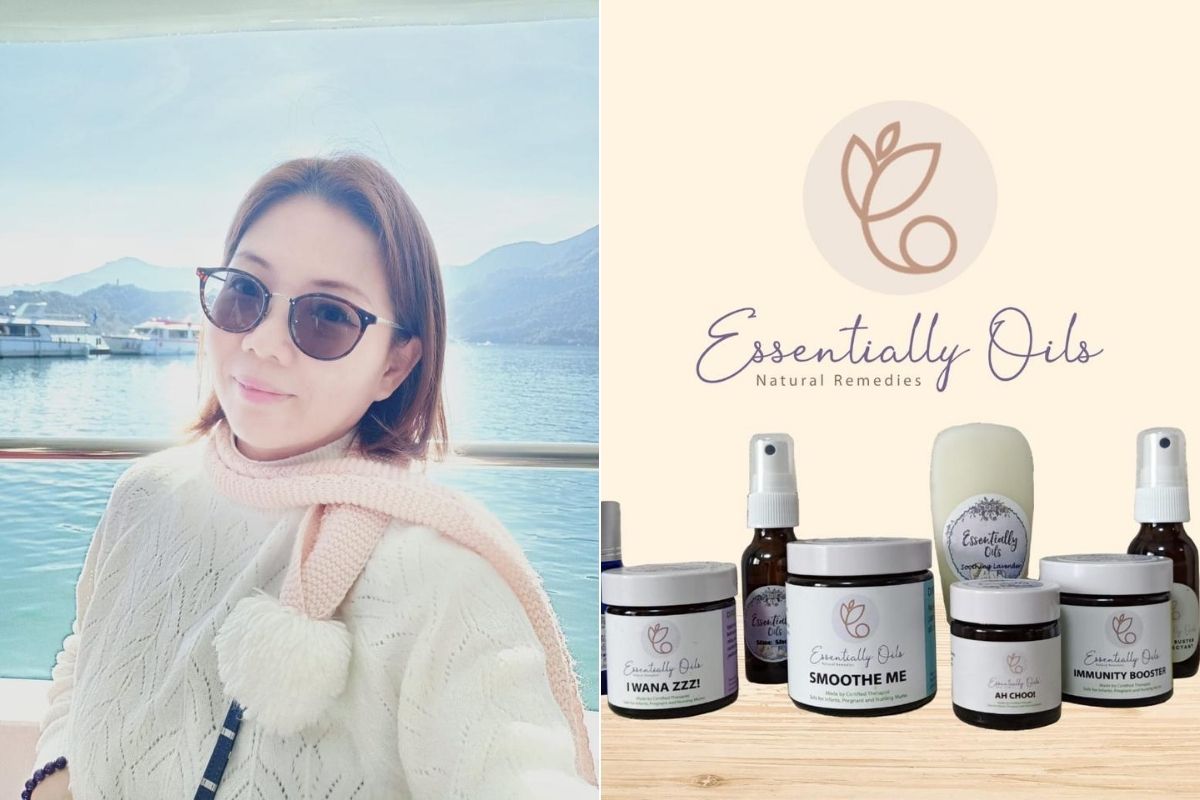 When it comes to boosting our little ones' health and immunity, most of us are open to trying various remedies that are deemed to be safe, natural and ones that have worked for other mums and their little ones.
One popular natural remedy go-to for health in recent years involves the use of essential oils. From easing the effects of fever and the common cold to specific health issues such as anxiety and indigestion, there seems to be an essential oil for almost everything.
We recently caught up with Florence Zhuang, who first turned to essential oils as a safe and natural remedy to soothe some of her health issues – and that of her children later on as well. The more she learnt and started sourcing for ingredients that are known to soothe dry skin conditions and common ailments in babies and kids, this then spurred her on to take things to greater heights. For Florence, this came in the form of a Diploma in Aromatherapy which saw her graduating as a certified aromatherapist.
Today, Florence is a proud mum of three active girls (a 23-year-old and a pair of five-year-old twins) and the founder of Essentially Oils, a local start-up which specialises in producing natural, customised blends for a variety of common health issues.
Here, she shares with us the journey that has taken her to where she is today – and how she juggles parenthood with business.
What's the story behind Essentially Oils?
I was introduced to essential oils when I was pregnant with my twins 6 years ago, as I was experiencing some health issues and had severe insomnia. I was quite skeptical at first but was then slowly wowed when I started benefiting from using the oils. 
My passion for essential oils grew when my girls were born with a sensitive nose and skin. I started to research more on these oils to find out how they can help my kids and my loved ones? This then eventually led me to pursue my Diploma in Aromatherapy and I graduated as a Certified Aromatherapist.
I started sharing the benefits of essential oils with my friends, and also gave samples of my blends for them to try too when I saw that their kids were suffering from similar health concerns. Many came back to me with great reviews and suggested that I try selling my blends. 
And that's how Essentially Oils started! At the end of the day, I wanted to offer an all-natural solution to families, to help them with their health concerns, from easing their respiratory discomfort to skin issues like eczema.
Read also: The Power of Touch: How Baby Massage Benefits Both Babies and Kids
What's the biggest challenge you've encountered in juggling motherhood (especially with kids with such a wide age gap and differing needs) and Essentially Oils? 
It truly isn't easy to juggle between the roles of mother, wife, worker and as a business owner. 
As my twins were very young back then, they required a lot of my time and attention. I had a full-time job as Office Manager during the day and had to rush home after work to take care of my kids. I can only then look into my business needs after my kids are asleep, which is usually near midnight. Then I brewed till the late hours of the night to fulfil orders.
I am thankful to have the support from my parents, and most importantly, my husband who has always stood by me whenever I needed help. I am especially grateful for my mother's help with packing orders, taking care of my girls when both my husband and I were busy. 
It's been a tiring journey when I first started the business, but the satisfaction that I get when I hear that my blends are helping fellow mummies and daddies, it's priceless! Now that my eldest is helping me out with managing our social media pages, I have more time to focus on what I do best – researching oil blend formulas! 
What's your parenting style and does it differ with each of your kids? 
Good question! 🙂 
I would say I'm more of a laid-back mum. As both my husband and I believe that the kids have a long journey ahead of them to learn things, we shouldn't be giving them too much pressure at this age or discourage them from learning. Instead, we continue to encourage them to ask questions whenever they are in doubt.   
As each of my child's character differs, I had to handle and guide them differently.  This is especially so since my eldest daughter is already in early adulthood, her needs are much different from my twins. But I'm thankful that she's understanding that her two sisters need my attention more; she tries to help out at times too. We communicate as if we're friends, and I try to have open conversations with her instead of using the "talk-down" method which is very common in our Asian culture. We even attend workshops together!
What are some of your key values or beliefs that you have applied to your business and the upbringing of your kids? 
I've always believed in treating everyone with heart and sincerity – and to offer a listening ear to those who need it. I have built many beautiful friendships with my clients who have now become my friends.
I do hope that these key values and beliefs will be instilled in my kids as they grow up.
What's the most fulfilling thing you have experienced as a parent? 
To see them grow up happy and healthy – and to have them tell me that they would want to be like me when they grow up. 
It's also a wonderful feeling to see them being helpful to others, and eventually become a mum like me! I hope this means that I've been doing a good job as a mum. 
Complete this sentence: Life as a mumpreneur is… 
An exhilarating and rewarding experience! 
You get to work your own hours, be your own boss, work from wherever you like – depending on what type of business you run, of course. 
But like all things in life, there's also the other side that's filled with challenges and that the business ends up running you instead. Sometimes, you might feel like you are a slave to your clients and work never seems to end. Adding this with the fact that you are a mother as well, let's just say that life can get a little overwhelming at times – but you will pull this through!
What advice would you give to the mums who are contemplating leaving their full-time job to start their own business? 
Make sure that you do your homework and research the products/services that you want to provide. Weigh the pros and cons, and also calculate your expenses. 
Ask yourself if your current savings can last you for at least three months of possibly no income – and most importantly, discuss with your family, especially your husband, on your plans. Having strong family support is very crucial to any business owner.  
Are you ready to plough on with deadlines when everyone else has called it a day, and maybe work harder than if you were at a full-time job?
These are some hard questions that you will have to ask yourself as well before you take the plunge.
Read also: 7 Types of Headaches and How to Treat Them
A big thank you from Wonder Years to Florence for sharing her journey in helping families stay healthy with her customised essential oil blend! 
Heads up! We will be running a Wonder Years X Essentially Oils Giveaway.
Follow us on Facebook to stay updated on details of our giveaways, exclusive deals and more!