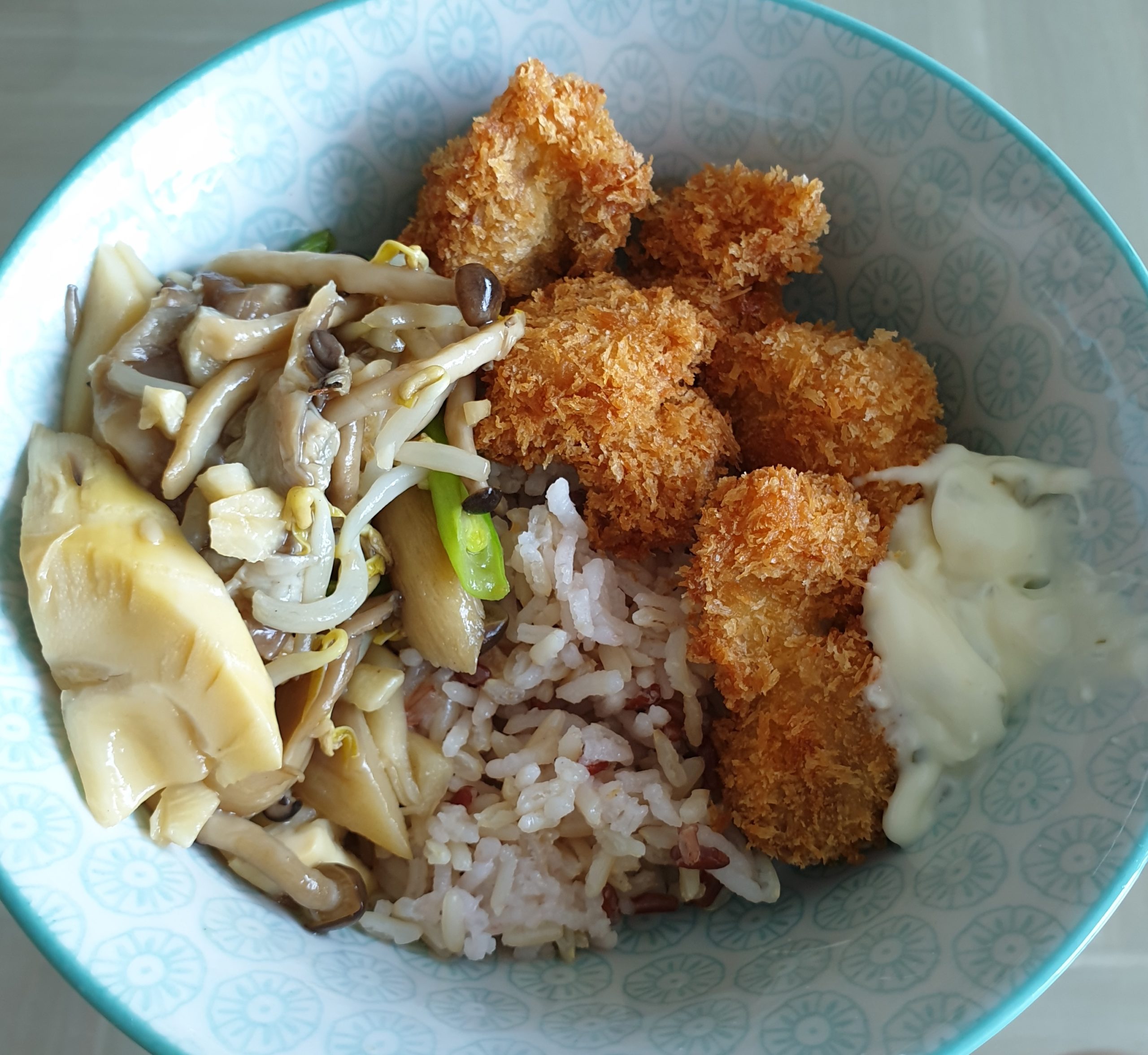 Preparation and Cooking Time: 1-hr
Ingredients (for 5 pax)
300g Chicken leg boneless (cut small pieces)
Bamboo shoots (sliced)
Shimeiji mushroom
French beans (sliced)
beansprouts (optional)
red and brown rice (optional)
white rice
1 clove of garlic
breadcrumbs
1 tbsp light soy sauce
1 tsp cornflour
Pinch of pepper
1.5 tsp oyster sauce for chicken marinate
1 tsp oyster sauce for stir-fried vegetable
1 egg
cooking oil
1 tsp of chicken powder seasoning
Step by Step Cooking Method
A mix of red & brown rice and white rice – 1cup : 1cup ratio.
Wash and soaked the red & brown rice for 30-min
Wash the white rice and combine the red & brown rice with 2 cups of water
Katsu Chicken
Marinate the cut pieces chicken leg boneless with oyster sauce, light soy sauce, cornflour, a pinch of pepper
Beat the egg
Dip the marinated cut chicken pieces into the beaten egg and then coat it with the breadcrumbs
Heat up the cooking pan with oil. The oil must be able to cover the chicken pieces for deep frying. Test the oil using a bit of the bread crumbs, when you see bubbles forming around the crumbs and sizzling sound, the oil is ready
Put in the coated breadcrumbs cut chicken piece by piece in the hot oil gently
Deep-fried for 10-min until it turns golden brown then scoop up the chicken pieces
Stir-fried the vegetable
Heat up the wok and add 1 tbsp of cooking oil follow by the chopped garlic and stir-fry for a few seconds
Put in the bamboo shoots & french beans continue to stir-fry. Add chicken powder seasoning and oyster until it is about 80% cooked, then add in the shimeiji mushroom and bean sprouts and stir-fry for another 3-min.
Start to prepare your chicken katsu rice-bowl. Add mayo on the chicken katsu.