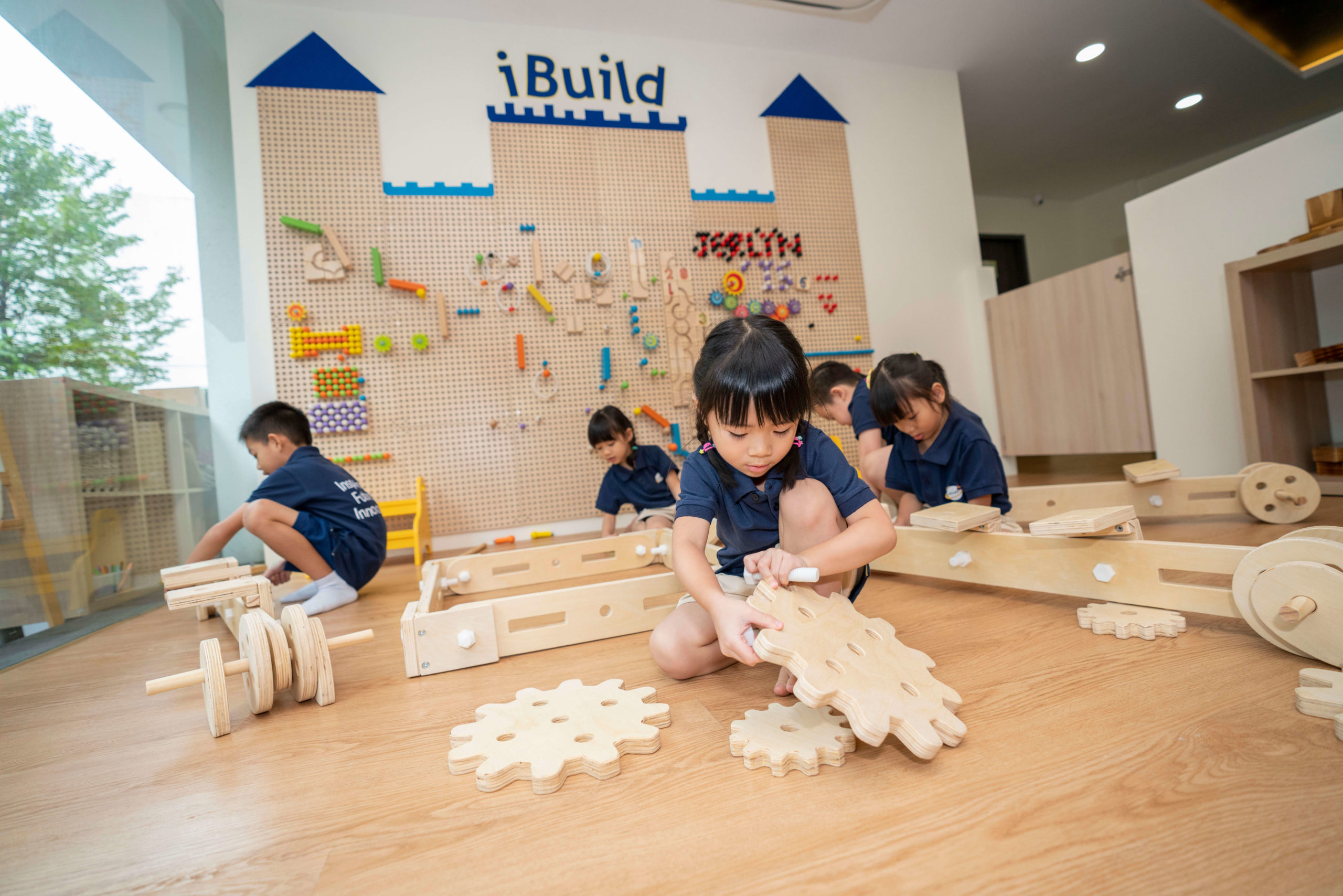 Try broaching the topic of the future to anyone today, and chances are, you will find yourself in the middle of a discussion on how the jobs we know of today will be taken over by programmed devices in the future.
This then calls for the need for our children to add value in the workplace of the future through skills that will help them stand out, such as the ability to think creatively, collaborate and communicate effectively with others.
But as parents, what can you do to help your children develop and refine these skills from the early years to truly prepare them to excel in the future?
One preschool might just have the answer for this, which lies in the framework of their curriculum and the learning experiences created for preschoolers.
A world of new learning discoveries at Little Atlas Preschool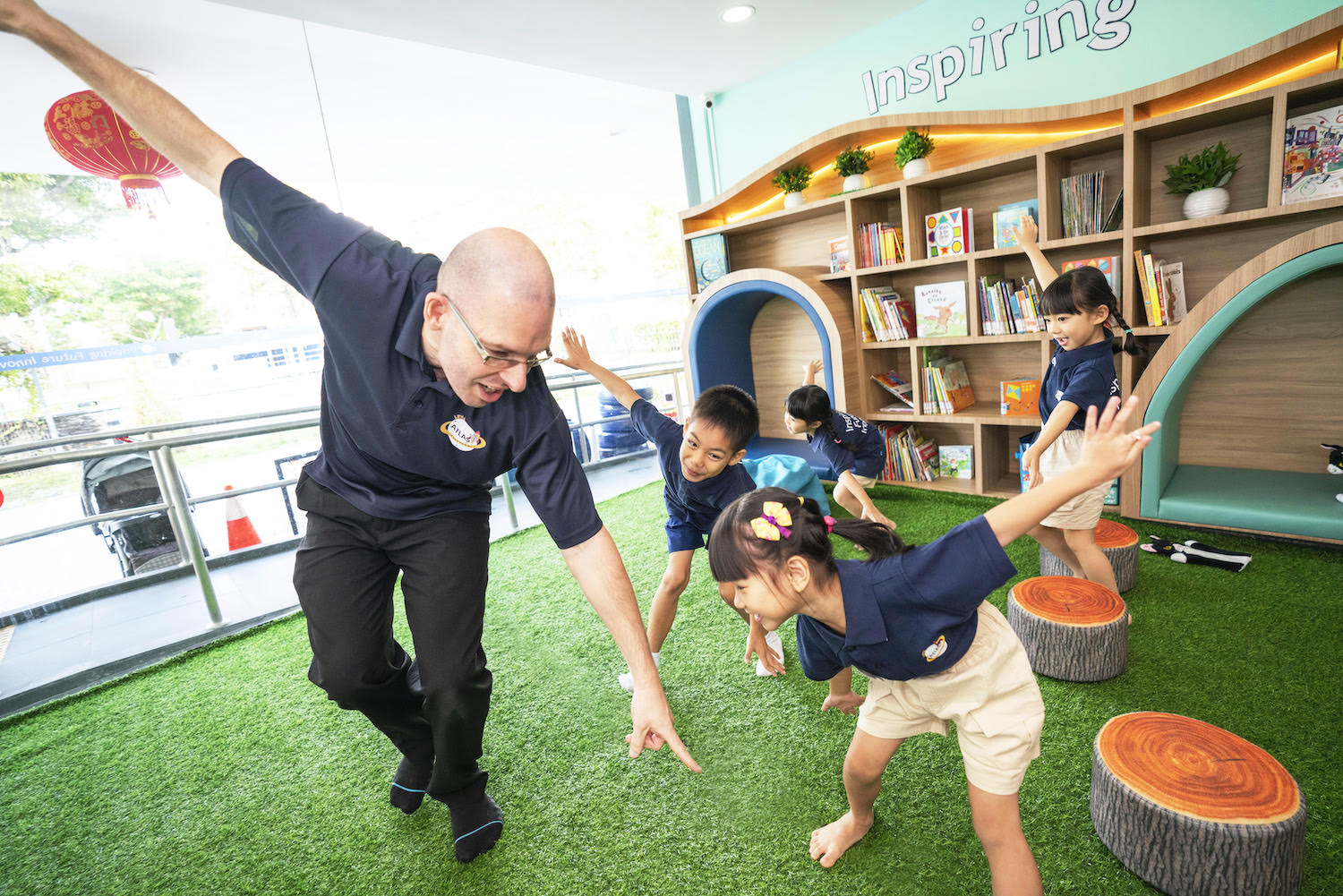 How do you teach young children about their world and to help them understand that life is one great adventure where change is constant and learning never stops?
At Little Atlas Preschool, children are encouraged to learn through play as they find joy and meaning in making new discoveries. With lots of open spaces for learning and a STEAM + LMC curriculum model that equips young learners with the skills of the future, children are not only learning and absorbing new information – they are encouraged to think and reflect on their learning experiences as well.
We believe this develops the value of critical thinking from a young age as children are led to fully understand the purpose behind every activity that they are engaged in and how this learning process benefits them. Truly amazed at how a play-based curriculum aims to "future-skill" children and set them thinking, we were inspired to find out more!
With this, we sat down with Ms Albertina Soh, Centre Director and Principal of Little Atlas Preschool who took us through the Little Atlas experience.
WY: We find the STEAM + LMC approach used in Little Atlas Preschool really interesting! Can you tell us more about it?
To nurture learning dispositions and attitudes through a play-immersive environment, we realise that it is important to inculcate a love for learning and prepare young learners with the knowledge and skills that would help them excel in the future.
STEAM is a popular curriculum model that incorporates science, technology, engineering, art and mathematics, and this is used by many international schools. "Teaching" young children the concepts of science, technology, engineering, art and mathematics may not be as straightforward as getting them to sit down for lessons on these topics. Imagine an 18-month-old child facing such a monumental task of making sense of these concepts. One of the things that we should ask is, "How do we teach this?". Certainly, through years of experience and immersing in early childhood practices, our answer is, "Through play, of course!".
Our in-house curriculum team is made up of professionals, each with at least 10 to 25 years of early childhood education experience. Throughout the course of our research and studies, we have traveled and worked with early childhood education professionals from around the world, including study tours of overseas schools and projects with renowned organisations.
Drawing on this research and experience, Little Atlas has developed a STEAM + LMC centric curriculum that helps children discover more about themselves, the society and their environment, through play. Along the way, we also incorporated components of LMC – Language, Movements and Character Education to provide a holistic learning experience for our children.
At Little Atlas Preschool, we challenge our children to change their world by discovering new ways to learn. In a nutshell, we provide the environment, guidance and support that are necessary for raising global citizens.
WY: What are the key principles that govern the STEAM curriculum and what are the learning outcomes that will be achieved?
At Little Atlas, our core values are centered on the following attributes:
To encourage our children to Think
The ability to think is the most basic outcome of our curriculum. Through play and different activities, children acquire problem-solving skills. They learn to create hypotheses and make decisions, understand causes and consequences, among other critical life skills.
To learn about taking Risks
Risk is a relatively new concept for both children and parents. Living in our bubble-wrapped society, parents tend to be protective over their children which then prevents them from exploring and taking risks on the pretext of keeping them safe.
We believe that children should be given opportunities to explore and take reasonable risks, which includes physical risks, psychological risks and social risks. With this, children will learn to be resilient, independent and they learn to be socially competent.
To Engage them in the learning process
In everything we do, we must be 100% engaged. As adult interference has been known to affect children's learning significantly, we believe in stepping back from the children's engagements and allowing them to explore learning opportunities.
We do this largely because we respect their abilities. As long as they do not hurt themselves, their friends or the environment, our children can pretty much choose what and how they play.
To let them to Reflect on their learning processes
Reflection is "thinking about thinking". After every play experience, we set up a routine for children to think back about their play experiences, and record it through speech, writing and drawing. This is a simple but powerful method to develop children's fundamental skills in speaking, listening, reading and writing. On top of that, they practice thinking and reflecting skills.
To inspire them to strive towards being Exceptional
Being exceptional is the prerogative of every human. In the face of adversity, our children must be able to tell themselves 'I can do it!'. They must feel confident, competent, appreciated and respected. When children feel special about themselves, they know they can do better and will keep striving to do better, because their perceived value of themselves is high.
WY: How do teachers make lessons fun and interesting for the children?
The core programme is based on authentic play, and children truly enjoy this experience as they are immersed in play. Authentic play does not happen when a teacher asks a child to throw a ball into a basket and claps when he does so; that is training not teaching. Authentic play happens when children are motivated and engaged, they laugh and this happiness is truly evident. They want to do something because it makes them happy and their discoveries are not interfered by any adults who demand they do things in a certain way.
During our signature Discovery and Experimental Play and Play Sharing, children are engaged in their learning and are driven to find solutions to their problems through explorations and discussions. Documentation plays a very important role too. We instil a routine of play and continue this discipline into all aspects of their learning. Our teachers' role is to guide children in making meaningful connections.
At the end of every term, we have Play Adventures, which are activities that involve parents and teachers. These adventures can be excursions or parent involvement events to showcase the children's learning. Children take pride and ownership in their work and they become more confident in their abilities when they see that all adults, including teachers, parents and other family members, are interested and invested in their learning.
WY: We have seen how all the different learning zones are nicely laid out and organised at your centre. Can you share with us the purpose they serve and how they add value to the children's learning experience? 
We have 8 learning zones in total, all of which are spread out around the school, as we make use of the natural spaces in and around the building. These outdoor and indoor learning zones are versatile and integrated, allowing both children and teachers to create diverse learning opportunities, activities and play areas with the open-ended materials provided.
In a nutshell, here's how the learning zones come into play throughout the children's learning experiences.
iDiscover
Children head here to explore key early concepts about science and the world around us through discovery and experimental play.
iConnect and iTech
These are the multimodal literacy approaches that we use to nurture good social and emotional skills in children. With the support of technology, our young learners go through character-building as they learn to communicate and understand more about themselves and their roles in society.
We also foster digital literacy and cyber maturity through the proper engagement of tools and information for learning. With our interactive media zone, our children learn to use technology while connecting through play reflections and other learning opportunities.
iBuild
We pique our children's curiosity about the laws of nature, physics and man-made inventions through kinaesthetic and constructive play. Children can explore these concepts in our iBuild zone with Rigamajigs, peg walls and other open-ended materials provided.
iExpress
We spark creativity and imagination in our little ones through music and theatre which helps them with their self-expression.
iMove
This zone is a top favourite among the children! We create fun challenges to exercise the mind and body, and cultivate a lifelong passion for healthy living.
iThink
We encourage children to reflect, think and problem-solve through inquisitive and manipulative play. This is apparent throughout all the zones as they explore and play.
iLearn
This zone is focused on developing essential language skills in listening, speaking, reading and writing through multimodal sensorial experiences. This takes place both in and outside of the classrooms, as our teachers make use of the technological tools in the iTech zones.
WY: One of the things that parents love about Little Atlas is the fact that enrichment programmes are included in the school fees! Do share what enrichment programmes are made available to the children.
Many parents are always anxious and on the lookout for enrichment programmes. They do not want their children to be bored and they hope that their children will become multi-talented. Looking at our philosophy of creating immersive play experiences and helping children build a happy childhood, we think to ourselves, "Why not?".
And then we embarked on writing our own enrichment programmes that covered music, movement, literacy, Science and technology. These programmes should be fun and children should be happy attending them. Instead of cramping lessons into weekends, parents should take a breather and spend happy quality time with their young ones.
Starlight Theatre engages the young child's imagination and creativity to express themselves in any ways they love. It encompasses elements of musicality and percussion instrumental play so that the mood for expression and children's natural love for music can be enhanced. When we conceptualise how a tree grows, it could grow short or tall or around and around! Starlight Theatre lessons cater to very young children from 18 months all the way to our older ones at 6 years old.
Jolly Literacy Workshop builds on the foundation of the famous Jolly Phonics and Jolly Grammar programmes, taught by our in-house native speaking trainer. We incorporated other components such as Reading Universe, Maverick Readers and extension activities through games and craft work so that children receive an all-rounded experience in language learning. Collaborating with the National Library Board, we are proud to introduce a wide array of stories to our young ones to inculcate a passion for reading; seldom do they read repeated titles because there are just too many to explore! Jolly Literacy Workshop teaches phonetic skills to our Early Years group (Playgroup and Nursery 1) and grammatical skills to our Preschool group (Nursery 2 to Kindergarten 2).
Little Eureka teaches pre-Science thinking and fundamental skills in observing, predicting, recording and analysing, all of which are essential for Science learning in later part of their primary school life. Every week, children participate in different Science experiments and were introduced to difficult concepts using music, movement and technology. The programme has a balance of digital literacy with hands-on sensorial learning. Every lesson lasts for 1 hour, and only our Nursery 2 to Kindergarten 2 children can participate due to the age-appropriateness of the concepts introduced.
Robotics gives children a deeper understanding of how STEAM concepts are integrated and instils in them a greater appreciation of how the world works. The enrichment programme serves as a stepping stone to spark an interest in children to identify and solve problems, as we do our best to bring out the future innovator in them. Every lesson lasts for 1 hour, and only our Nursery 2 to Kindergarten 2 children can participate due to the age-appropriateness of the materials and instructions used.
WY: We'd like to understand the effectiveness of a play-based curriculum. Most parents feel that a play-based preschool curriculum approach is not adequate to prepare their children for primary school, as they don't seem to be learning much. What's your take on this?
In the broadest sense, authentic play experiences instil thinking, common sense and equip children with problem-solving skills. In fact, children are developing several essential skills concurrently, all of which are important to have as they prepare for primary school and future life.
More importantly, children have fun doing it. So, we can safely be assured that they will remember these learning experiences better than through rote learning.
When parents and children embrace our philosophy of a play-immersive curriculum that teaches concepts of STEAM+LMC, it creates an ecology that prioritises the understanding of learning and development in our respective communities. Children acquire our essential values: think, engage, risk, reflect and to work towards being exceptional. With these dispositions, we aim to prepare children not only for primary school alone, we want them to have the skills to guide their own learning and influence those around them.
We want our parents to support their children's thinking and ability to take risks, celebrate their learning and help them achieve more. By the end of their Kindergarten 2 journey, not only will our children be on the road to becoming future innovators, our parents will also play their part to become future inspirations to their young learners.
WY: What are some of the things that children in the K-levels go through as part of the primary school prep journey? 
Our P1 Launcher programme includes a 1-hour Jolly Literacy workshop every week that focuses on the reading and writing abilities of children. For our 5- and 6-year-olds, we have a fun spelling method that is carried out in an unconventional manner.
We teach parents how to introduce words and allow children to remember them in a less structured way. When it comes to learning Chinese, we use songs and rhymes to introduce Hanyu Pinyin to the 5-year-olds before they move on to more skills-based learning when they turn 6.
Our English and Chinese curriculum expose children to 200 high-frequency words and sight words, and 200 Chinese characters from the beginning of Playgroup until the end of Kindergarten 2.
Additionally, we introduce Malay language under 'Cinta Bahasa Ibunda', which translate to 'our Love for the Malay Language'. Most private preschools do not expose young children to the Malay language, so children who are taking this language are greatly disadvantaged when they enter primary schools. By giving them a head start, we wish to preserve this unique culture and introduce diversity to our young children.
Want to find out more about Little Atlas Preschool?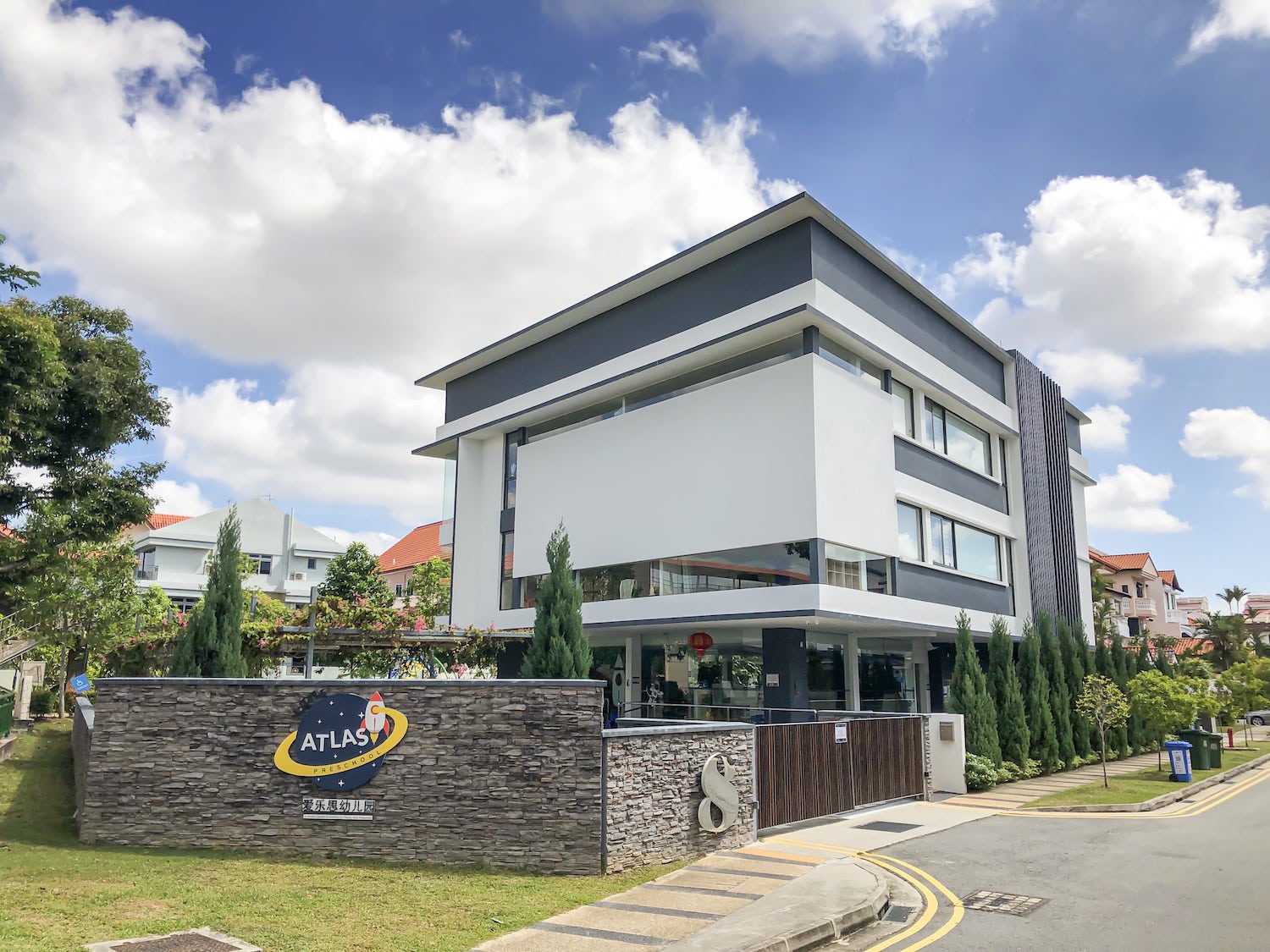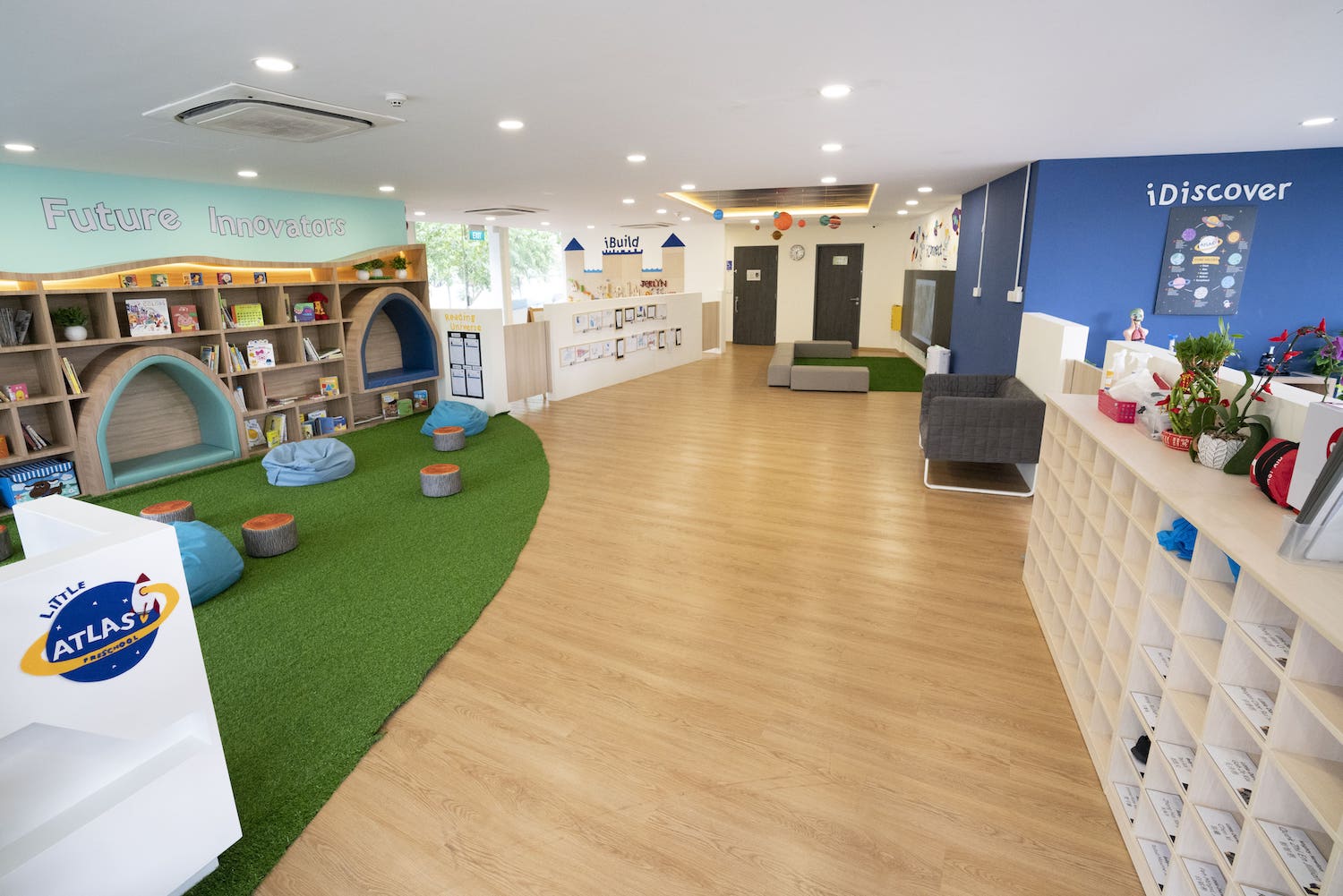 Little Atlas Preschool offers half-day and full-day programmes for children aged 18 months to 6 years old, with fees for half-day programmes at $1,140 per month and full-day programmes at $1,480 per month before subsidy. They are conveniently located near Eunos MRT station, which makes them a great preschool choice for families living in the east of Singapore.
Get in touch with them now to arrange a centre tour at:
8 Jalan Ismail Singapore 419260
Email: admin@littleatlaspreschool.com
Phone: (65) 8878 9826
This article was written in collaboration with Albertina Soh, Centre Director and Principal of Little Atlas Preschool.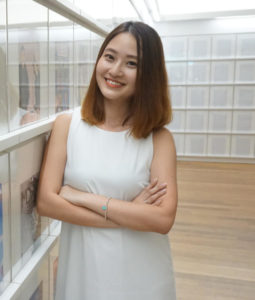 With 15 years of research and management experiences in the early education field, Ms Albertina has worked with major early childhood organisations, both in Singapore and overseas, including countries like India, China, Malaysia and Philippines.
Returning from an overseas study tour with fellow research educators, she realised her true advocacy of helping children regain childhood happiness through meaningful engagement in learning. Thus, she started Little Atlas Preschool. She believes that children should be at the centre of what a preschool stands for.
"While children discover as they learn, it is important that educators, practitioners, decision makers and leaders in the early childhood setting focus their attention on them to learn what goes through their minds. At the end of the day, quality education and care for young children is made up of more than just a good structure, it should be the heart and soul of the programme." – Ms Albertina Soh, Centre Director & Principal, Little Atlas Preschool