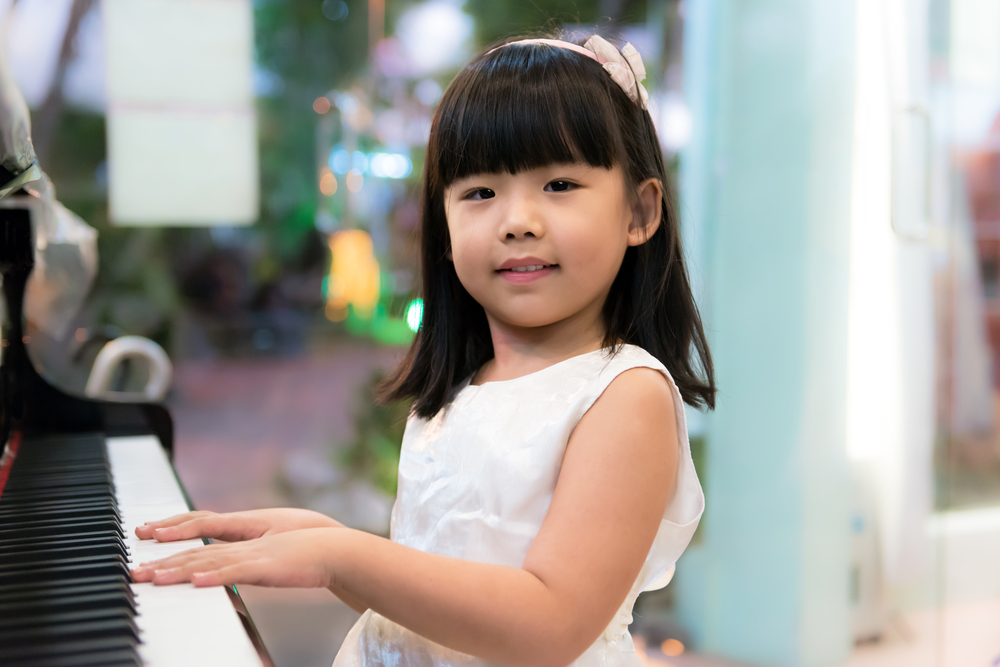 Enrichment classes for preschoolers are learning experiences that go above and beyond what is possible in the traditional classroom. Experts say that the best environment to stimulate a child is at home with parents. Yet, more parents are sending their offspring to enrichment classes. 
Our local competitive education and the higher academic standards at the primary one level have fuelled parents' anxiety. This is further intensified with the claim from enrichment centres that scientific research proved that early exposure to learning gives children a head start. As a result, four in 10 families in Singapore pack their preschool children to enrichment classes to provide them with an edge before entry to formal education.
Enrichment classes for preschoolers
If you are looking to invest in good enrichment classes for your preschoolers, here are a few for you to consider.
1. Music Enrichment
Research shows that learning how to play a music instrument can increase your child's IQ. So it may be worthwhile to invest in music lessons for your child. 
Yamaha Music School has multiple branches and offers a variety of music classes for kids from 2 years old. Your child can learn to play keyboard instruments (piano and organ), drums or guitar. For the younger kids, parents accompany them in the lessons so they can help foster the enjoyment of the learning process. Many of these young musicians will later move on to private lessons. Course fees vary and there is a registration fee and a deposit of $150. 
Academy of Rock is an award-winning music academy that offers a variety of courses for your little rock and roll star. Check out their Jungle Jam Toddler Program and watch your rock star blossom. Fees range from $135 to $205. A one-time registration fee ($48) and deposit ($150) applies. 
2. Art Enrichment
Little Artists Art Studio offers a multi-medium art class, Little Blossoms, for kids 2.5 years onwards. Your child is exposed to painting, sketching, classical art, conceptual art and clay ceramics. This cultivates in them a lifelong passion for the arts that they can develop when they are older. Choose from 1-hour or 2-hour classes. Fees for 6 lessons begin at $225 (1hr) to $290 (2hr).
ARThaus Young Ones art classes offers a Montessori style fine arts-based course for kids aged 5 to 7 years old. In a stress-free and cosy environment for kids to explore and express their creativity, junior can choose painting, drawing and more to encourage the development of his artistic skills. Frees range from $205 to $235 per term (4 sessions) depending on the hours of class session.
Read also: Does Your Child Need Enrichment Classes? Look Out for These Signs!
3. Coding workshops
Redirect your kids' interest in mobile games by sparking their curiosity and interest on how to code simple applications for their games. Coding helps your child understand the technology that is constantly around them. There is also the special benefit of helping children with communication, creativity, math and writing, as well as an increase in confidence when their coding program works.  
Saturday Kids organises weekend workshops teaching kids block-based programming and game creation. Choose from their three classrooms (Bukit Timah, Parkway Centre and Thomson Plaza) to learn different areas of interest from coding to design engineering. Enrol for weekly classes at $560 – 2hrs per session over 8 weeks). 
First Code Academy has weekly STEM coding courses for kids aged 4 to 18 years old. Their curriculum empowers students to develop programming skills, computational thinking, and a creative mindset to become creators with technology.
4. Phonics Classes
Studies have shown that learning phonics can have a dramatic positive effect on helping children learn how to read fluently, accurately, and capably – with little effort. As such, phonics class may be a good investment to make in your child's education. 
There are many phonics classes in Singapore for you to choose from. Here are just two of them. 
Lorna Whiston's Fun with Phonics is unique programme designed to give young learners (4 to 7 years old) a head start in reading, writing and spelling through fun, multi-sensory activities with puppets, puzzles, stories, songs and art and craft. Fees per term (11 weeks) are $699.14 (weekdays) or $994.57 (weekend).
MindChamps Reading Programme (3 to 7 years old) integrates phonics into their reading programme to enable your child to understand the meaning and context of each word. This will increase their phonemic awareness and confidence in their expressions. Book a complimentary session with them. Fees begin at $830 before registration and GST.
5. Athletic Classes
Sports develop more than physical health. Your child will develop good self-esteem, learn teamwork and improved academic prowess. 
Shaws Little League Multisport keeps children motivated to play sports that are age and developmentally appropriate. Your child will have fun at the toddler sport classes and kids sport classes. Fees range from $280 (8 sessions) to $580 (20 sessions).
ProactivsportsSG  is a class where your child (3 to 7 years old) will learn the basic fundamentals of sports and discover how the body moves. Parent/guardian involvement is required. Play a variety of sports from cricket, basketball to baseball. Fees begin at $120 per term.
6. Baking Classes
Your child will learn how to follow instructions, use the measurement units to measure out their ingredients. 
ToTT Junior Classes offers baking/cooking classes suitable for kids aged 5 to 12. They will learn how to bake handmade Pizza & Whoopie Pie, Steak, Rosti, and Cheesecake. Fees range from $108 onwards for parent-and-child pairs. You can also enrol your child for their Drop Off Culinary Camp for 7 to 14-year olds during the school holidays ($168 per child).
ABC Cooking Studio believes that happiness can be found using food as a medium. Kids (aged 4 to 8) learn to make fun and delicious meals like Tasty Udon, Nourishing Broccoli, Mr Bear Meatball, Cheese Onion Curry, Fun Chicken Snack and Healthy Tropical Banana. The classes are kept small and the menu changes monthly. Fees are $513.60 for 6 lessons (valid for 12 months). For older kids above 9 years old, your kids can sign up for the basic cake course ($481.50 – 6 lessons valid for 8 months) or bread baking course ($556.40 – 8 lessons valid for 8 months). 
Read also: The Ultimate Guide to Choosing a Preschool For Your Child
What other enrichment classes do you sign your preschooler up for?