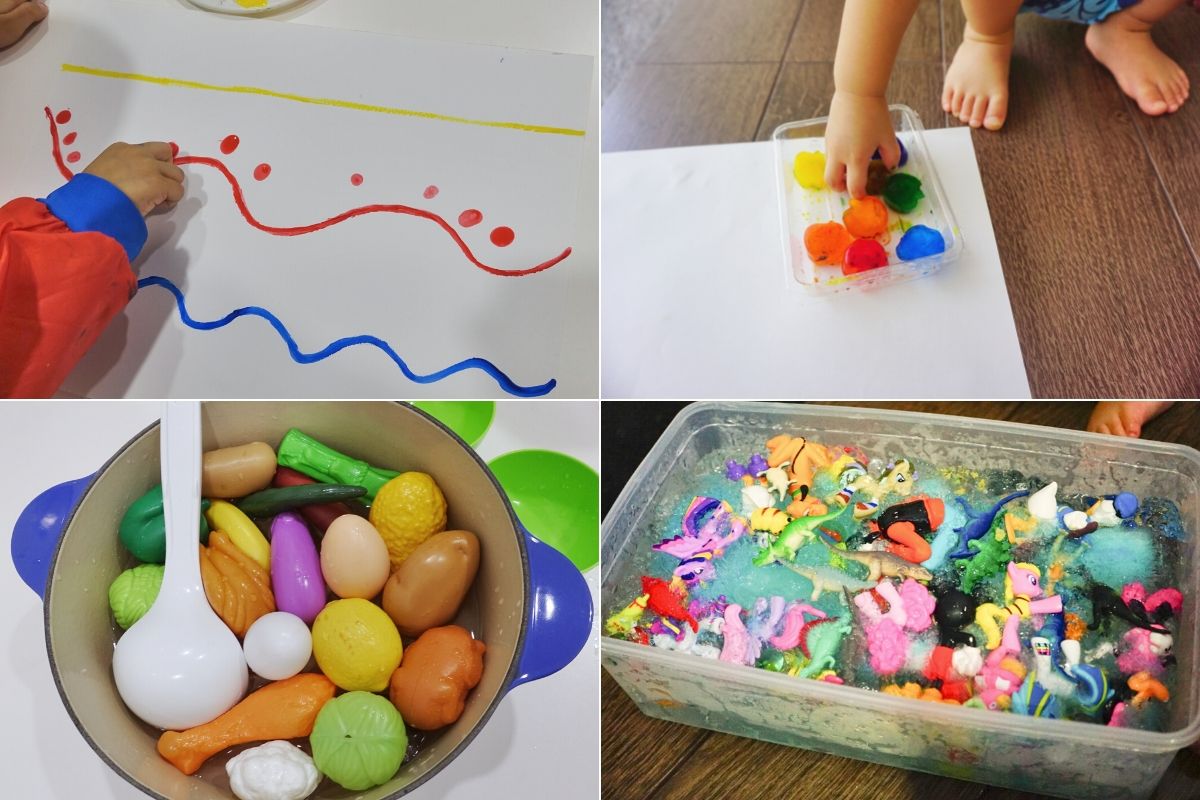 Sensory play is essentially play that engages one or more of the five senses – sight, touch, taste, smell and hearing. It is an inclusive way of encouraging learning and development through the hands-on approach, appealing to children with different thinking and learning styles. 
Sensory play for toddlers builds nerve connections in the brain's pathways, which leads to the child's ability to complete more complex learning tasks. It supports language development, cognitive growth, problem solving skills, fine and gross motor skills, as well as social interaction. 
Open-ended sensory play is perfect for fostering self-confidence and self-awareness, where there is no right or wrong of playing. It can also calm a frustrated child, contributing to his emotional well-being and understanding of themselves and what they can do. 
Here are some easy sensory play ideas and activities for toddlers and preschoolers of varying ages. 
Sensory play for toddlers: 1 to 3 years old
Colour Cubes painting
Items needed:
Ice cube tray
Food colouring
Drawing paper
Water
Freeze some coloured water in an ice cube tray to make coloured ice cubes. The frozen cubes can be used for painting or playing on the drawing paper in any way your child enjoys. Explore the concept of cold and colours in this activity, using your child's sense of sight and touch. 
Webbed Basket
Items needed:
Toys of various sizes
Basket with holes for webbing
Yarn 
Web the basket in, out and across with yarn and put the toys in the basket for your child to explore and navigate them out. Teach him patience while removing the toys out of the basket. This activity is good training for his motor and hand-eye coordination, exploring the sense of sight and touch. 
Finger a line
Items needed:
Colour paint
Colour markers
Palette 
Drawing paper
Draw coloured lines or waves using markers or paint across the paper. Prepare colour paint to match the lines drawn. Guide your child to finger paint the respective colours on the line. This not only explores the concept of colour recognition, it also coordinates finger movement which is important for writing.
Read also: Understanding Your Preschooler's Milestones: 3 to 4 Years old
Sensory play for preschoolers: For 3 to 6 years old
Blindfold Me
Items needed:
Cloth for Blindfold
Objects for search
Blindfold your child and ask her to place full trust in you. Leave a toy for easy reach and give simple directions on how she can reach for that toy. Masking that sense of sight will heighten the other senses of hearing and touch. This activity explores the concepts of listening and trusting. 
Scoop your soup
Items needed:
Large kitchen pot or bowl
Small bowls or plates
Ladle
Kitchen food toys
Water 
Fill the pot or bowl with water at half mark level and put the food toys in. Get your child to scoop the ingredients in the 'soup' into his bowl. Challenge him to not drip 'soup' on the table. Not only is his hand-eye coordination skill practiced with this transferring skill, he will learn to have less messy meals at meal times. 
Iceberg rescue
Items needed:
Large container
Small animal toys
Sponge 
Salt
Blue food colouring 
Water
Gather some small animal toys and place them in a container filled with blue coloured water. Freeze it. Once the iceberg is ready, provide tools for the animals' rescue work. Tools like sponge, salt or warm water can be used to speed up the rescue work. 
Discover and discuss the science of how salt and warm water can speed up their rescue work. This is also a good opportunity to discuss about global warming. Explore the concept of Science through play.
Read also: Why Kids Ask 'Why' – and How to Handle Their Questions
Sensory play is everywhere
Most play has the potential to be sensory. Outdoor sand and water play are some easily attained activities that offer a multitude of benefits in supporting children through their early years.
Sensory play for preschoolers can also include bin fillers with food items like rice, dried beans and pasta for exploration too. If you prefer sensory play with non-food items, the set-up choices are equally many. Non-food items such as water beads, pom poms and shredded papers make great play setups too. Sensory play possibilities are endless. 
Where there is play and exploration, it hastens a child learning ability and unlocks a sophisticated world of rules, creativity and concepts. Sensory play for any preschooler is beneficial in all ways, one you have to fully agree is that it builds motor skills in a way that technology simply cannot.