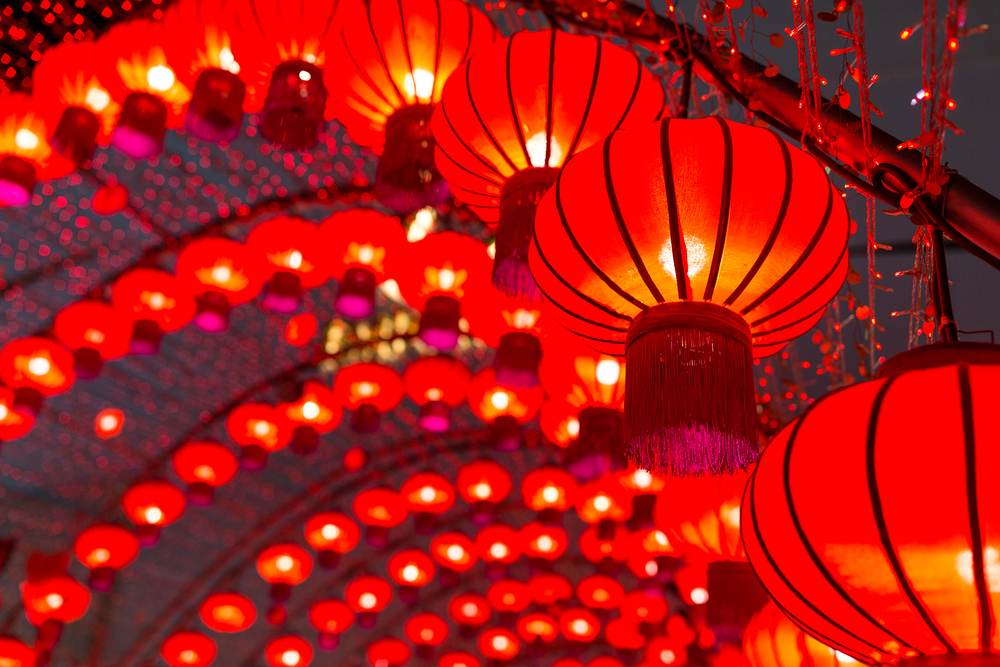 Chinese New Year 2020 will come marching in shortly after the countdown to the new year is done and dusted. 
Festive mood will be in the air as shopping malls and community spaces are decked out in vibrant colours and Chinese New Year decorations. 
If you are thinking of places to go in the weeks leading to the festival to soak up the celebratory mood or wondering where to go during Chinese New Year itself, fret not. We have come up with a list of nine places for you and your family to bask in the Chinese New Year festivities. 
Chinese New Year 2020: Top places to go
1. Chinatown Street Light-up
If you are asked the question of where to go during Chinese New Year or the days leading up to this festival, your answer would be to head to Chinatown for the street light-up. 
For Chinese New Year 2020, the official opening ceremony to the light-up is on 4 January 2020 (from 6pm to 10pm) along New Bridge Road and Eu Tong Sen Street. Get ready to be awed by the entertaining performances and spectacular fireworks as they usher in the Year of the Rat with the opening ceremony.
Even if you cannot make it to the official opening ceremony, you still have seven weeks to bring your family down to Chinatown to enjoy the street light-up which will feature beautiful sculpted lanterns of the Rat and the other Chinese Zodiac animals. Be sure to visit the Festive Street Bazaar to feast on the mouth-watering New Year delicacies and shop for the Chinese traditional goodies. 
Address: Chinatown (various locations)
Date: 4 January – 22 February 2020
Time: 7pm – 12mn (daily), 7pm – 6am (Chinese New Year's Eve)
2. Kreta Ayer Square
If you are in the Chinatown vicinity to soak in the Chinese New Year festive mood, you might want to head over to Kreta Ayer Square to catch their nightly stage performances during this period. You and your family will be entertained by the vibrant action on stage and you would probably leave the square humming the Chinese New Year songs that you have heard during the show. 
Address: 30A Kreta Ayer Road Singapore 088979
Date: 4 – 24 January 2020
Time: 8pm – 10.30pm
Free admission
3. 13th International Lion Dance Competition
What would Chinese New Year celebration be without lion dance? 
Get all hyped up to the rhythmic beat of the drums at the annual Lion Dance Competition and witness for yourselves the power and strength of reputable lion dance troupes from Singapore and Asia Pacific. 
If you are a lion dance enthusiast, you would not want to miss this event!
Address: Kreta Ayer People's Theatre
Date: 11 and 12 January 2020
Time: 6.30pm – 10.30pm
This is a ticketed event.
4. River Hongbao
The River Hongbao is perhaps the next most anticipated Chinese New Year event of the year after the Chinatown Light-up. 
The programme highlights include spectacular fireworks which are scheduled at 9pm every night from 23 January till 1 February (except for 24 January), dazzling lanterns for that perfect photo opportunity and an entertaining carnival that promises fun and entertainment for the whole family. 
There will be thrilling rides, games and bountiful selection of comfort food that will satisfy every one of the visitors. So, if you are wondering where to go during Chinese New Year, be sure to hop on down to The River Hongbao!
Address: The Float @ Marina Bay, 20 Raffles Avenue Singapore 039805
Date: 23 January – 1 February 2020
Time: 2pm – 11pm
Free Admission
5. Sun Yat Sen Nanyang Memorial Hall
The Wan Qing Festival of Spring held at Sun Yat Sen Nanyang Memorial Hall promises an exciting line-up of festive offerings suitable for all ages. They include the auspicious lion and dragon dance performances, Chinese painting and drumming workshops, heritage tours and trails and craft activities for the young ones. 
Of course, the Lunar New Year festivities will not be complete without the tossing of yusheng (lohei) for good fortune. You may want to consider taking part in its signature mass lohei which is happening on 1 February between 6pm to 6.30pm and toss to a prosperous year ahead!
Address: 12 Tai Gin Road Singapore 327874
Date: 1 February – 2 February 2020
Time: 10am – 9pm
Free Admission
6. Gardens by the Bay
Gardens by the Bay will bloom with Spring flowers at the Flower Dome with its 'Dahlia Dreams' theme and the gardens will be adorned with Chinese New Year display and bright cheery colours, as if to welcome a prosperous year ahead. There will be cultural performances and a slew of activities for the family to enjoy. Get your camera ready and take plenty of insta-worthy pictures!
Address: 18 Marina Gardens Drive Singapore 018953
Date: 17 January – 23 February 2020
Time: 9am – 9pm daily
Free admission for children's and outdoor gardens. Ticketed for others.
7. Chinese Festival of Arts
Huayi – Chinese Festival of Arts – enters its 18th edition in 2020. Held from the seventh day of the Chinese New Year till 9 February 2020, this pinnacle cultural festival that celebrates the Lunar New Year with the community will feature a specially curated line-up of ticketed theatre, dance and music programmes by outstanding Chinese artists from Singapore and beyond. 
In addition, there are also Parent-Child Workshops for families to learn more about music, drama and craft together. There will also be a diverse range of free performances and activities for everyone to enjoy throughout the 10-day festival.
Address: 1 Esplanade Drive Singapore 038981
Date: 31 January – 9 February 2020
Time: Various timing
8. Chingay Parade
The annual Chingay Parade is an iconic event that showcases Singapore's rich and unique multi-ethnic and cosmopolitan cultures. You will be treated to vibrant performers in elaborate and colourful costumes from various ethnic groups and cultures, dazzling display of floats which is a delightful sight to behold and huge intricate structures and cultural performances from around the world. 
Be sure to get hold of the tickets to the Chingay Parade which will be held on the second week of Chinese New Year 2020 and be enthralled by the extravaganza of colours and cultural diversity that will be displayed during the performance. 
Address: F1 Pit Building 1 Republic Boulevard Singapore 038975
Date: 31 January – 1 February 2020
Time: 8pm – 9.30pm
This is a ticketed event.
9. Istana Open House
So you have completed all your mandatory visitation very early on and wondering where to go during Chinese New Year? Why not gather your friends and family to go for the Istana Open House on the second day of the festival and have a leisurely time admiring the grounds of the Istana?
Complete the visit with the Istana Heritage Gallery and learn more about the President's constitutional, ceremonial and community roles and the Istana's special place in Singapore's history.
Address: 35 Orchard Road Singapore 238823
Date: 26 January 2020
Time: 8.30am – 6pm
Free admission for Singaporeans and Singapore Permanent Residents, S$2 for others
Read also: Chinese New Year: The Do's and Don'ts That You Need to Know
There is nothing to worry over where to go during Chinese New Year. Even if you have exhausted this list, you can always head out to shopping malls, museums and community spaces to get the Chinese New Year vibe. 
Have a prosperous new year!