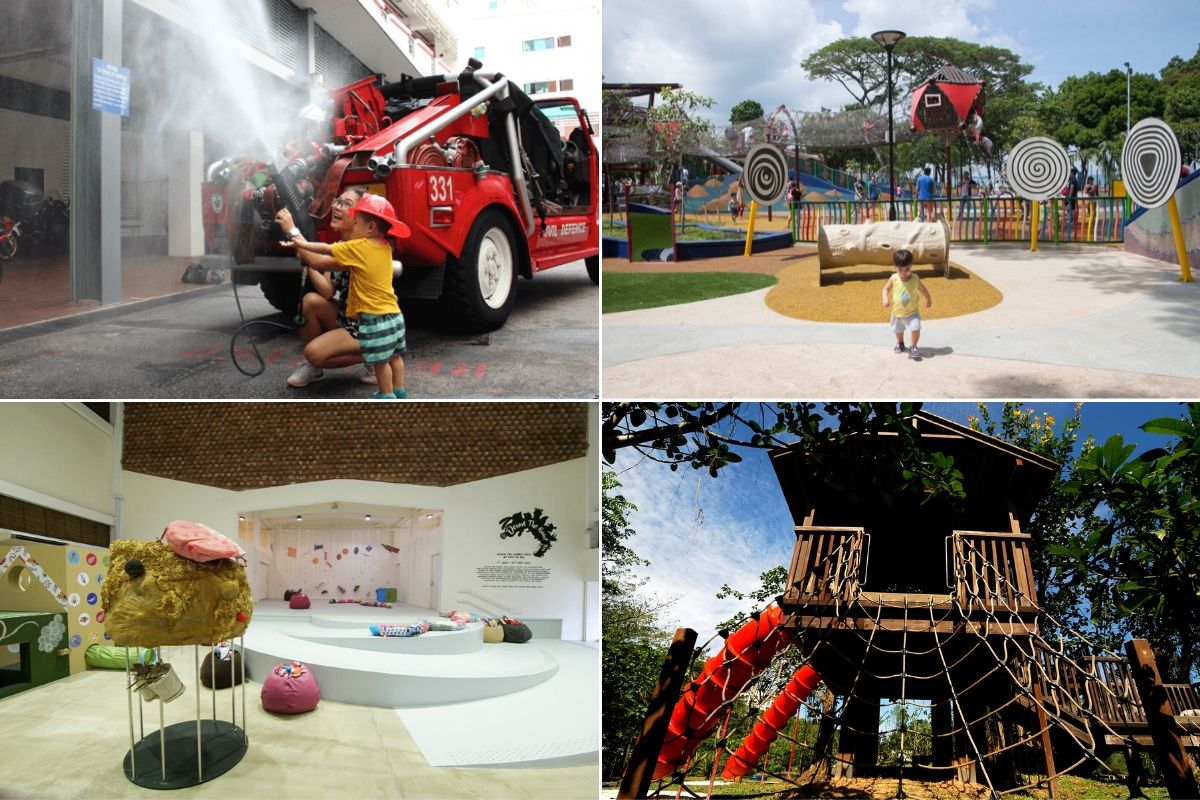 Some families stay home because the cost of bringing the entire family out can be costly, especially on weekends. Thankfully, there are still plenty of activities that does not come with a price tag and here's a list of non-seasonal, free things to do with kids on weekends. 
To make it easier for you to commute, click on each location link provided for directions from your current location.
Indoor Play Spaces
Indoor play spaces keep kids, especially younger ones, confined to one enjoyable play space for your peace of mind. These spaces are also air conditioned for comfort. 
Here are a few free indoor play spaces you may wish to visit.
The Artground 
A charity organisation that has a dedicated indoor play space for children, The Artground organises free activities for kids based on seasonal arts themes to stimulate and provide arts-oriented activities for kids. 
Location: Goodman Arts Centre
Opening Hours: 9.30am – 6pm
Additional Information: Entry is free, donations are encouraged.
Pip's Playbox 
This play space has a children's art space that includes a loft, an arts and craft area, a reading corner filled with books by Singapore writers and illustrators, as well as an outdoor play area. In conjunction with Esplanade's festivals and series, Pip's Playbox hosts a range of free activities for kids in this space, from storytelling sessions to self-guided craft activities.
Location: Level 4, The Esplanade
Opening hours: 11am – 6pm daily
(Closed for cleaning: 2pm – 3pm daily)
IKEA Smaland 
Here's  a play area for jumping, climbing, running and bouncing where your kids will be watched by IKEA staff while you shop. There are also quiet activities at IKEA Smaland like colouring and drawing or your kids can choose to watch a kid-friendly movie.  
Location: IKEA Tampines & IKEA Alexandra
Additional Information:  Children need to be toilet trained and between 90cm to 120cm in height to enter for a maximum of 1 hour each.
Outdoor Play Spaces
There are plenty of playgrounds scattered in all the neighbourhoods in Singapore. However, if you are looking for large scale ones for hours of fun, here are a few.
Jurong Lake Gardens 
Jurong Lake Gardens comes with a massive playground that allows children to mimic the movements of animals amidst a freshwater swamp forest, trampolines, gliders, tunnels and hideouts, transparent bubbles, giant building blocks, rope swings, a bucket swing, basket swings, and a seesaw swing.
Location: Jurong Lake Gardens
Opening hours: 6.30am to 8.30pm daily
Additional Information: Free parking during opening hours. 
Check programmes HERE.
Marine Cove 
Here, there is a cluster of outdoor play areas with slides, rope bridge, climbing net courses and a rock-climbing wall. One of the highlights of Marine Cove is the interactive play equipment, near a skate-through Macdonald's.
Location: Marina Cove Playground
Opening hours: 24 hours daily
Additional Information: Plenty of parking spaces available.
Far East Organization Children's Garden | Gardens By The Bay
The Children's Garden at Gardens by the Bay is one of the biggest free outdoor playgrounds in Singapore with water play and dry areas for children to roam around. 
Location: Gardens by the Bay
Opening hours: 9.00am – 9.00pm
Additional Information: Water play and Fish Fountain areas are closed at 8.30pm on weekends/public holidays. Changing facilities available.
Nature Activities
Our island is actually peppered with many locations for a good walk with your kids or to expose them to nature.
Here is a list for your reference:
Jacob Ballas Children's Garden 
A garden dedicated to children with eight play spots including water play, trampoline and a tree house, your kids can learn through exploration, adventure and play at the Jacob Ballas Children's Garden.
Location: Jacob Ballas Children's Garden
Opening hours: 8.00am to 7.00pm (last admission at 6.30pm)
Additional Information: To promote a safe environment for children, adults are permitted entry only if accompanying a child. Adult visitors without children must consult the Service Desk for entry.
Changi Beach Boardwalk 
The Changi Beach Boardwalk is a leisurely walk you can bring even younger kids on through various points by the Changi Beach. The boardwalk ends with the Sunset Walk, which is a great place to catch the sunset.
Location: Changi Point Ferry Terminal ( Start Point )
Additional Information: A guide to the Changi Beach Board Walk HERE. 
Estuarine crocodiles are known to swim freely in the Straits of Johor. Should you encounter a crocodile here, stay calm and back away slowly. Do not approach, provoke, or feed the animal.
Pasir Ris Park Mangrove Boardwalk 
This boardwalk has a three-storey high bird Bird Watching Tower where you can bring your kids along to birds in their natural surroundings.
Location: Pasir Ris Park Mangrove Boardwalk 
Additional Information: A guide to the Pasir Ris Mangrove Boardwalk HERE. 
Southern Ridges 
The Southern Ridges comprises 10 km of green, open spaces that connect Mount Faber Park, Telok Blangah Hill Park, Hort Park, Kent Ridge Park and Labrador Nature Reserve. These ridges are an alternative for walking enthusiasts, history buffs, shutterbugs, nature lovers, bird watchers and families looking for a different kind of family outing.
Location: The Southern Ridges
Opening hours: Various lighting hours can be found HERE.
Additional Information: No wheelchair access
Labrador Nature Reserve and Coastal Walk
There is a secret tunnel to Sentosa from the Labrador Nature Reserve and Coastal Walk and you will be able to see remnants of the British military battlement here.
Location: Labrador Nature Reserve
Opening hours: 7:00 am to 7:00 pm daily
Additional Information: Entering or remaining in the nature reserve after 7pm is not allowed.
Coney Island Park 
This is where you can show your kids a wide variety of habitats, including coastal forests, grasslands, mangroves, and casuarina woodlands. At Coney Island Park, there are up to 80 species of birds to be spotted and it is also an ecologically sustainable park with many environmental initiatives. 
Location: Coney Island Park
Opening hours: 7am to 7pm (Gates will be closed at 7pm)
Additional Information: Download the park map HERE. Do not enter the park during inclement weather.
Jurong Lake Gardens 
This is the place to go for bird watching with your kids. At Jurong Lake Gardens, there are three walking guides available for free, including a biodiversity guided tour, clean and green guided tour, as well as a garden guided tour. 
Location: Jurong Lake Gardens
Opening hours: 6.30am to 8.30pm daily
Additional Information: Free parking during opening hours. 
Check programmes HERE.
MacRitchie Treetop Walk 
The MacRitchie Treetop Walk allows you to bring your kids through different stages of a mature secondary forest plus a bird's eye view of the community of plants and animals that live in the forest canopy. The total length of the walkway is about 250m and its height from the forest floor varies, with the highest point at 25 m, so it is more for families with older kids.
Location: MacRitchie Treetop Walk Trailhead
Opening hours: 8.30am to 5pm on weekends and public holidays
Additional Information: The TreeTop Walk gate closes at 5pm sharp. Visitors are advised to start hiking towards the bridge by 4.45pm from Ranger Station to avoid disappointment.
Bukit Timah Natural Reserves 
This is the highest hill in Singapore where the primary forest is still intact. The hike at the Bukit Timah Nature Reserve is challenging but it is a good workout for families with older kids.
Location: Bukit Timah Nature Reserve
Opening hours: 7am to 7pm daily
Music Activities
Esplanade – Theatres on the Bay 
This is where you can enjoy free live performances by local artists with your music loving kids. At the Esplanade, there are different free performances each night so you can be sure of variety. 
Location: Esplanade – Theatres on the Bay
Additional Information: Find out who's performing HERE.
Sports Activities
You can book sports facilities such as hard courts, beach volleyball courts, giant chess sets, lawn bowls at the Singapore Sports Hub for free
Location: Various
Opening hours: Various
Additional Information: Check availability and book for free HERE.
Other Activities
There are plenty of fun and free activities in Singapore other than playgrounds and island hopping. These are some non-seasonal activities which we think are worth considering. 
Visit the fire station
Our local fire stations organise open houses every Saturday for a free experience about the daily operations of a fire station, the different roles of SCDF and the Civil Defence system manned by personnel on round-the-clock standby.
Location: Various fire stations island wide
Opening hours: 9am – 11am, Saturdays only
Additional Information: Request to visit a fire station open house HERE.
Road Safety Community Park
The Road Safety Community Park is a kid-sized infrastructure of mini roads, small traffic lights, pedestrian crossings, a sized-down petrol kiosk, overhead pass, bus stops, and vehicle inspection centres for children to 
Location: East Coast Park
Opening hours: 24 hours daily
Additional Information: You need to bring along your own "vehicles". Either bring them from home or rent a bicycle from a nearby kiosk before entering.