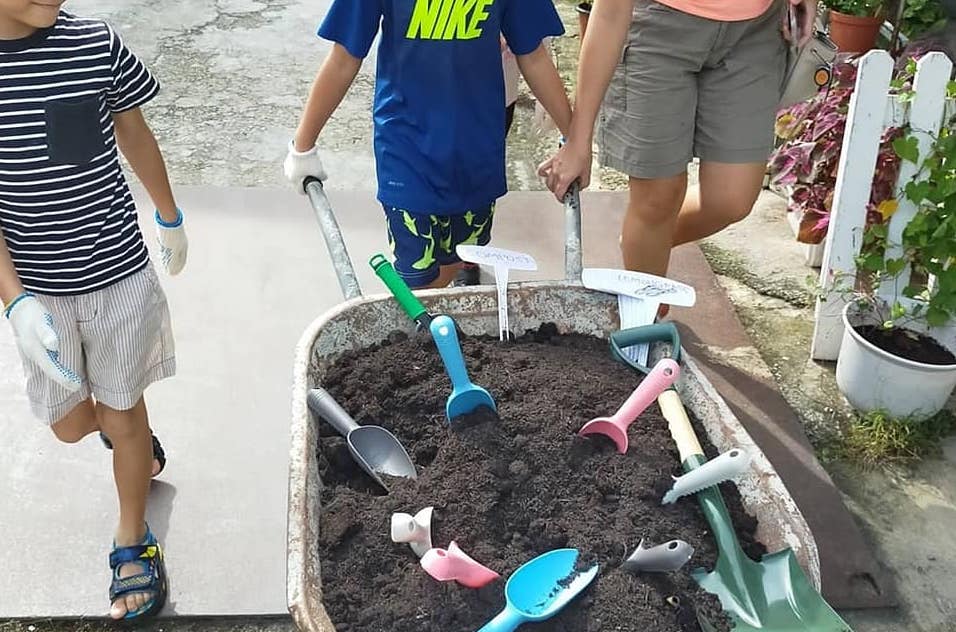 Singapore may face a scarcity of land but that does not stop urban farmers to think of creative and sustainable ways to grow crops. You may be amazed at the work taken up by our local farmers and how they utilise technology to enhance the efficiency and productivity of the crops in the veggie farms in Singapore. 
These farms offer workshops and various tours such as the hydroponics farm tour to educate the public on the non-conventional ways of farming. 
Bring the family along and introduce urban farming to your children. You could well purchase some produce from the farm and bring it home to whip up a wholesome home-cooked meal. 
From farm to table indeed!
Check out these veggie farms in and around Singapore with your kids
1. Bollywood Veggies
Bollywood Veggies, located in the Kranji Countryside, is a sanctuary away from the bustle of city life and is one of the more well-known veggie farms in Singapore. 
In this plot of farm land, there are more than 100 varieties of plants and you could certainly spot some native fruits grown there. 
Bollywood Veggies makes for a good educational trip in which you and your children could learn more about farming and conservation in a real farming environment. In this farm, no pesticides or fertilisers are used, making the plants and fruits truly organic. 
Once you and your family are done exploring the farm, do take a break at the Poison Ivy Bistro which serves refreshing drinks and delectable meals. 
Address: 100 Neo Tiew Road Singapore 719026 (Kranji)
Opening hours: Wednesday – Friday (7am to 5.30pm), Saturday, Sunday & Public Holidays (7am to 6.30pm), Monday – Tuesday (Closed unless Public Holiday)
Contact Number: 6898 5001
Website: https://bollywoodveggies.com/

Social page: https://www.facebook.com/BollywoodVeggies/
2. Citizen Farm 
Citizen Farm is a space for the local community to learn and grow together. This farm supplies their produce to some 40 restaurants in Singapore and you could subscribe to their Citizen Boxes (at $35/week) to get a taste of their produce. 
Citizen Farm conducts enriching, edible, planting-based workshops to educate individuals and groups. They run weekend workshops that you can attend with your children or you could get them to volunteer with you on the farm! 
Look out for their list of interesting events and workshops on their social media page. 
Address: 60 Jalan Penjara Singapore 149375
Opening hours: 9am – 6pm (Monday to Friday), weekend timing based on workshops
Contact Number: 8817 4054
Website: https://www.citizenfarm.com.sg/

Social page: https://www.facebook.com/EdibleGardenCityProject/
3. Fire Flies Health Farm
Forget about looking for fireflies when you visit this farm, for Fire Flies Health Farm is a veggie farm in Singapore which practices organic farming. 
It is a farm where bugs can roam freely hence allowing the entire ecosystem to co-exist and balance itself harmoniously. You will be able to learn and go through the process of growing an organic production of local herbs, vegetables, fruits and legumes. 
Through the visit, perhaps your kids will get to appreciate what was brought to the table more after understanding the whole farming process. Don't forget to purchase some fruits and vegetables home and consume them with a peace of mind. 
Address: 63 Lim Chu Kang Lane 2 Lot 75 Singapore 718838
Opening hours: 10am – 5pm (daily)
Contact Number: 6793 7875
Website: http://fireflies.sg/wp/

Social page: https://www.facebook.com/fireflieshealthfarm/
4. Gardenasia Kids
If you see the need to connect back to nature, head to Gardenasia. 
With its connecting gardens that boast a variety of flora and fauna, you can be sure that you and your kids will be lost in the beauty and tranquillity of its green environment. If you can gather a group of children, you could organise your own workshops within the compound or choose from the list of GAKids Edutainment Tours conducted by them. 
Have your kids learn more about the environment they are living in and how to save the planet through energy saving techniques, to name a few. 
Address: 240 Neo Tiew Crescent Singapore 718898
Opening hours:
Wednesday to Thursday – 10.30am – 5.30pm 
Friday to Saturday – 10.30am – 10.30pm 
Public holidays & Sundays – 10am – 5.30pm 
Public holidays on Friday & Saturday – 10am – 10.30pm 
Closed on Mondays & Tuesdays
Contact number: 6898 9111
Website: https://gardenasia.com/play/#GAkids

Social page: https://www.facebook.com/Gardenasia/
5. Green Circle Eco-Farm
Green Circle Eco-Farm is a farm that follows organic farming principles with special emphasis on environmental conservation and sustainable agriculture. 
Visit the farm on any day and observe the farmers at work and see for yourselves how their food is produced. If you can get a group of children and parents, you will definitely have a more comprehensive visit and access more areas in the farm through the guided tour.  
Address: 41 Neo Tiew Road Singapore 719028
Opening hours: 9am – 6pm (Weekdays)
Contact number: 9784 7275
Website: http://www.greencircle.com.sg/

Social page: https://www.facebook.com/greencirclesingapore/
6. Kim Yan Argotech
Situated near the Sungei Buloh Wetland Reserve is Singapore's largest commercial wheatgrass farm. Besides specialising in wheatgrass, Kim Yan Argotech also produces fresh edible cacti, aloe vera and mushrooms, pea shoots and other leafy vegetables.
This farm is open to the public and families could explore and see how organic wheatgrass is produced. You could also sign up for their tours and get to purchase their fresh produce and taste their products. 
Do bring home their Mushroom Growing Kit if you are a mushroom lover and harvest the fungi within a short period of time and enjoy the fruit of your labour.  
Address: 220 Neo Tiew Crescent Singapore 718830
Opening hours: 9am – 5pm (Daily)
Contact number: 9794 8368
Website: http://www.kinyan.sg/

Social page: https://www.facebook.com/KinYanPage/
7. Kok Fah Technology Farm 
Kok Fah Technology Farm is a farm that understands the importance of using technologies in its farming process, hence bringing about improved levels of efficiency and productivity. It also produces fresh and quality green produce that you will love to bring into your kitchen. 
At the farm, you will be able to see how the farm's seedlings are grown in its Greenhouse Nursery, attend the hydroponic farm tour and join many others to purchase its fresh produce during its weekend market. 
Kok Fah Technology Farm looks like one of the veggie farms in Singapore that you would be able to learn a lot of modern farming techniques. 
Address: 18 Sungei Tengah Singapore 698974
Opening hours: 9am – 5pm (Daily)
Contact number: 6765 6629
Website: http://www.kokfahfarm.com.sg/

Social page: https://www.facebook.com/kokfahtechfarm/
8. Oh' Farms
Oh' Farms is a hydroponics farm that believes in offering consumers with premium-grade produce that are pesticide-free and of high nutritional value. It also aims to promote public awareness in the knowledge of hydroponics technology so you can be sure that there will be hydroponics farm tour available. 
Through the tour, you will be guided through the different stages of planting and there will be a short demonstration on how to grow hydroponics at home. 
Sounds interesting? You can get hold of their starter kit and you can work on growing hydroponics plants with your kids, in the comfort of your home!
Address: 14A Bah Soon Pah Road Singapore 769970
Opening hours: 8am – 5pm (Monday to Saturday). Closed on Sundays and public holidays.
Contact number: 6753 8011
Website: https://www.ohfarms.com.sg/

Social page: https://www.facebook.com/ohfarms/
9. Pacific Argo Farm
Fans of cherry tomatoes will be happy to be in Pacific Argo Farm. These tomatoes are grown with much care and attention and you will be able to taste all the goodness in them. 
Besides tomatoes, Pacific Argo Farm also grows herbs and veggies. Join their farm tours and you will leave for home with a box of carefully harvested cherry tomatoes. 
There are also other options such as farm tour cum workshop to get you and your kids started on some form of farming. 
Address: 14 Bah Soon Pah Road Singapore 769961
Opening hours: 9am – 5pm (Monday to Saturday). Closed on Sundays and public holidays.
Contact number: 6758 1026
Website: https://pacificagrofarm.com/

Social page: https://www.facebook.com/Pacific-Agro-Farm-Singapore-1612079669045256/
10. Sky Greens
Sky Greens prides themselves as the world's first low carbon, hydraulic driven vertical farm and you will totally agree with them as you step into this farm. 
You will see rows of green veggies that are planted on rotating tiers of growing troughs mounted on an A-shaped aluminium frame which can be as high as 9 metre tall. 
Sky Greens can customise their tours based on the age group of the visitors. The hydroponics farm tour includes a sowing project that everyone can take home and you could have the opportunity to harvest and bring back a tasty organic vegetable snack. 
Suitable for children at the Primary or Secondary level. 
Address: 200 Lim Chu Kang Lane 3 Singapore 718804
Opening hours: 8.30am – 5pm (Monday to Friday), 8.30am – 12pm (Saturday)
Contact number: 6898 4858
Website: http://www.skygreens.com/