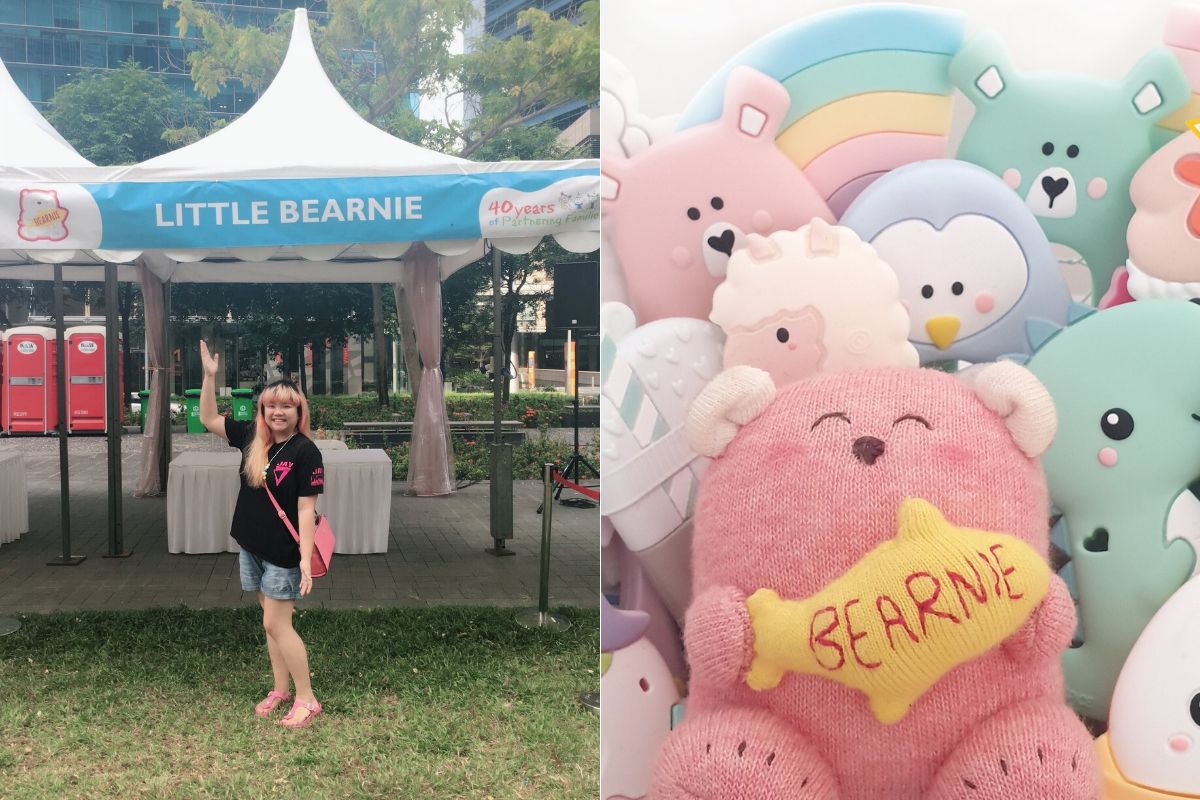 In our Made for Mums series, we shine the spotlight on brands and businesses that offer products and services tailored with mums and their little ones in mind. Like you, they are on a journey that can be likened to parenthood, as they poured their hearts and souls into creating offerings that are designed to make raising children easier and happier.
Here, we caught up with Valencia Chen, Founder of Little Bearnie – a local online retailer specialising in teething products for babies and mums such as teething clips, bangles and necklaces. We thought we've seen it all in her collection of colourful teething products that come in all shapes and sizes – yes, even Boba-inspired ones! – but Valencia has upped the game by extending her product line which includes baby blankets and educational toys as well.
If you've always wondered what it took for her to get into the business of soothing your little one's teething woes, do read on to check out Valencia's story! 
Tell us about your journey in setting up Little Bearnie.
I grew up in a humble family where I was taught the importance of getting a stable career and how one should progress by climbing steadily up the corporate ladder. The first years of my career life were spent in various industries such as FMCG and Perfume & Skincare where I did a lot of buying and merchandising. This then sparked my interest in sourcing for products for my own business.
Throughout the years while I was working, I took courses and learnt from peers who are business owners themselves to learn the ropes of being an entrepreneur. Finally in 2016, I plucked up the courage and took a leap of faith by parting ways with my employer to start up Little Bearnie.
Read also: Colic in Babies: What Is It and What To Do
Where do you get inspiration from to create the unique collection of teething products? 
When I was doing my research on starting a business, most of my friends were getting married and having new additions to their families. As I was shopping for gifts for my friends and their little ones, an idea struck me and I thought to myself, "What if I created something wonderful for these babies and families instead of buying them?". 
From then on, I did more soul-searching and learnt about baby products, spending many long days and nights researching as I'm not a parent yet. To me, the products should be suitable for the baby and also give the parents peace of mind. 
I was inspired by a friend whose business was focused on personalised products and did more research to explore the possibilities of personalising baby products. I also did my groundwork for unique and customisable baby gifts, and this was when I came across a brand located in Canada called Loulou Lollipop. 
Loulou Lollipop had a product that caught my attention immediately: their Bubble Tea teether. As a bubble tea fan, I was extremely captivated by their products and expressed my interest in obtaining distribution rights. After much negotiation and a lot of convincing, we are now the exclusive distributor of Loulou Lollipop in Singapore.
After sourcing for different designs of unique designer teethers over the years, we are proud to announce that in 2020, we finally designed and created our very first original brand teether: The Gem Biscuit Teether. 
What's the biggest challenges you've encountered so far and how did you overcome it? 
One of the biggest challenges that I have faced lies in the simple fact that I am not a mother. This made it challenging for me to convince customers that Little Bearnie was a baby brand they could trust. 
We worked around this by trying numerous ways to gain the trust of mothers, including running events and pop-up stores in order to speak face-to-face to our customers. Being on the ground, I would be able to let them feel and touch the quality of my product and get feedback about my products to make sure that they were satisfied with the quality of the items. 
As quality and safety are the top priorities of our business, just like how babies are every parent's priority, we would also want to protect them from any harm. This not only involves making sure that our teethers are tested against international safety standards, but I also make it a point to test them out myself and play around with the teethers to make sure they don't break easily.
Another huge and crucial challenge that we are currently facing at Little Bearnie is the emergence of counterfeit products of our distributing brands. We are extremely concerned that these are not rigorously tested for safety, as our original products go through intensive testing to ensure that the US/EN standards are met. Therefore, we have been trying to actively educate the public about the importance of only purchasing the original items from our store. 
Read also: The Best Baby Diapers: Where to Get It Cheap Online?
What's the one thing you really enjoy doing at Little Bearnie that keeps you going? 
I love to create new designs of teethers and explore new products to come up with. So, whenever I have ideas on what to create next, it makes me feel so excited and I can't wait to share the end products with our customers or followers. 
Another thing that keeps me going is the lovely reviews of parents or customers who have bought our products. It always brightens up my day whenever they drop me a message and tell me how much their little one enjoys playing with the teethers and how it allows them to eat in peace when their little one is occupied with the teethers.
The babies will then express their contentment when using our products and the looks on their faces are truly indescribable. 
Complete this sentence: Mums and their babies love Little Bearnie because…. 
of the highest quality standards and safety of our products. Besides supporting the works of original creators, one of our core values is to maintain our quality and safety of the products we create and carry, and this remains the top priority in our business. 
A big thank you from Wonder Years to Valencia for sharing her journey in creating products made especially for mums and their little ones! 
Heads up! We will be running a Wonder Years X Little Bearnie Giveaway.
Follow us on Facebook to stay updated on details of our giveaways, exclusive deals and more!