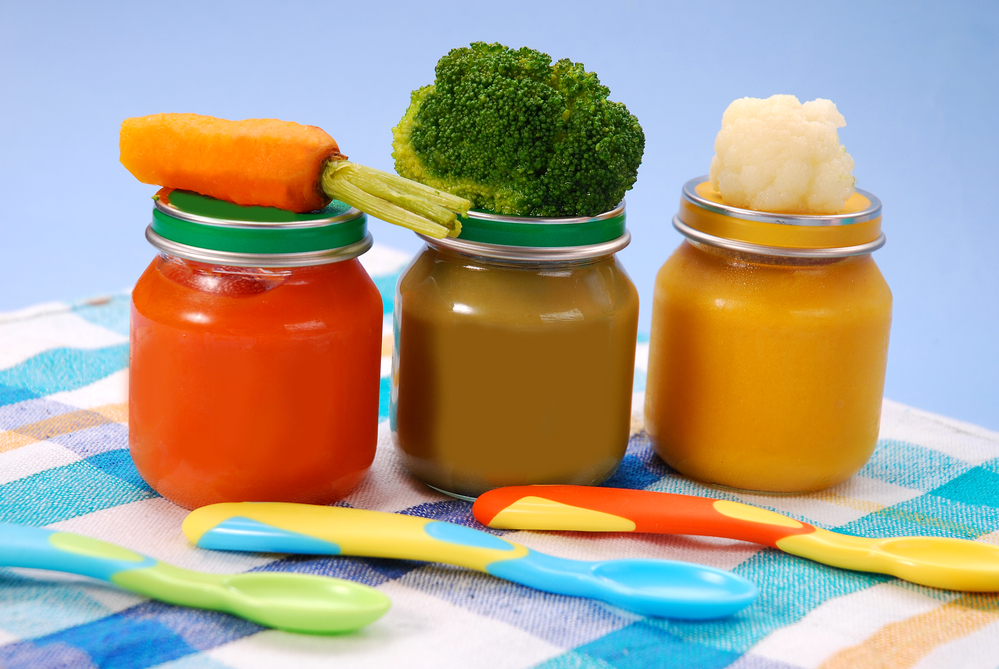 Your baby's first experience with "real food" is an exciting milestone for this marks the start of an adventure of taste and texture.
But what is the right way to determine if your baby is ready for solids?
In a 2012 publication, the American Academy of Pediatrics recommends that parents wait until their baby turns six months to start adding in solid foods. However, there are some who start as early as four months, as soon as certain developmental stages have been reached.
In fact, a 2013 study published in the Journal of Allergy and Clinical Immunology revealed that babies who started solids by six months reported a reduced risk of allergies and asthma.
At the end of the day, the most important thing to note is that your should be able to sit upright and hold their head up before starting him or her on solids. It is also crucial that your baby show interest in solid food. Once you get the green light from your baby's doctor, you are all set to let your baby explore his or her first foods.
Here are some healthy recipes for baby's first foods that you can start off with:
Read also: How to Care for Your Baby's Gum and First Teeth
Baby's First Food: Homemade recipe ideas
Baby Brown Rice Cereal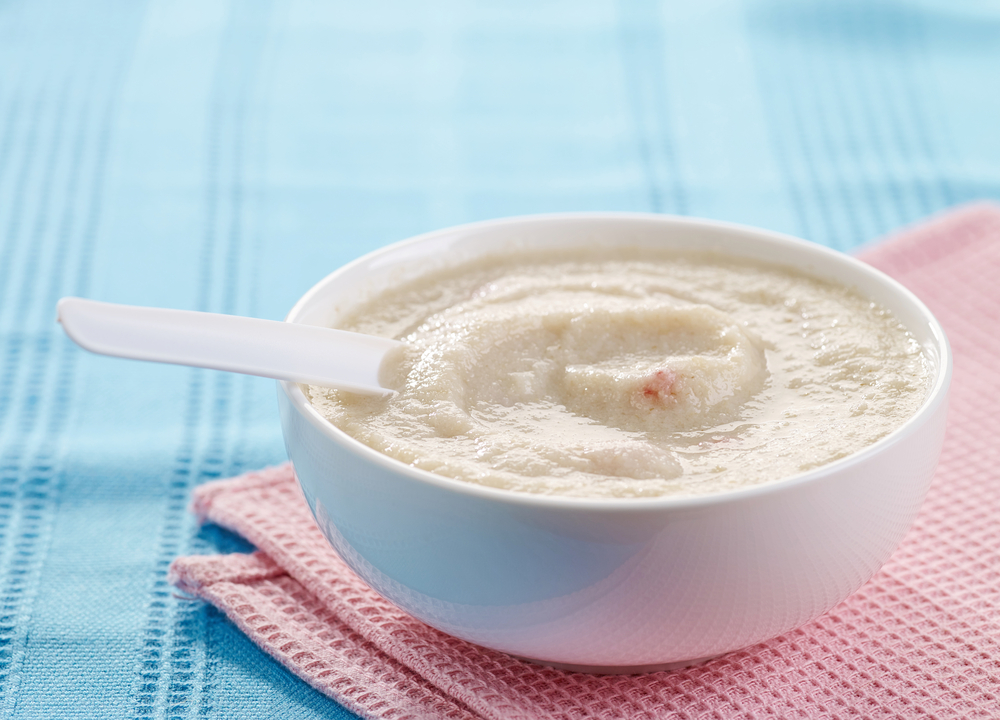 Rice cereal is one of the most popular choices of foods to introduce at the start of the weaning process, as it is less allergenic and easily digestible. You can mix in some breastmilk or formula milk to thin the texture and help your baby transition from a liquid diet to a more solid one.
Ingredients:
¼ cup brown rice powder
1 cup water
Some formula or breastmilk
To make the brown rice powder:
Grind brown rice in a blender or food processor. This is best achieved by grinding in small quantities.
Preparation:
Bring the water to a boil.
Add the rice powder, stirring constantly.
Reduce heat to a very low simmer for about 10 minutes (Do keep stirring to avoid the rice from sticking).
Stir in enough formula or breastmilk to achieve the consistency that is right for your baby.
Once you have introduced fruit to your baby, you can add a small amount of puree in the rice cereal.
Avocado Puree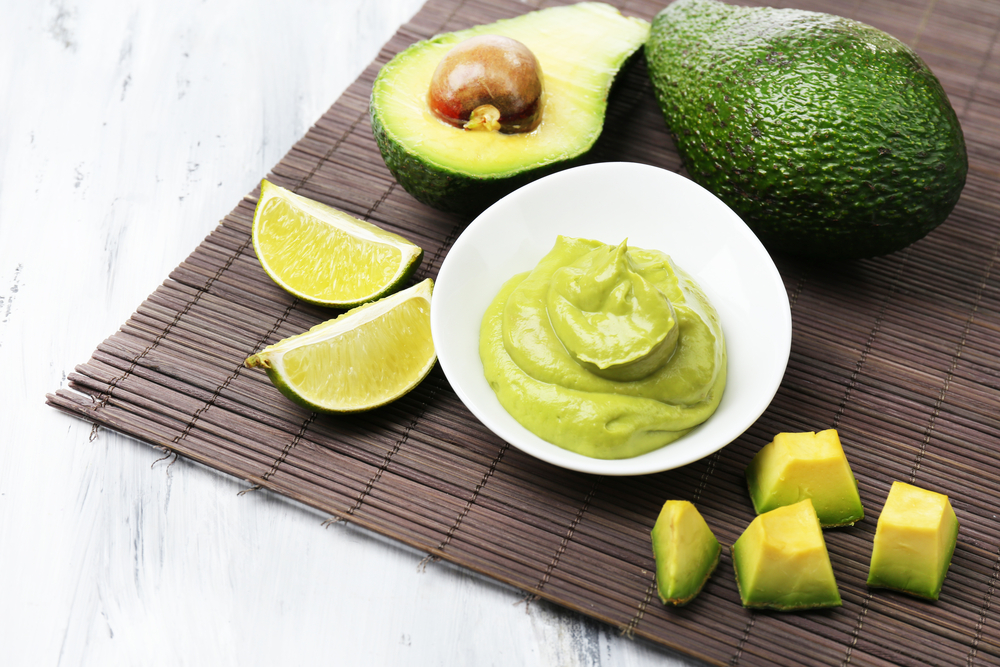 This smooth treat is filled with "good fats" that are great for baby's brain and physical development. The creamy texture of perfectly ripe avocados is a great hit with babies.
Tip: To prevent browning as a result of oxidation, put the avocado pit in the puree when storing in the fridge. 
Ingredients:
½ or 1 avocado
Some formula or breastmilk
Preparation:
Mash the avocado in a bowl with a fork. For a smoother texture, you can also puree it in a blender.
Mix in some formula or breastmilk to thin the consistency.
Apple Puree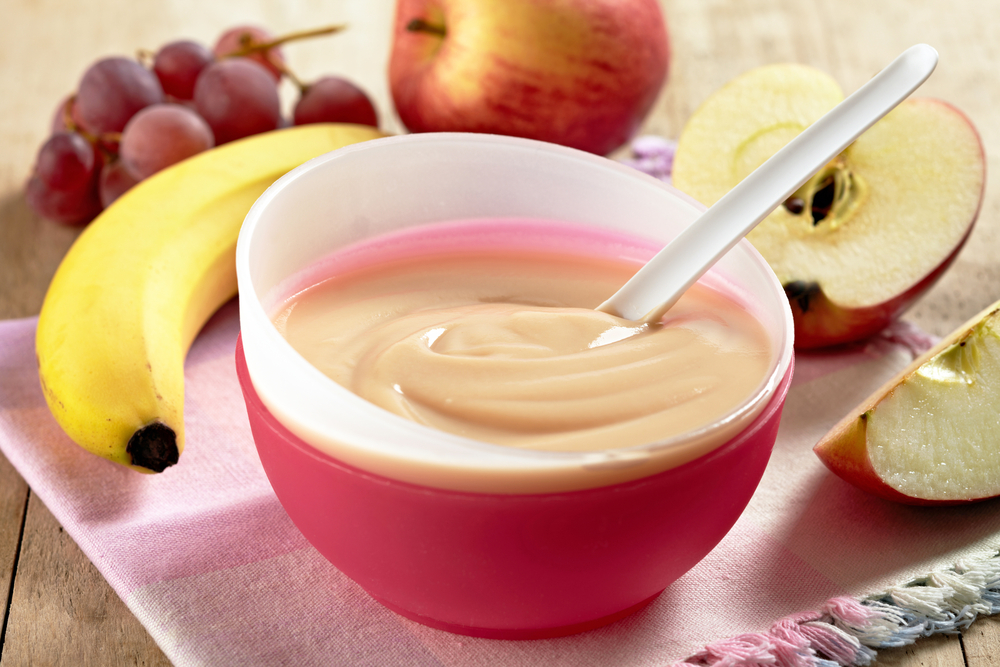 Also known as a wonder fruit, apples are filled with vital nutrients and they taste great too. They are rich in antioxidant and vitamin C, which helps to maintain baby's immune system. In fact, apples are one of the best fruits to kick start your baby's solids journey.
Ingredients:
1 apple, chopped in cubes
Preparation:
Place chopped apple cubes in a bowl and put this to steam in a pan for about 10 minutes until they turn tender.
Pour the steamed apple and its juice in a blender, and blend until you get a smooth consistency.
Note: The same preparation steps can be used to prepare other fruit purees such as pear and apricot.
Pea Puree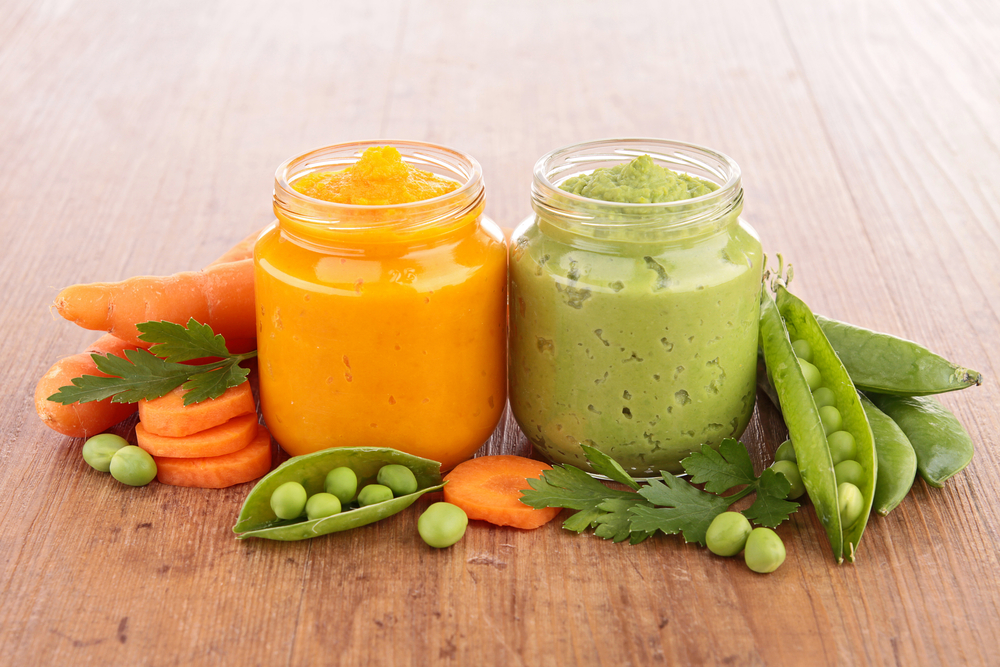 They may be small but peas pack a whole lot of nutrients, such as vitamins A and C, iron, protein and calcium.
If the skin of the peas produce a texture that is too rough for your child, do strain them before serving to make it as smooth as possible.
Ingredients:
3 cups frozen peas
Some formula or breastmilk
Preparation:
Place peas in a dish and steam in a pan for about 15 minutes until they are tender.
Transfer peas to a blender and puree until creamy. Strain the mixture through a fine-mesh sieve to remove any lumps.
Add in formula or breastmilk to thin the consistency.
Note: You can freeze pea puree in an ice cube tray. To serve, steam the cubes for about 10 minutes and stir thoroughly.
Butternut Squash Puree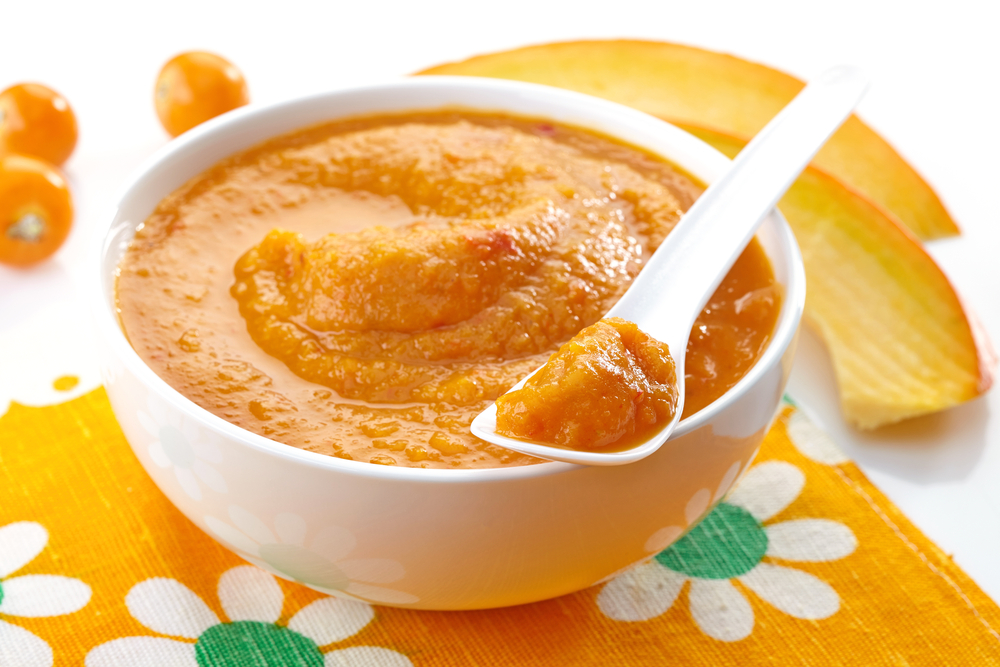 This is a vegetable that's extremely simple to prepare – and babies love the great taste too. You can also use acorn squash or pumpkin.
Ingredients:
¼ to ½ butternut squash, diced 
Preparation:
Placed diced butternut squash in a dish and steam for about 20 minutes until they are soft and tender.
Transfer to a blender and puree until creamy. You can also mash with a fork.
Read also: Baby-Led Weaning: What It Is and What to Expect
And there you have it – some simple recipes to start your baby's solids journey. Do take note to offer a single ingredient puree for three days straight to rule out allergies before mixing and matching the ingredients.
Enjoy!