1. Have sand-sational fun.
Marvel fans, this is for you. Catch 15 of your favourite Marvel characters in larger-than-life editions at Sentosa Sandsation, Southeast Asia's biggest sand festival. Plus, watch 14 of the world's best sand sculptors battle it out for the Golden Shovel Award, and don't miss the sand sculpting workshops for children five and above!
Venue:
Sentosa
Address:
Siloso Beach,
Sentosa,
Singapore 099981
Dates:
1st – 16th September
Time:
10am – 9pm daily
Prices:
Free admission via the Sentosa Express or drive-in via Car from during this period.
More information:
Click here.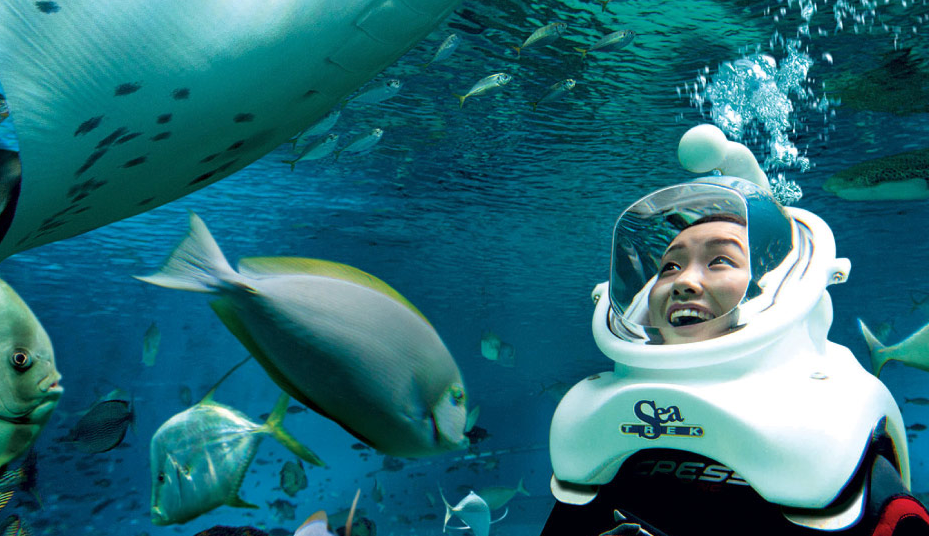 2. Sail the spooky seas.
Halloween's come early at the S.E.A. Aquarium. Meet the Sea Witch and Caption Spooks at Spooky Seas: Meet the Quirky. And don't miss some of the most bizarre marine animals around, such as the Bumphead Parrotfish, Elephant Fish, Paddlefish, Tasselled Wobbegong Shark and Vampire Fish.
Venue:
S.E.A. Aquarium
Address:
Resorts World Singapore,
Sentosa Island,
Singapore 098269
Dates:
1st September – 28th October
Time:
10am – 7pm daily
Online prices (One-day ticket):
Children (4–12) & Seniors (60 and above):
$22
Adults:
$34
Note:
If you see yourself/your family visiting S.E.A. Aquarium more than two or three times in six months, you may want to consider getting a season ($68/adult; $58/child) or annual pass ($88/adult; $68/child).
More information:
Click here.
3. Channel your inner superhero.
Flaunt your superhero or anime powers at the 11th STGCC (Singapore Toy, Game and Comic Convention). Besides e-Sports tournaments for gaming fans and glitterati from the geeky world, you can also meet the DC and Marvel creators behind your favourite comics like Batman, Thor and Black Panther. Create your own superhero cape at the SINGER telephone booths if you haven't brought your own. And be wowed as the participants of the annual Championships of Cosplay face off for the right to represent Singapore at the Crown Championships of Cosplay in Chicago. Plus, you'll be kinder to your wallet if you bring your little ones on Sunday.
Venue:
Marina Bay Sands Expo and Convention Centre
Address:
10 Bayfront Avenue,
Singapore 018956
Dates:
8th – 9th September
Time:
10am – 8pm
Prices:
STGCC + GGXP One-Day Pass
$20/pax
STGCC + GGXP Two-Day Pass (Online only)
$32/pax
Children below 12:
Free admission on Sunday
Children below 5:
Free admission on both days
More information:
Click here.
4. Soak in the mid-autumn festivities.
Check out the stories of Chinatown past at this year's Mid-Autumn Celebration. The month-long extravaganza kicks off this weekend. There'll be performances from local and Chinese troupes, a fabulous firework display, a bustling bazaar with over 300 stalls and nightly shows at Kreta Ayer Square.
Venue:
Various locations in Chinatown
Dates:
8th September – 8th October
Time:
Sunday – Thursday
7pm – 12mn
Friday & Saturday
7pm – 2am
Prices:
Free admission
More information:
Click here.