1. Catch the longest lunar eclipse of the century
Stay up with the little ones for an event of cosmic proportions – a total lunar eclipse culminating in a blood moon. We promise it'll be worth it. With Mars also near its closest to Earth that night, you'll have two reddish celestial objects to gaze on.
| | |
| --- | --- |
| Date: | 28 July |
| Time: | 3.30am |
| Duration: | 1h 43min |
| Recommended gear: | Binoculars, but you can view it with the naked eye too |

2. Relive the football fever
The World Cup may be over, but football fans need not despair. You can still cheer on your favourite teams at the International Champions Cup this weekend… and hey, while they're neither Croatia nor France, Arsenal, Paris St-Germain and Atletico de Madrid still features some pretty good players! Best of all, it's right in Singapore and relatively early, so you can share this sporting joy with the little ones.
Venue:
National Stadium
Address:
1 Stadium Drive,
Singapore 397629
Dates:
26, 28 & 30 July
Time:
7.30pm
Price:
$28 - $513.40
More information:
Click here.
3. Let your inner child out
Immerse yourself in experiential therapy. Shop, eat and play at pop-ups from over 100 brands, independent artists and craftsmen at the Keepers Playground of Infinite Happiness. And don't forget to check out the art installations while you're there!
| | |
| --- | --- |
| Venue: | National Design Centre |
| Address: | 111 Middle Road, Singapore 188969 |
| Opening Hours: | 11am-9pm |
| Price: | Free admission |
| More information: | Click here. |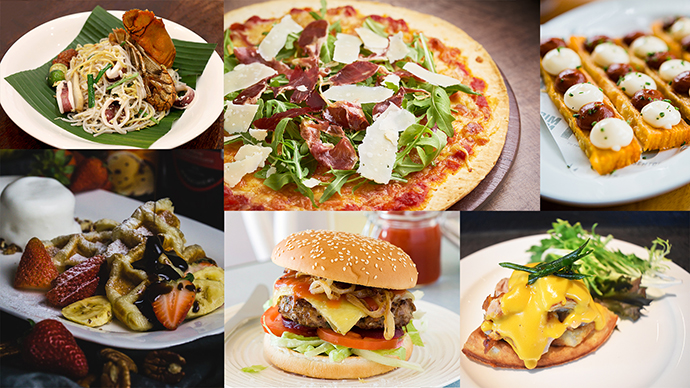 4. Feed your soul
Bring the little ones to Sentosa… for food! Visit the transformed Siloso Beach – a one-kilometre-long food haven and feast on a mind-numbing array of food from jumbo Hokkien noodles to traditional naan platters. Enjoy the sea breeze while listening to live music… you can easily imagine your whole family has been transported to Bali or Phuket – without the expense of plane tickets or the hassle of packing.
| | |
| --- | --- |
| Venue: | Sentosa Siloso Beach |
| Opening Hours: | Friday-Sunday, 6-11pm |
| Price: | Free admission |
| More information: | Click here. |
5. Party like it's 1939!
Here's one for the foodies. Stroll through Chinatown and nibble on an extensive range of food from the golden 1930s – from 50 cents on! Introduce your children to dishes that are no longer sold in Singapore such as Kerabu bee hoon (stir-fried spicy, sweet and sour bee hoon) and fish molee (fish curry stew) or soak in the nostalgic atmosphere that's enlivened with traditional opera performances. Even better, bring your parents along and have them share anecdotes from the good ol' days with the little ones.
| | |
| --- | --- |
| Venue: | Chinatown Food Street, |
| Address: | Smith Street, Chinatown |
| Dates: | 28-29 July |
| Opening Hours: | 11am-11pm |
| Price: | Free admission. Food from 50 cents |
| More information: | Click here. |